"Google is the best search engine so far", I don't think anyone would raise any question if I make such statement. So, everyone thinks that Google is the best. But, what if I tell you that you don't know 50% of the things that Google has for you! Amazed? Well, that's true!! Google is a way more than simply searching for the usual data! There are numerous tricks and secrets inside Google that I'm going to unfold in this article about Google Tricks and Secrets. We have listed best google search tricks and secrets that can be used to simplify your search results.
There are much more to what I can cover in this few words article. Still, I tried to bring out some of the best google tricks that are not so common plus exciting at the same time. Read further to know the 20 Best Google Tricks and Secrets you might not be knowing. These can also called best google tricks and tips.
Google is your home of secret things, in this post, we uncovered some google search tricks for you. Google is a lot greater than just the search engine. Google can help you figure out the most effective results on line. Below we've discussed some best tricks of Google, easter eggs of Google, Google secret searches, Google activities in searches, Google cards and even more.
Google Gravity:
Don't worry Fellas, I won't teach you physics here! It's Google Gravity, a special feature of Google. This causes the gravity effect to work on the virtual world, i.e. on your Google! Everything starts to fall as soon as you apply the gravity effect. Everything you type, or you search for, will fall. It gives you an illusion of the gravity working on Google! Here are the easy steps to start with the same –
Step 1– Open Google
Step 2– Type 'Google Gravity' and press enter
Step 3- Select Google Gravity – Mr.doob
Step 4– After the effect; write something in the searching bar
Step 5– The next answers will also be affected from the gravity effect.

Google Do a Barrel Role:
It's a simple way to rotate Google with the complete screen. All you need to do is type "Do a barrel role" or "z or r twice" in the search bar and enter. The screen will automatically rotate once! Just try… It's fun!! It's not particularly a google trick, but is a kind of way of fun! Try and enjoy with the following these simple steps –
Step 1– Open Google
Step 2– Type 'Do a barrel role' and enter to see the screen rotating
Step 3- You can also type 'z or r twice' to watch the same rotation of screen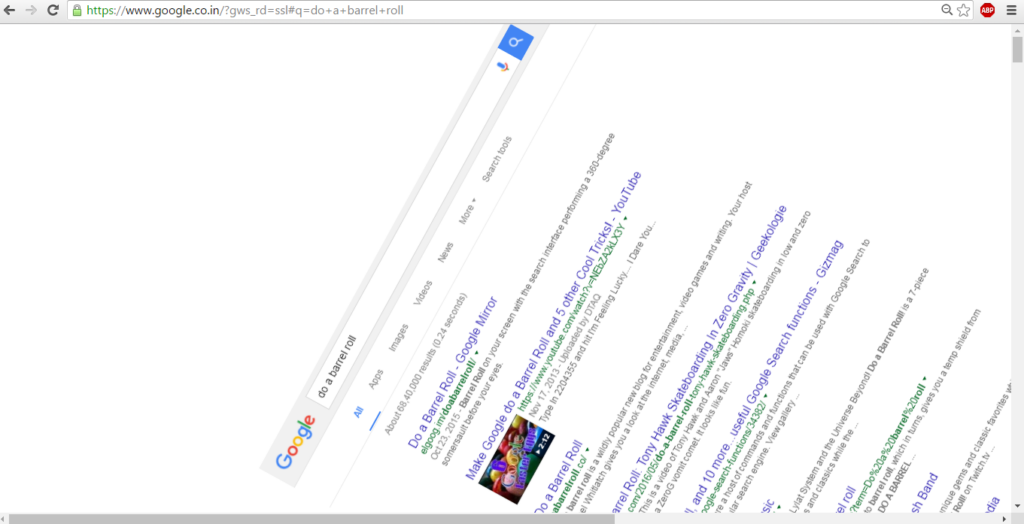 Google Sphere:
Google Sphere let your Google spin like a sphere. After you make your Google into a Google sphere, everything you search will be seen as rotating in either direction. Everything spins near the Google logo. Also, all the links are still clickable. Here are the simple steps –
Step 1– Type Google Sphere in the search bar
Step 2– Select the first option of Mr.doob
Step 3– Press another word to see it rotate as well.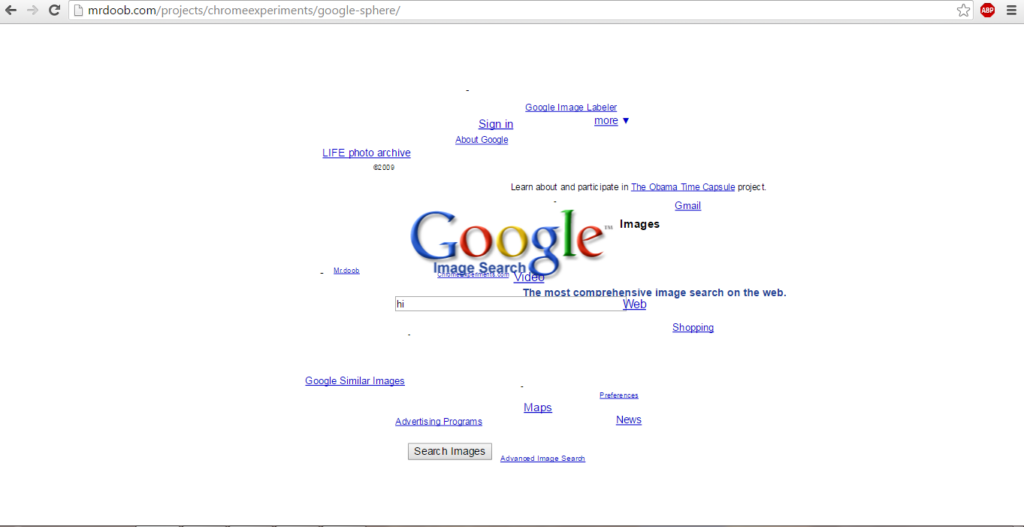 Find Sports Schedule or Scores:
Well this point will surely be loved by sports lovers! Yes, you can easily get all the possible, running, or coming up games schedules. Suppose at particular time you missed a show on television that was supposed to show the schedule of your favorite sports. Here is good news for all the late comers! Just Google about the schedule and you'll get one! Easy? Well, I have another news for you guys. You can also search for the match scores and can witness the live scores, just on internet. Follow these most simple steps for the same-
Step 1– Open browser and Google
Step 2– Type schedule of football world cup
Step 3– Get the complete schedule!
Step 4– Replace Schedule by score instep 2
Step 5– You'll get the scores of the current match.
Sunset and Sunrise Time:
If it happens that you need to visit another country or a very different place and now you are interested to have all the details of that particular place before visiting! You can Google. Of course that was an easy guess! 😛 Well, apart from all the info, you can also search for the sunset or the sunrise time at any place sitting at your own place! Yep! With the advent of time, it is possible to know everything about some place without actually being present there, physically!! Follow these steps-
Check also : Tinder Alternatives
Step 1– Google
Step 2– Type 'Sunset *placeName*' or 'Sunrise *placeName*'.
Step 3– Enjoy the details!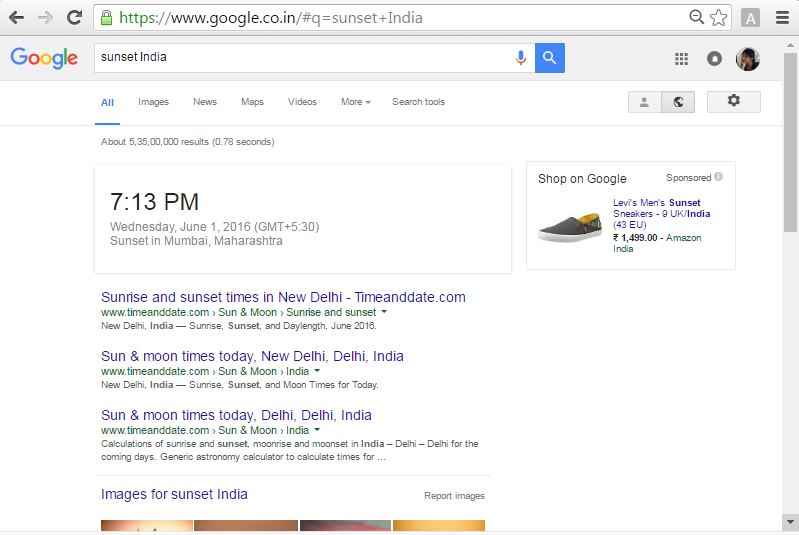 OK Google:
Google has this new feature in which all you need to do is say, "OK Google", and the searching will start. This is one of my favorite features as it allows me to search something without actually typing something. Great no? The only requirement for this feature to enable is the microphones. You need to have perfect connections of microphones to your system; otherwise the system won't trace you while you speak! To start with OK Google, all you need to do is follow these simple steps-
Step 1– Open Google
Step 2– Say, OK Google
Step 3- Search your desired term!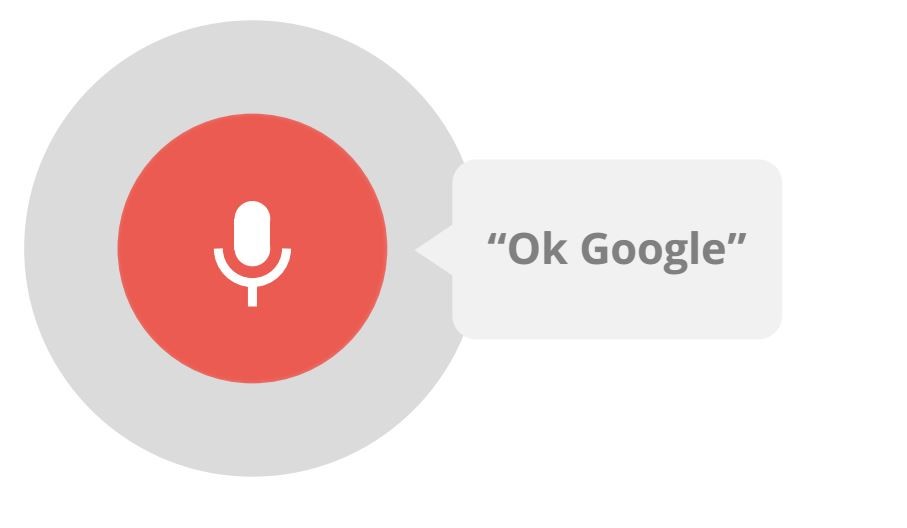 Google Gothic:
If you type 'Google Gothic' in your search box, your page will turn into some scary looking search engine! It is super cool to make someone scared. 😛 Well, not really! To use Google Gothic is not advisable as it can cause virus to enter your system. Well, that never means you can never even try this thing! If you know what I mean! 😀 But, better be careful while trying Google Gothic.
Attention – Don't try it. Google Gothic might include malwares!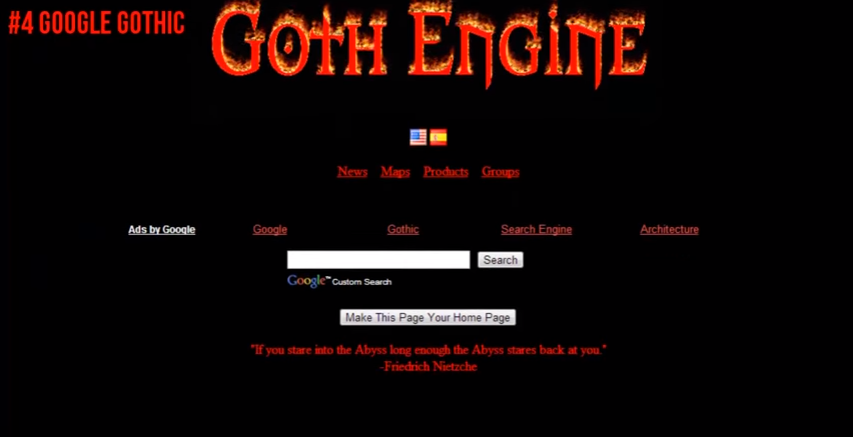 Google Guitar:
So guys, are you interested in playing music? Specially guitar? But you don't have one? Wooaah!! Scary things happen!! 😛 Google again have a very beautiful and musical solution for this problem! Google guitar allows you to play music on the guitar by just hover over your mouse on the guitar strings. It sounds melodious. One can easily learn playing guitar by watching videos on YouTube and trying on the virtual guitar. Steps to start with the Guitar-
Step 1– Open a web browser and open Google.
Step 2- Enter Google Guitar
Step 3– Hover the mouse over the strings
Step 4– enjoy playing the guitar!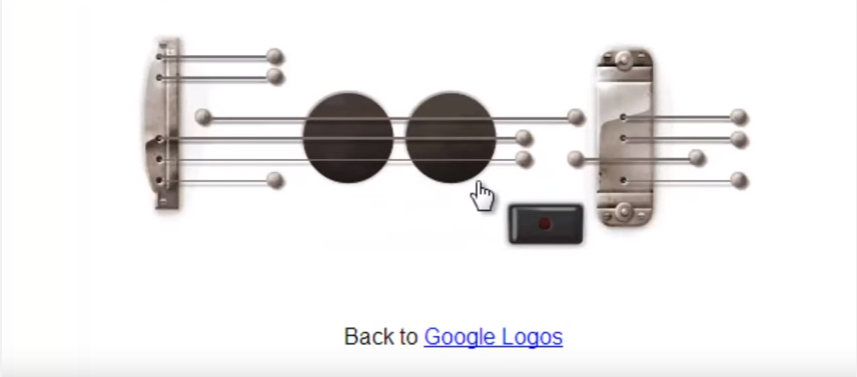 Translator:
Suppose the moments when your loved ones cannot express their feelings in simple language. What if they use some different language, like Spanish or Italian, or the most romantic language, French! How do you get the real meaning? And if you didn't get the meaning, would you let your partner go? :O Guys, this is not really a matter to worry about. Google is there for a help. You can easily translate any language into any other language. Google knows all the possible languages and make the best use of them! Here are the steps that you can use to translate any language!
Step 1- Open Google in a browser
Step 2– Write 'Language 1 to Language 2'
Step 3– Write the exact word that you wanna translate!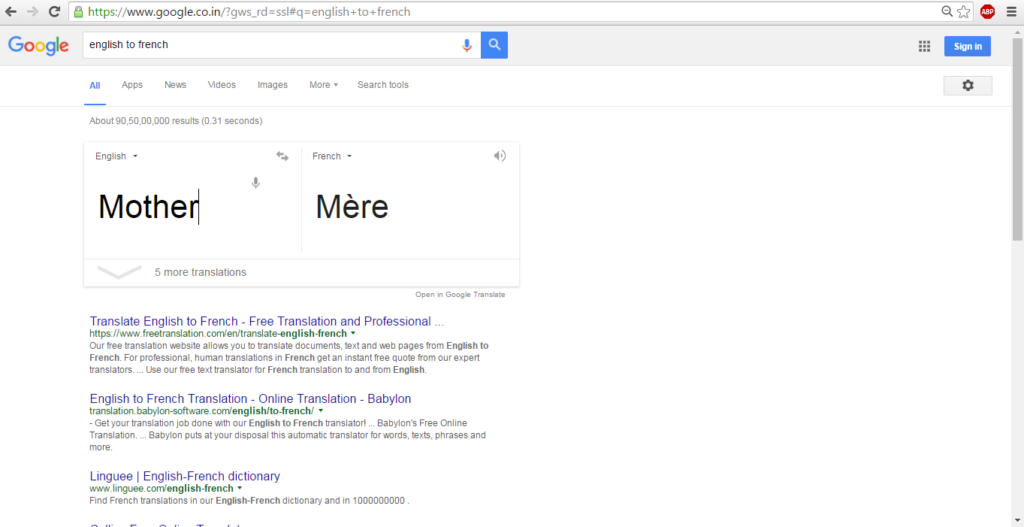 Google Pirates:
You must have heard about Sherlock Holmes, the detective! He detects all bad in good and concludes the mysterious cases with ease! Quite opposite is the case of pirates who basically keep an eye over sea and the ships that sails in that. And finally they rob them. Similarly, Google can also acts as pirates! It becomes one when you give some codes. And then it starts giving all the results in pirates' style, if you can see the image below, you'll know what I mean! Here are the steps to convert your normal Google to a pirate Google!
Check : How to Convert Video into GIF Images
Step 1– Open any browser
Step 2– Open Google.com
Step 3– Enter after writing, 'Google Pirates'
Step 4– Google is now a Google pirate!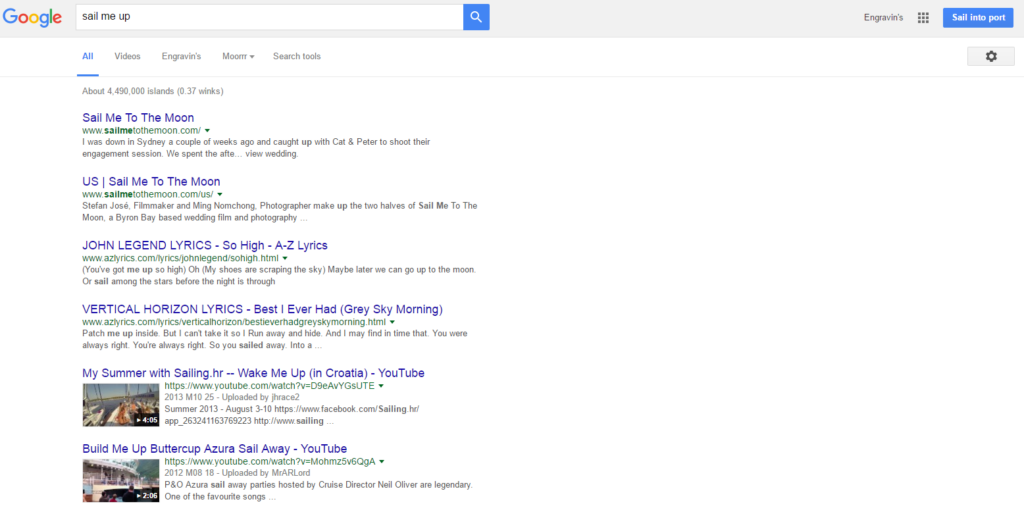 Google Comparison:
If you are health conscious and foodie at the same time, this new and exciting secret is for you!! Wonder, if you want to try pastry or parties, but you cannot judge which one would be less bad. Try this Google comparison feature. If compare all the food items and show the results on the basis of calories, carbohydrates, fats, and other essential things that you need to know! This is very useful for those who are trying sessions for weight loss. Try it using these steps-
Step 1– Open Google.com in a valid browser
Step 2– Type Burger vs. Pizza (or the two comparable food items)
Step 3- See the results and then conclude.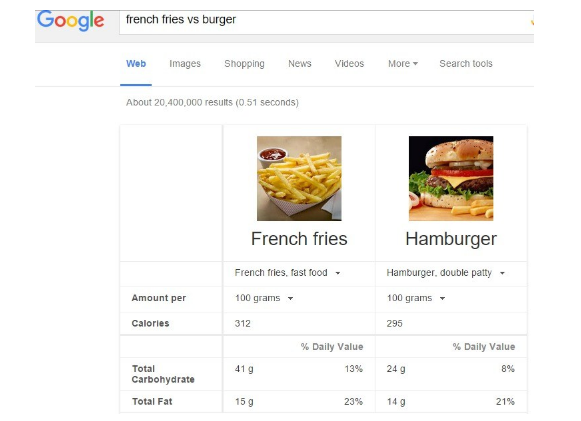 Flip a Coin:
There are times when we are in dilemma to select one of the many possible options. Suppose you are out with friends and you guys could not select what to have for the happy meal? Dominos Pizza or Subway Sandwich or the Mc D Burgers!! Well, in case are unable to decide something, why not leave it to Google. Yes, you hear me right. Google has the ability to randomly select one side of a coin. It can give you better results at times when you cannot have it for you! Want to try? Here are the steps-
Step 1– Open the browser.
Step 2– Open Google.com
Step 3- Type 'Flip a coin'
Step 4– Google will automatically give you an answer in 'heads' or 'tails'.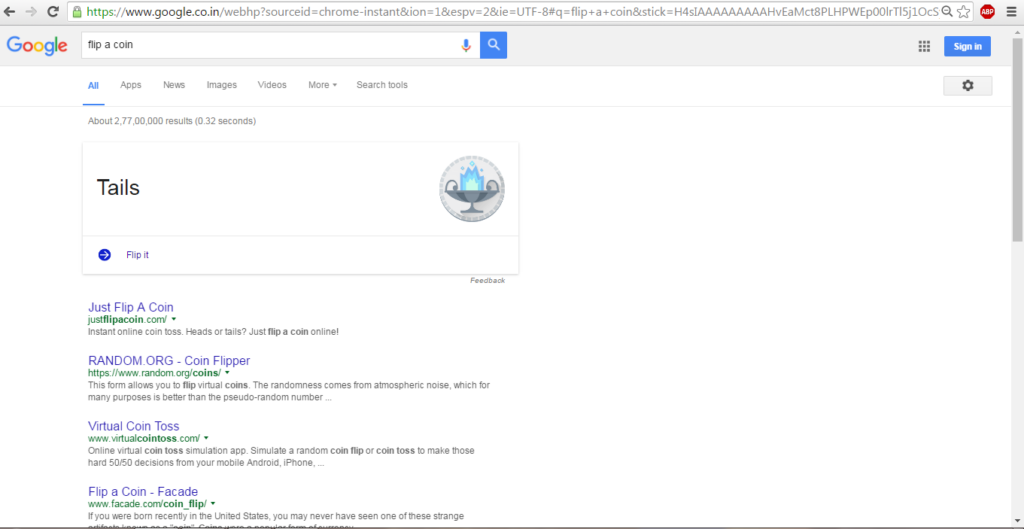 Google in 1998:
Google never leave any chance to impress its viewers. Whatever you ask, it'll get you the answers. Everything about Google is perfect, be it the look and feel or the way things are represented. No one actually sounds troubled from the Google. But have you ever thought how our lovable Google would have looked years back? Might be you didn't know how to view the olden days of Google. Here we are with the simplest steps for you to witness the older Google-
Step 1– Open Browser
Step 2– Open Google
Step 3- Type in the search field, 'Google in 1998'
Step 4- Google will present you exactly how it looked years back in 1998
Step 5– With an option to return to the present, you can return back to the present scenario and enjoy the whole new Google!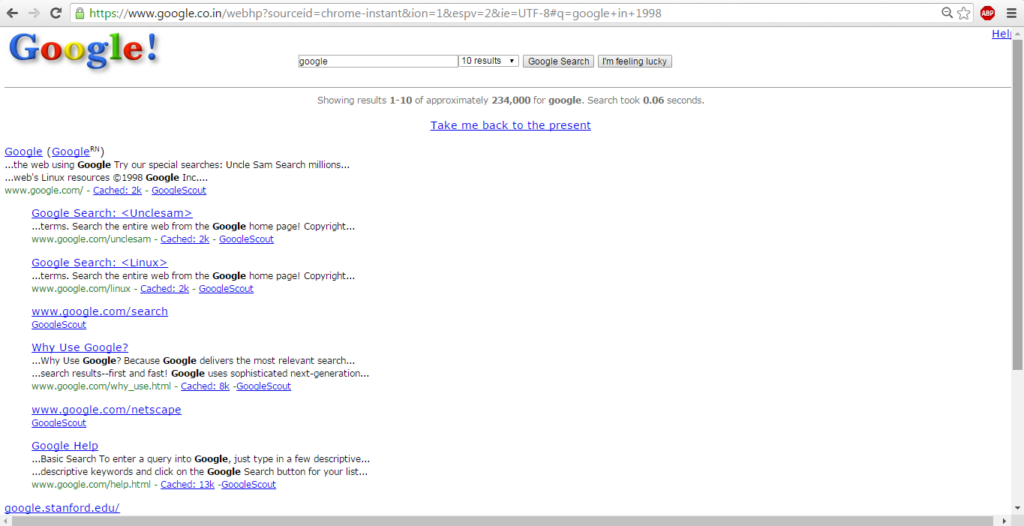 Find Chuck Norris:
Chuck Norris is not really a person or a name to be searched for. It can rather be considered as a trick to fool people. A person hosted domain as nochucknorris.com and when people search for the exact name, it'll show you that you cannot search him; instead he's finding you, so run!! This is epic because people actually get scared after witnessing this. The page of Chuck Norris is ranked 1 by Google and is used for scaring people!! You can check this mystery man by following these steps-
Step 1– Open browser
Step 2– Open Google.com
Step 3– Write 'find Chuck Norris' and enter
Step 4– Select the first link of Chuck Norris and figure out the later part.
Note – Don't try this as it could do things against security policies.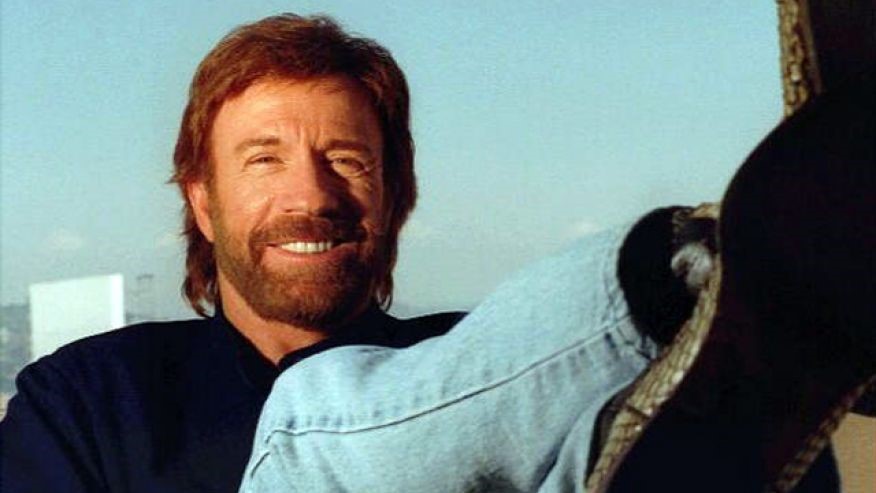 Google Hacker:
Within Google, there are many unique pages! Some are in normal readable language, while others are typically in some different language that normal people won't understand. These are the language of Hackers! Hackers cannot speak in normal people's language as they always have some secrets to carry. In the era of encryptions and much easy decryptions, no one can take risks with the official or not so official things that are important publically or personally! So, hackers usually prefer 'Leet' Language to communicate. Want to know more or learn the hacker's world? Here are the steps-
Check : Cool Whatsapp Group names
Step 1- Open browser
Step 2– Open the site, www.Google.co.in
Step 3– Type 'xx hacker' and press 'I'm Feeling lucky'.
Step 4- Everything you now see is in encrypted form. The image show you an inner glimpse. Have a look!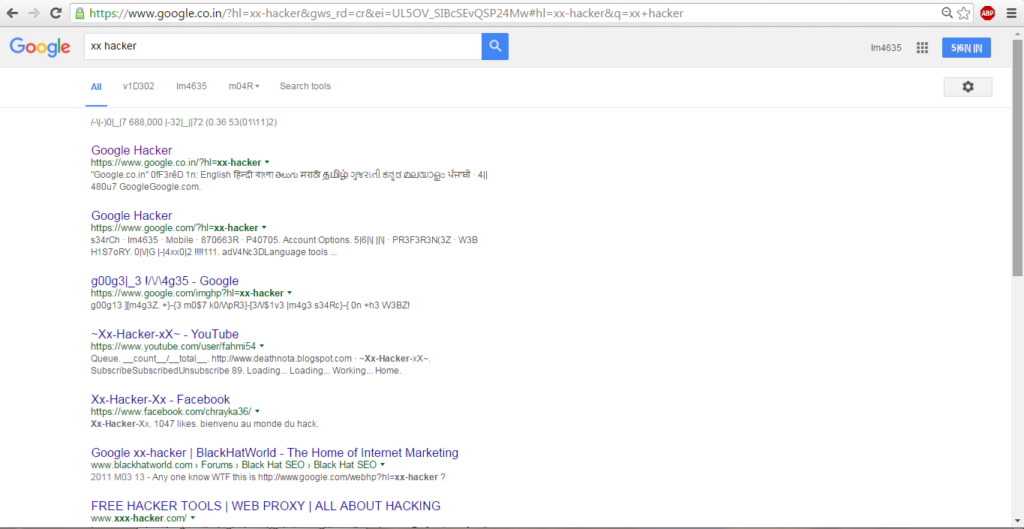 Google Timer:
There are various occasions when we need to look for a timer and we couldn't find it easily. You might want to race somebody or compete for a thing or simply want to note amount of time you take to complete a puzzle, all of these problems can be solved by Google! You can use this awesome trick provided by Google called as Google Timer.
How to do this? Well, the trick is simple. All you need to do is-
Step 1– Open a browser.
Step 2- Open Google.com.
Step 3– Type 'Set timer for xx minutes' and go.
Step 4– Timer starts running. Use it as required.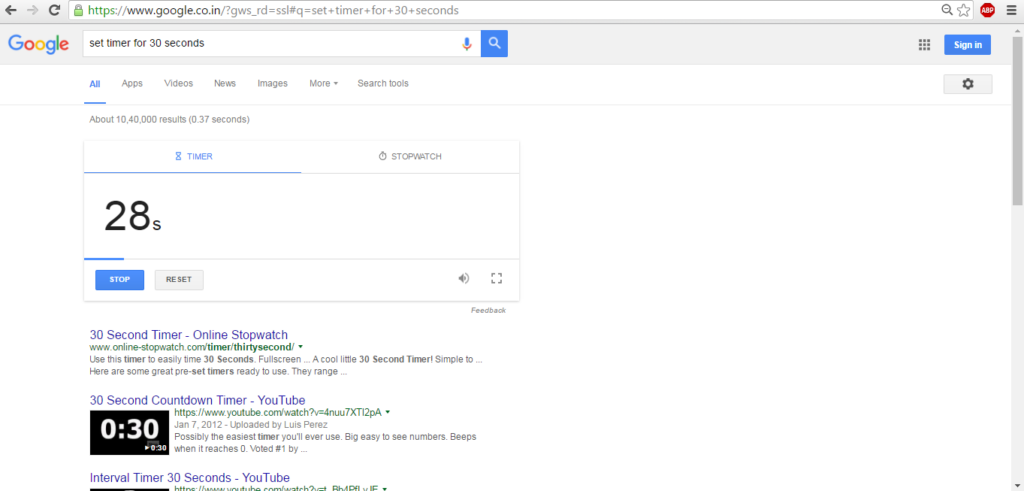 Google Games:
There are people who do not prefer to keep games in their devices due to certain reasons. But at the same time, they desire to play games! For them, Google have many options. There are games that one can play on Google and few are a kind that one can play with Google! Here are the names with the steps to getting start with these!!
Check : Best Wireless Gaming Keyboards
Make Google into an Atari:
If you don't wish to increase the system memory by downloading any game and at the same time, want to play some, then this trick is meant for you!! 😛 You can enjoy the game Atari by breaking all the blocks with a ball without letting the ball touch the floor and Yeah, You won!! You can also use mouse to navigate the board. Here are the simple steps to convert your Google into a game –
Step 1– Open Google in a web browser
Step 2– Select Open 'images' from the top right corner of the search engine
Step 3– Write Atari breakout. Press enter.
Step 4– The Google automatically converts itself into a gaming zone and you can enjoy your play!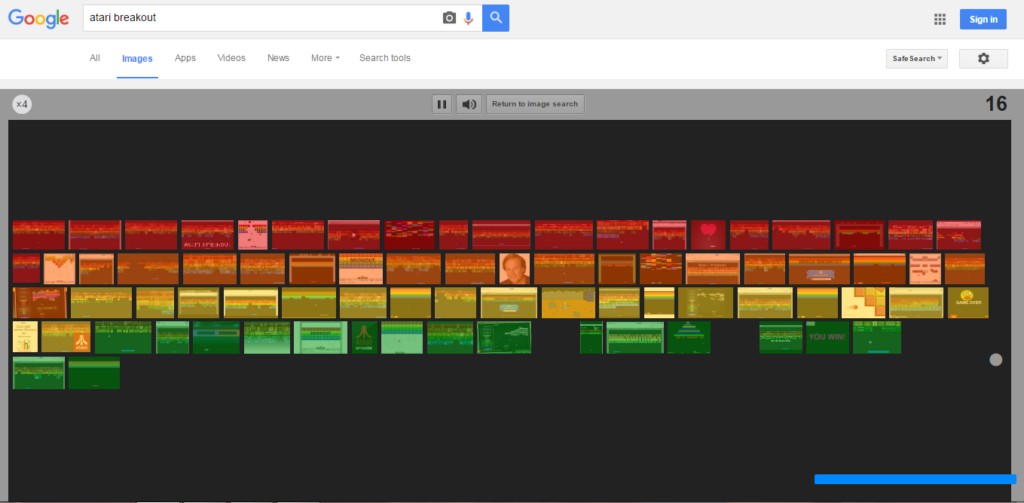 Google Zerg rush –
Ever wonder of playing a game with Google? Well, here is a game that one plays along with Google! It's Zerg Rush. In the game, bubbles appear that destroys your search terms. All you need to do is crash the bubbles in order to save your search items. Another part of the game is that the bubble appears from each direction and you need to be focused enough to deal with them! Interested? Follow these steps to start the game!
Step 1– Open browser and Google search engine.
Step 2– Type 'Google zerg rush'
Step 3– Click 'Feeling lucky'.
Step 4– The game starts now. Focus!!
Google Pac-man –
80's and 90's kid would understand the love for this game, Pac-man. In earlier days, children used to play this game and create new records! It was the only craze of 90's to clear stages and create records. Wonderful time it was!! Also, computer and Google are two such things that are used by people of all ages. Oh Yes! I really mean it when I say 'all ages'. 90's child can enjoy their childhood memories all over again with this game and newbies can try to learn what their adults always loved. It's a game for all. Follow the steps to open it –
Step 1– Open browser and Google
Step 2– Type- Google Pacman
Step 3– Click 'Play now' or 'Play game now'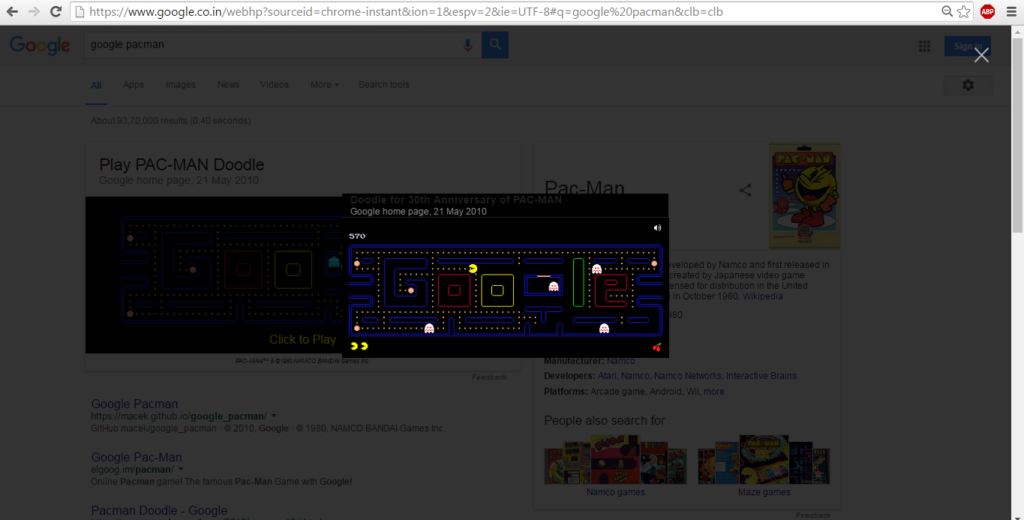 Step 4– Enjoy this wonderful game!

Google Snake –
Another one is Google Snake. Of course how can't you imagine about that on the Google! It's the same game that you are playing since your childhood days. Type 'Google Snake' and the game is on. Make your snake to eat the most to increase its size, but be aware of the increased length that should not stick within. The steps to start with the game are –
Step 1– Open Browser
Step 2– Open Google
Step 3- Type 'Google Snake'
Step 4– Enjoy with the game!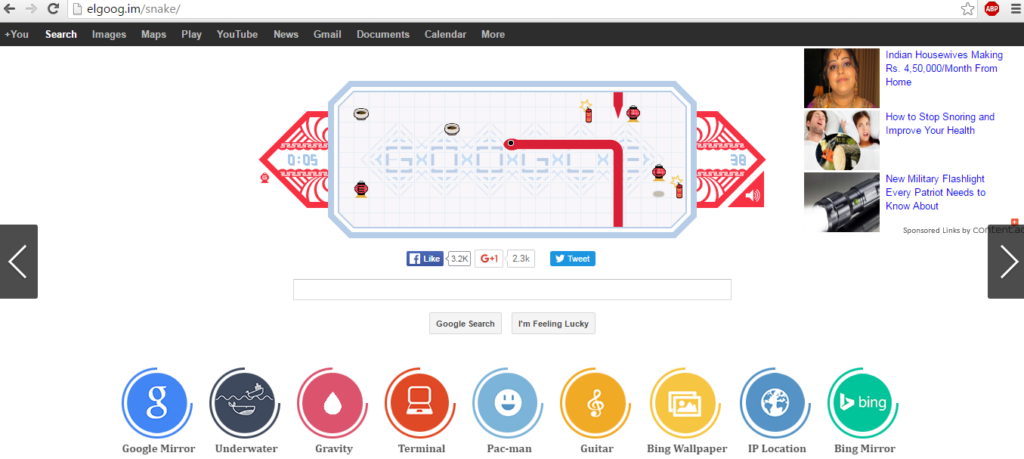 Conclusion : So these were just some of the amazing and unique tricks and secrets of Google. Try these and share the same tricks with your mates, friends, family, and every known person. This might amuse them as well. These are not completely new, but definitely unheard Google tricks. Trust me, Google ain't have any limits. There are much more to what I just told you in the article. For now, I can share these 20 best secrets or tricks of Google. Hope you liked them! Do try and let us know your experience.