If you are still using the emoji's to express your thoughts then you are far behind the time. You know wherever I use any social media sites the way of expression is GIF because nowadays GIF- Graphics Interchange Format are becoming the faster way to communicate. These mini clips are being used by people worldwide to express themselves in just a few seconds. It kind of condenses your emotions in a bundle articulating them online. These are some methods written below using which you can convert video into gif images. As seen on Facebook, GIF images are getting shared most since it has less size and no large bandwidth is required for view gif compared to video.
What actually is a GIF?

CompuServe introduced a bitmap image format called the Graphics Interchange Format, better known as GIF. Due to its portability and wide support, it is being used globally on World Wide Web. Its format can support an image up to 8 bits per pixel, while it can also support animations with a different palette of colors for both. The palette though limits its usage in reproducing coloured photographs, it is suitable for images like logos or graphics with solid colors. Lossless data compression technique called the Lempel-Ziv-Welch is used for compressing the GIF images, which shrink the file size but does not affect its visual quality.  Now so as to continue this movement going on The Web that is to express the emotions through GIF let me tell you some of the methods to Convert Video into GIF Images.
Video files are very big but if you like one small part of any video and you want that frame then? What will you do? The answer is GIF. You can create GIF from Video containing that best scene.
Making your personal animated GIF from any video is actually an interesting process and involves a lot of fun. You might be considering what is the requirement to convert video into gif; truly GIFs are some type of video flip books which can be preferred for easy storage.
Top Methods to Convert Video into GIF Images
Method- I: Convert Video to GIF using Softwares
Well in this method there are certain pre-requisites, and they are  Photoshop, Quicktime, and an internet browser.
Step 1- Getting a Video Clip
Select the video that you want to express as GIF. Cut down your original video clip to about 2 seconds, as relatively short clips are beneficial.
Trim command- Command+T or Edit>Trim to shorten the video.
Then your next step will be to Export the video using the command – File> Export or Shift+ Command+ S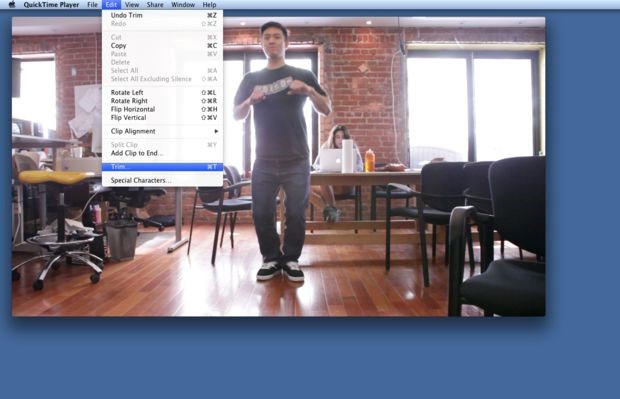 Step 2- Import Video to Photoshop
You have an option in Adobe Photoshop to import video. Use the command- File> Import> Video Frames to Layers
Now select the checkbox in the dialogue box that is displayed so that video is limited to every 2 frames.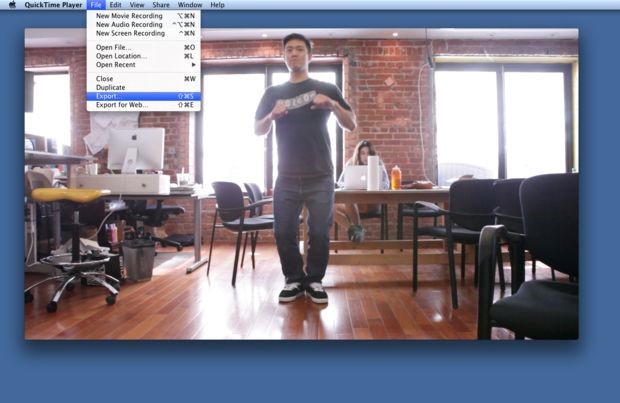 Step 3- Time Settings
3 seconds will be the default time for each frame and if you want to make your GIF comically faster, just choose all the frames.
Also you can decrease the time period to 0.1 sec by clicking on the drop down arrow present beside the time increment frame.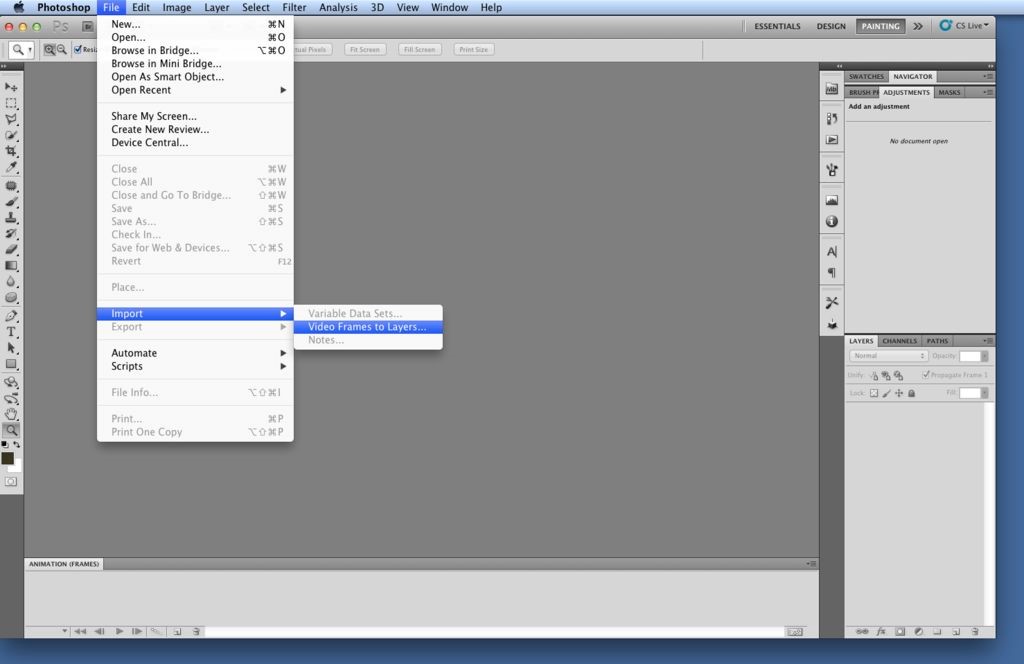 Step 4- Exporting
Now it is time to upload your GIF to the interwebz by following command- For Web and Services- File> Save or Option+ Shift+ Command+ S.
You will come across now to another dialog box that will open so that you can manipulate the size of your file. Try to make it under 1 MB.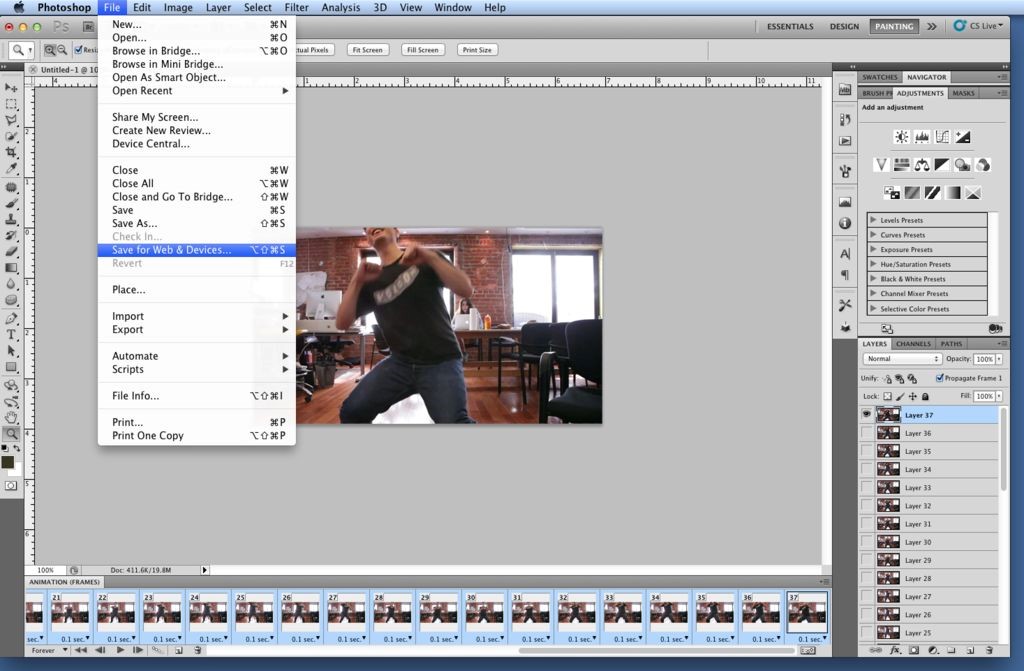 Step 5- Play
Great! With just few simple steps your GIF is ready and you can now play with it.
Read : Tinder Alternatives
Isn't it a very simple task to convert video into GIF in yet another fascinating way? Go on for trying it you will like this idea and will hardly take any mins with these steps. You will surely like this new way of communication with your friends using this GIF.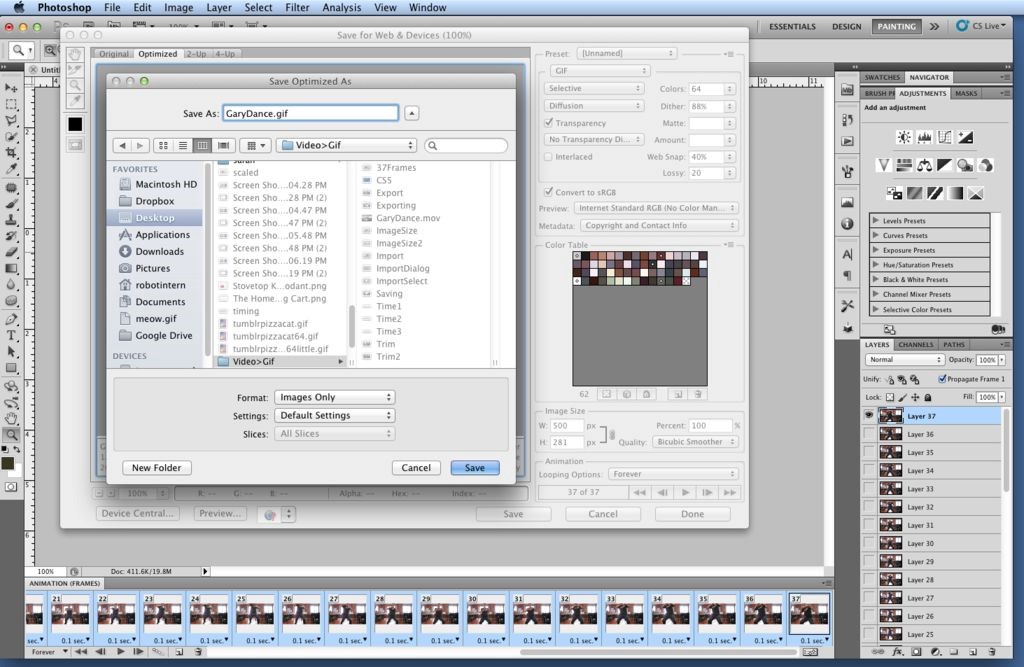 Method 2 – Online Converters to produce a GIF Image from a Video
free video to gif converter. These are gif to video converter online tools we have mentioned below.
Check: Fix This Video is Not Available in Your Country
Not just this, if you want an easy way out, there are certain online converters available as well which you can try out to get your video converted into GIF image.
IMGFLIP
Link: https://imgflip.com/gifgenerator
This available online converter will let you get high quality GIF images from any of your files or videos. It has some powerful customized options as well. What you need to do is just copy and paste the URL in the given address box. Almost every video format is accepted by this converter like mp4, .ogg and you can even easily preview your GIF before saving it. And yeah, but only videos up to 200 MB are uploaded and converted in to GIF. This imgflip especially has a feature of generating watermark as well. So just upload the URL and you are ready to use your gif image for fascinating expressions.
EZGIF
Link: http://ezgif.com/video-to-gif
The above tool that we saw requires a very simple way of pasting URL but now if you go on to another online converter software to prepare GIF, this is the one that will allow you to upload the mp4, avi, webm,flv and even some other popular kind of formats to create your GIF image. But make sure that the file or video you wanna convert is saved on your phones or systems. After when your video is uploaded you can select that specific part of video that you want to have in GIF form.  Here instead of pasting of URL you will require the video.
Tips to let your conversion make easy with ezgif
You will see a frame rate that is the amount of frame shown in each second. If the frame rates are higher it gives smoother video and animation too is better but the file six gets increased.
But if with quality you want the file size to be reasonable, then maximum length of video that can be converted is of 40 seconds for 5 to 10 fps gif.
Pause the video and click on the given option "Use current video position" so as to get accurate start and even ending time.
 Image.Online-Convert
Link: http://image.online-convert.com/convert-to-gif
This free image converter allows you to convert video of many formats to create a GIF image. It accepts about 130 formats like 3FR, AFF, AI and much more. In this free converter too you will need to upload your video instead of pasting just the URL. It gives you the option to digitally design your GIF and enhance the quality of your image.
Hold on, this is just not the end of ways in which you can convert video into GIF image.  To make it easier for you here I am providing you with details specifically for Windows, Android and iTunes users for creating GIF images from the required video. 
Best Apps to Convert Video into GIF Images in Android, iOS and Windows
Android App: Video to GIF Converter Apk
All you Android users it's a way easier for you to have your videos in the form of GIF image. What you need to do is install the Video to GIF App from the link given below-
https://play.google.com/store/apps/details?id=net.atredroid.videotogif&hl=en
Follow the simple steps like first load or create the kind of video that you wanna convert and select a time range to both begin and end. After when you have selected the time you can also preview the way your GIF will look. When you have created the GIF just click on it and view it in your gallery. Yeah, since if you are using a phone then you can view your GIF in SD card or internal memory and can create GIF up to 3-4 megapixels. You can even go on for trying Frame rate option available like once in online converters.
Video to GIF- iTunes App
We all know and especially itunes user would surely agree that it is one of the world's easiest way to organize media collection digitally. This following link can be used to make your work easy
https://itunes.apple.com/us/app/video-to-gif-gif-maker-gif/id1065396853?mt=8
Now let me tell you what all you can do using this application of iTunes. First of all this app lets you to shoot GIF with both texts and effects. Now that's amazing! You can even convert a YouTube video into GIF image and lets you to share your created image to Facebook, Instagram, iMessage, Tumblr and many more sites. Further you can even save the URL of the created image anywhere or go on for saving the created GIF in to the apps of photos and your album.  There is just all in this one single app of iTunes and using this you will become expert in creating your GIF's for fun.
Video to GIF for Microsoft / Windows Users
Alright for all the Microsoft users Windows gives you an amazing app that allows you to create your own expressive GIF from your own selected video.  Just use the videos that are stored in your phones or other devices and save the image to Save Pictures and upload it on to imugr.com. After when you are completed with this step, just go on for sharing your created funny GIF on social media for fun.  The app also has options for trimming, output size and FPS. we have listed how to convert gif to video.
Here is the link for you guys-
https://www.microsoft.com/en-us/store/apps/video-2-gif/9nblggh0f1kq
I guess that's quite enough ways or methods that will help you to convert your Video to GIF image making your emotions more specific while communicating. I hope that you will have a good experience applying these steps and using these online free available converters or just by downloading the apps according to your device in order to create a GIF image from video as per your requirement from your selected video.  Happy GIF's creation! Stay tuned for more of such awesome Articles and write to us if you have any questions in mind!