With so many laptops variations out there in the market are you wondering which ones are the best for all your video editing needs?
we have rounded up some important features to look for when you want to buy a laptop that best show's your video editing skills.
Most of the laptops are CPU – based so when you buy a new laptop it is one of the most important things to consider, that whether the laptop you are buying has a good CPU or not. It is a must for a laptop to have at least 8 GB RAM because anything less than that will not be useful in video editing and will cause trouble while you are using the video editing apps.
It is also very important to note if the laptop you are buying supports expandable memory, since if you find a need to expand your storage in the future it should not cause any trouble as in the future your workload may increase so you should be able to increase your laptop's memory, as buying new ones, again and again, is not a feasible solution.
Also, you need to make sure that the laptop has SSD as it is a very important element for a video editing laptop.
If for some reason you can not find a laptop with SSD you have to make sure the laptop you are buying is flexible enough that you can replace the SSD with a hard drive.
As working with high – resolution footage can be both power and memory – intensive, so you will need to make sure that your system is up to date to perform the required task.
When buying a laptop, screen size is one of the first and most important aspects you should consider.
Using Video editing software's such as adobe premiere pro, pinnacle studio, filmora, etc. will often result in your screen being split into quadrants working with software's like this on a small screened laptop will be a difficult task.
So it is good practice to opt for a laptop that has at least a 15 – inch screen. The larger the screen the more comfortable you will find the editing process for yourself.
Once you decide what sort of screen you want then it is time to consider what sort of processor will be good, its worth remembering that the more RAM you have the better your laptop will run. It is a good practice to use a laptop with at least 8 GB or more of RAM for the smooth working of the video editing applications.
Last but not the least the final thing to consider is the connection like thunderbolt 3 port means that you can kit out your video editing laptop with an external graphic's card.
Choosing the best video editing laptop you may also depend on a couple of other things like One is your budget, and another one is what you are using it for.
Of course, you will be editing videos but if you want to get into video editing as a hobby it is best to opt for a cheap gaming laptop. And of course, it will offer you a decent amount of power.
But if you are a professional and need a top – of – the – line video editing laptop it will cost you a pretty penny.
In many ways, there is a great overlap between the video editing laptops and gaming laptops
Processor: For a best video editing laptop, the first and the foremost thing that you must look at is the processor. The right processor will help you gain speed and smoothness while functioning your laptop. So our recommendation will be that you must have at least an i5 or an i7 processor.
Random Access Memory aka RAM: Another thing which you must look towards a good laptop for video editing will be the RAM Capacity. We would recommend you to go ahead with 4 GB or preferably 8 GB RAM along with a minimum of 500 GB SSD.
Battery Life: A bad battery can lead to various problems, which can come handy while editing your videos. So a good battery life is a must. So here we have made sure that the Best laptops for video editing which we recommend to you have a decent Battery Backup.
The battery is the source of power that helps in the working of the laptop, and if you spend a lot of time on the laptop, you need to have good battery backup especially when you have no charging point available nearby. The actual life of the battery will be determined by the hours in which the battery will stay up without charging it for hours.
Seven to eight hours battery backup in a laptop means that the battery life of the laptop is excellent. Laptops without charging cannot work for more than this if you are working continuously on the laptop and while browsing videos and internet battery is used more. Yes, if you are looking for a cheaper model of laptop you can find a laptop that will give you the battery backup of up to five to six hours.
There are many satisfied buyers of secondhand purchase of laptops and many other accessories. For making a worthy purchase you have to be careful, the important thing is to look for the cheaper laptops on trusted sites only, and in the entire world, eBay and Amazon are best sites that introduce the users with the sellers selling authenticated products.
The Graphic Card: A Good Graphic Card with NVIDIA or AMD brand is something that we recommend, and you should also have a look while buying your best video editing Laptop.
The tendency of creating and editing the movies make this action results in the opportunity for earning money. Lots of people invest their days to research and practice to document and edit all including about their everyday life and place it through social websites such as Instagram, Facebook, Vlive, or Vlog. Those who like to create a brief movie or advertisements to be posted on YouTube, need more gadgets to encourage their interests. To be professional video creators and editors, you want to support yourself with higher end and more sophisticated laptops.
Screen Resolution: A 4K Resolution with a screen size anywhere between 13 to 15 inch can really be handy.
Most of the gaming laptops will do just fine as a video editing laptop but, If you are considering to not limit yourself by just making short 720p videos and are willing to pursue a professional career then you definitely should invest in a good video editing laptop with good GUP and CPU power.
If you are unsure of how to choose the right model for all your needs you can scroll down to find out our picks for the best laptops for video editing in 2022. These are the best laptops for video editing in September of 2022.
10 Best Laptops for Video Editing
1. GIGABYTE AERO 15 OLED YD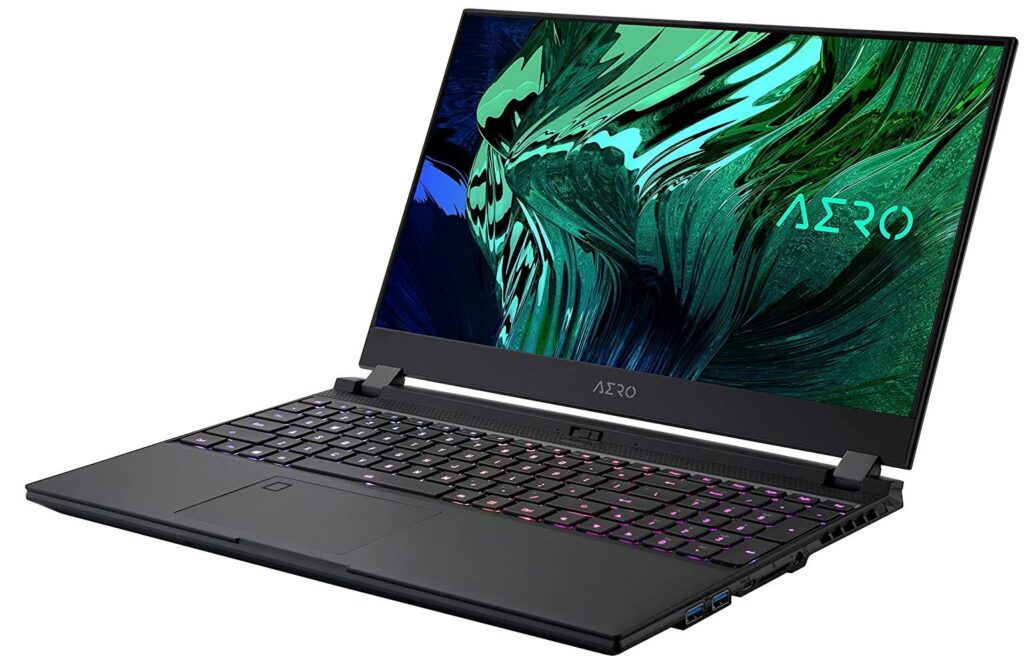 The gigabyte aero 15 has a brilliant display of 15.6 – inch with a UDH display ( 3,840 x 2,160 ) and a Samsung OLED panel for vibrant colors and rich black levels, which help's you capture the sharp visual in a video with ease, and never lets you miss any details while working on your project.
Gigabytes aero 15 laptops' display comes with x – rite certificate and is Pantone validated for color accuracy with a 100 percent DCI – p3 color gamut.
Talking about the CPU it is an intel core i7 – 11800H with 16GB DDR4 of RAM. It helps in multi – tasking by pushing the rendering work on to the graphic processor.
Along with that it also provides storage of 512GB NVMe with SSD.
It is easy to carry around with about 4.4 pounds of weight with a huge screen of size 14" x 9.8' x 0.78'.
It is a great laptop if you are looking for speed and multi – tasking.
2. Apple MacBook Pro 16 – inch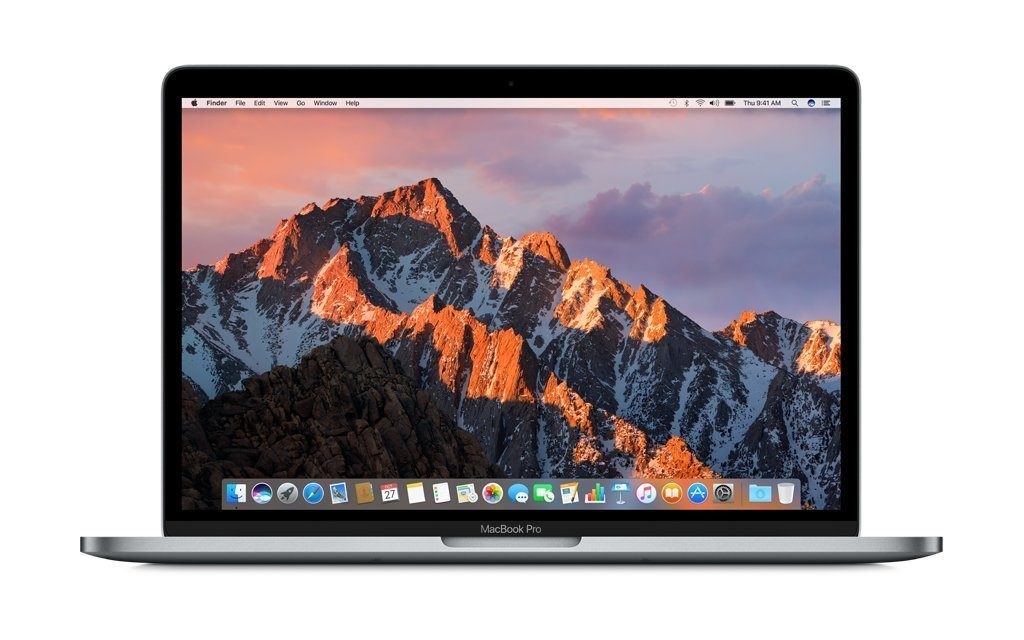 Apple MacBook Pro 16 – inch is one of the most powerful laptops around, MacBook apple provides a display of 16 inches ( 3,072 x 1,920 ) retina display, with an AMD Radeon pro 5500 m ( 4GB GDDR6 VRAM ) graphic processor alongside a 64GB RAM, and 1 TB SSD
With all this put together it weights around 4.3 pounds which is very less and has a size of 14.09" x 9.68" x 0.64".
It is the first Apple laptop with a new magic keyboard scissor mechanism.
3. HP ZBook Studio G7
It is a 15.6 – inch compact workstation, the HP ZBook Studio G7 packs all the power full components one needs for your video editing apps to run smoothly without any hazard.
It is very thin and lightweight that it is very easy and handy to carry around without any trouble.
HP ZBook Studio G7 comes with six – core intel core i7 – 10850H CPU along with a professional – grade Nvidia Quadro T2000 graphics processor, which is very good for editing video.
And comes with a RAM of 16GB DDR4 ( 1 x 16 GB ) (2,666 MHz ) with a storage of 512 GB NVMe SED SSD which will be very helpful when we need a lot of storage.
Not only it includes a 15.6 – inch display but it also provides 100 percent coverage of DCI – P3 color space and peck brightness of 600 nits. With an anti – glare finish on the display, it helps one work even in the bright sunlight outdoor.
Along with all these features, it only weighs 3.84 pounds which is considered extremely light it comes with a size of 13.93" x 0.07".
4. Alienware m15 ryzen edition R5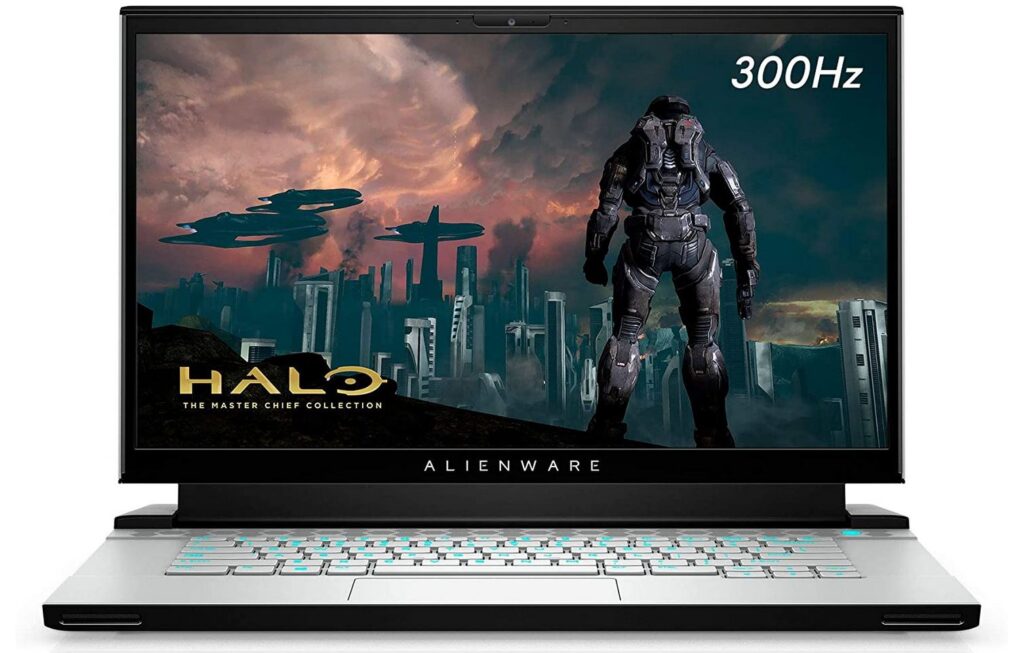 Alienware m15 ryzen is by far the best laptop for editing 4k videos.
It is a gaming laptop with a 15.6" Full HD ( 1,920 X 1,080 ) display.
which has a CPU AMD ryzen 9 5900HX with octa-core processor and NVidia RTX 3070 GPU in terms of graphic power.
you will be able to store large projects with its 32 GB DDR4 ( 3,200 MHz ) memory and 1 TB NVMe SSD storage.
It is extremely easy to set up the whole system with an external monitor using its rare HDMI 2.1 port to support 4k or even 8k videos output.
With the whole laptop weighing just about 5.39 pounds. And having the size of about 14.02" x 10.73" x 0.75' it is a very good laptop to purchase in this price range.
5. MSI stealth 15M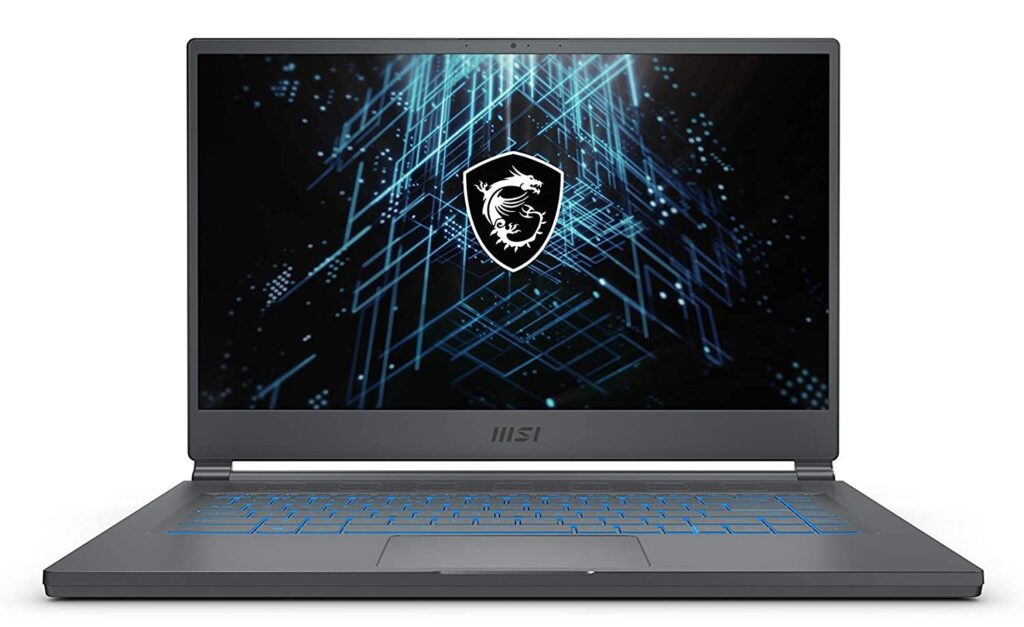 MSI Stealth 15M is the best ultraportable gaming laptop for video editing.
It is an ultraportable laptop that is capable of doing anything.
It has a big 15.6"( 1920 x 1080 ) full HD display with a 144 Hz refresh rate which is packed with an intel core i7 – 11375H processor and NVidia GeForce RTX 3060 ( 6 GB GDDR6 VRAM ) graphic processor.
all this is packed in a laptop of just 3.73 pounds, and is just a bit over a half-inch thick with a size of 14.1" x 9.76" x 0.63".
which means it is very easily portable and provides the best performance.
MSI stealth 15M has a built-in port on both sides and two out on the rare allowing plenty of air to flow through the system and keep it cool so that there will be no overheating issues during working.
It also consists of a wifi 6 connection which provides the fastest internet speed so far without having to depend on the Ethernet which gives you an advantage not only when you are uploading videos but also helps you download the stock material for creating the videos much faster and without any trouble.
6. ASUS UHD Video Editing Laptop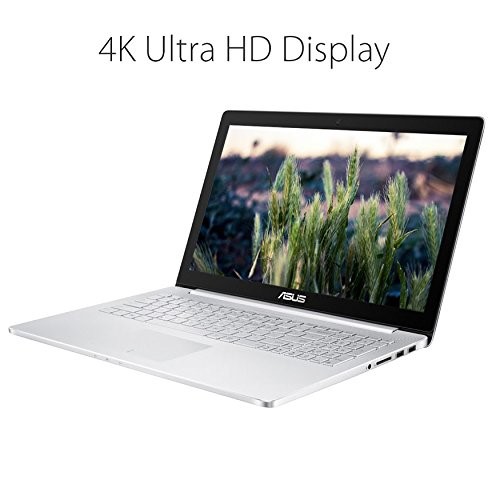 There is a reason why Asus ZenBook Pro UHD comes first on our list. With its specification which ranges from latest and powerful 6th generation Intel core i7-6700U quad core processor to a 4 GB NVIDIA GeForce GTX 960M graphic cards. The Laptop does wonders with 15.6 inches size screen along with UHD display touchscreen having a resolution of 3840x2160p. The RAM is of massive size i.e. 16 GB and has 512 GB SSD for better storage of videos edited. Not just this the Laptop comes with 4K Ultra HD Display.
Pros
A Touchscreen with IPS technology with full HD quality
Dedicated NVIDIA graphics with decent processing speed.
You get a good ASUS AudioWizard and ICEsound Software.
100% RGB color resolution for photo-shopping and video editing.
A Real Faster connectivity with Type C USB.
Cons
Battery life is not that long, could have been better.
A Good Touch Pad but sometimes unresponsive.
You can buy this laptop from our Amazon Link and get all your video editing done which we rank as our best laptop for video editing under $1000.
7. Apple MacBook Pro Editing Laptop
A Standard choice for every Video Editor- Apple MacBook. This MacBook pro which we have selected for has 15.4 inches as the size. And the laptop comes with Retina display to get your video editing job done in the easiest and the quickest way. It comes with Intel core i7 and has 2.7 GHz processor in addition to AMD Radeon pro graphics that are best for video editing. The RAM is 16 GB and 512 HDD of flash storage. It has Intel HD graphics and latest MAC OS X Sierra.
Pros
Sleek design and good looking Laptop.
You get latest Intel HD pro graphics.
Retinal display with Impressive battery life
100% RGB color resolution for photo-shopping and video editing.
Comes with Stylus designing.
Cons
No optical drive available
Cost can be a factor while purchasing it.
From the house of Apple, this good looking Laptop can certainly be a plus in your profession of video editing. Certainly one of the Best Video Editing Laptop. Get it from the link below-
8. ASUS ROG Strix VR Ready Laptop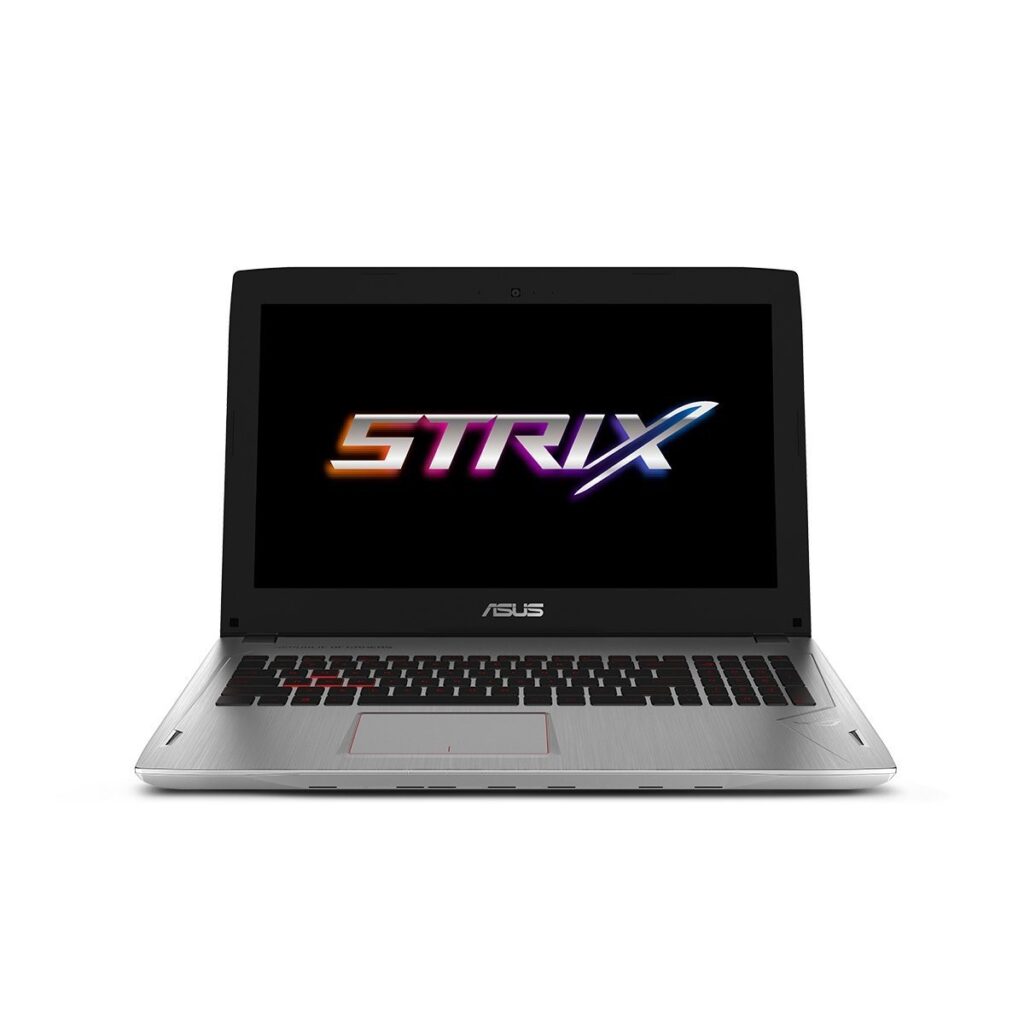 Another laptop is our list is by ASUS and is the latest model ROG Strix. The Asus definitely has some of the decent VR ready Best laptops for video editing. You get high-performance 7th generation Intel core i7-7700 HQ with 2.8 GHz as processor. It comes with a new Kaby lake processor along with NVIDIA GTX 1060 graphics. As a matter of fact this Graphic Card is not found in any other Laptop. The storage capacity is of 16 GB RAM and 1 TB HDD for storage of videos. The screen size is wide with 15.6 inches and battery life is of 5 hours. You get Pre-installed Windows 10 as your operating system.
Pros
Good looking, Stylish, Slim and light-weight laptop.
Not just for Graphics but also good for gaming.
FHD wide screen with G Sync.
Chiclet Keyboard with Tactile Keystrokes.
Cons
You don't get an optical drive.
Battery Life is not that good.
A little expensive laptop but you it gets the work done in the best possible way. Check this best laptop for film editing from the House of Asus.
9. Microsoft Surface Book SX3-00001 13.5-inch Laptop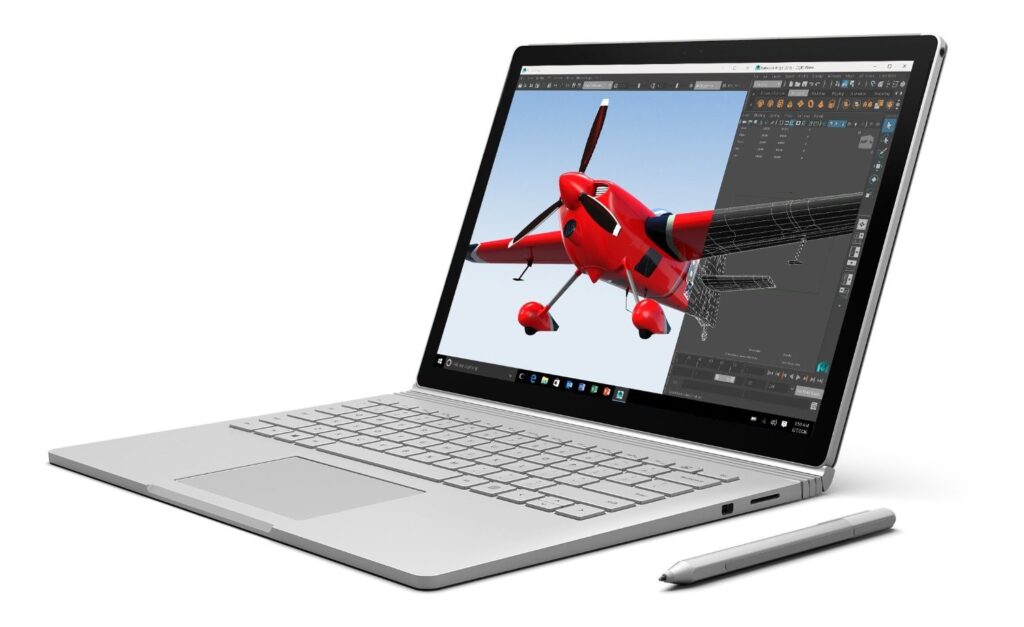 The laptop from Microsoft is preferred by most video editors for its brand name and for it is the machine that is easy to carry anywhere. The best thing about Microsoft Surface Pro is that it serves the dual purpose. The laptop can be used both as laptop and tablet. It is loaded with recent Intel core i5 with 2.5 GHz that offers powerful processor. For soothing gaming experience you get NVIDIA Maxwell as graphic card that gives laptop its power. The storage capacity is of 8 GB RAM with 256 SSD to run faster. It gives you 12 hours of battery life. The screen size is 13.5 inches with 2000×3000 p resolution and has HD display.
Pros
Handy and light weight laptop, with stylish looks.
Updated with Windows 10 Pro
Touchscreen is pin point and accurate with Surface pen.
Powerful hardware and software for video editing.
Cons
No Type C USB port.
Expensive to buy.
Certainly the best windows laptop for video editing, you can get this surface pro from the following link –
10.Dell Inspiron Laptop for Video Editing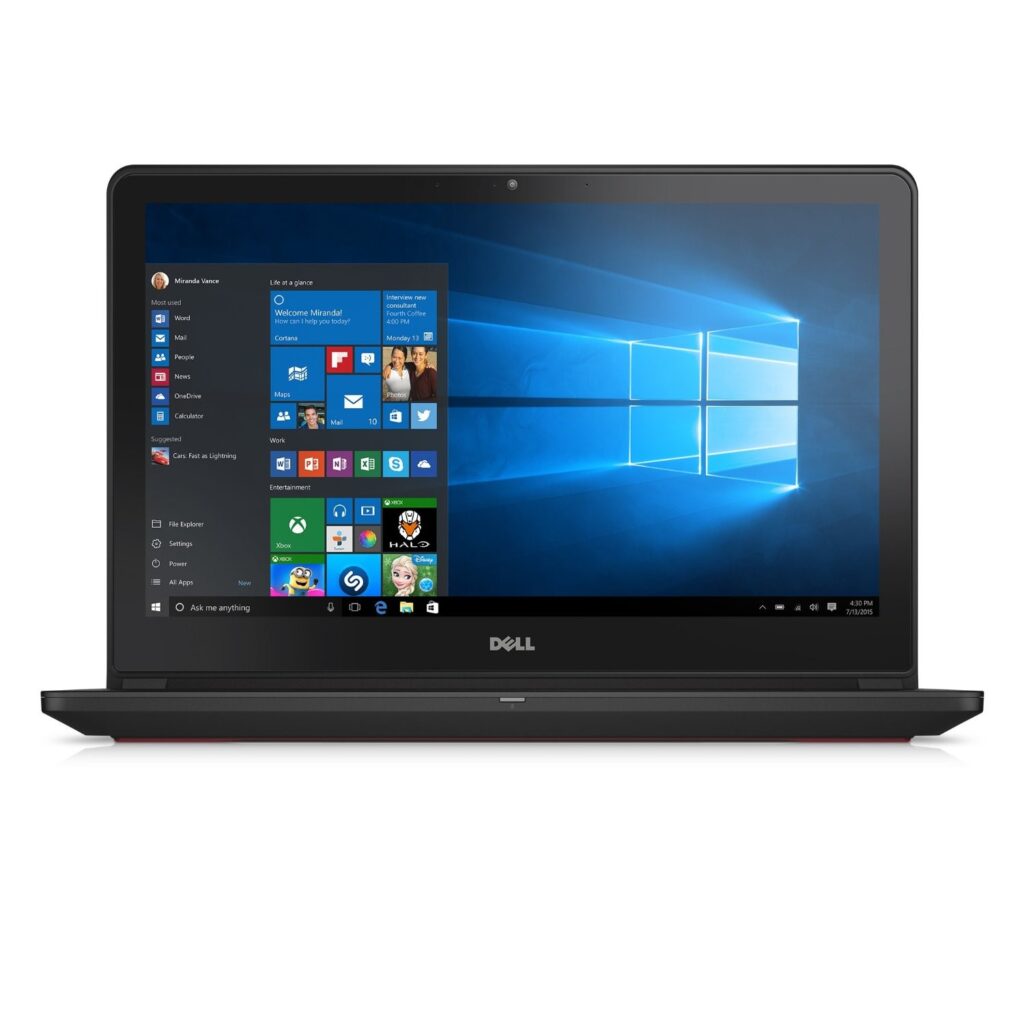 The next laptop in our list is Dell Inspiron that can be said as a decent quality laptop for video editing purpose. It has 8 GB RAM that runs on 2.6 GHz processor with 1 TB of HDD for storage. It has 15.6 inches screen size to give clear visuals for editing videos and images. The screen is HD with high resolution of 1920x1080p. You get Intel i7 quad core processor and 4 GB NVIDIA graphics.
Also Check :
Pros
Good looking and responsive touchpad.
Superior audio with Waves Max Audio Pro.
A good battery life of 10 hours.
Cons
The Laptop is a bit heavyweight
The Cooling is ineffective, you might want to install another fan there.
Buy this awesome laptop at affordable rate from the following link-
11. Lenovo 17 inch High Performance Premium Laptop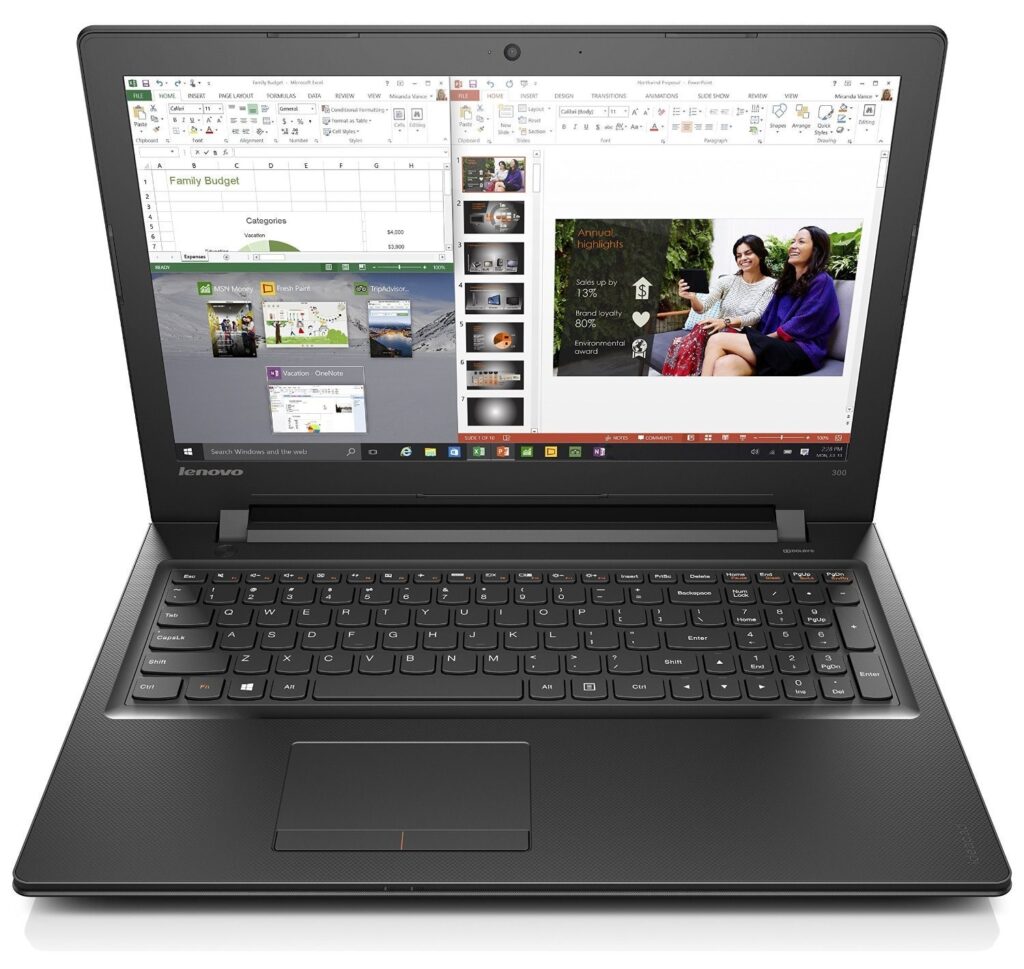 This video editing laptop by Lenovo, which is of-course first from Lenovo in our list features Intel core i7-6500U processor with 2.5 GHz graphic to offer smooth speed. . The screen size is 17.3 inches that is HD with 1600x900p resolution. It comes with Windows 10 is pre-installed in it.It also has Intel HD graphics and has storage capacity of 8 GB RAM along with 1 TB HDD.
Check out :
Pros
Intel HD pro graphics with Advanced Dolby speakers.
High resolution and LED backlit screen display
Better connectivity with Type C USB ports.
Cons
The laptop is quite large which makes it heavy.
Battery life is not at all good and lasts for like 5-6 hours at max.
The Laptop comes with impressive Skylake processor which makes it one of best video editing laptop. If you want to try this out follow the link to buy-
12. Toshiba Laptop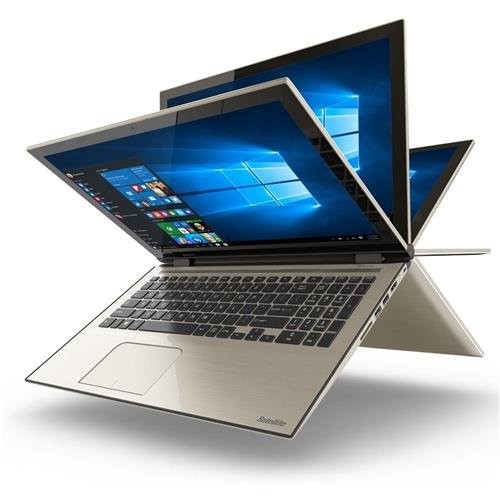 With a processor from Intel core 15-6200U with 2.3 GHz graphics and storage capacity of 8 GB RAM. Toshiba Satellite Fusion really is a good looking and a durable Laptop which with 1 Tb HHD 5400rpm to store edited videos. The screen size is of 15.6 inches with IPS technology and HD display having a resolution of 1920x1080p. You get Windows 10 as OS pre-installed.
Pros
Full HD TruBrite IPS touch screen technology
10 finger multi touch support with Back-Lit Keyboard.
Good looking and Stylish Laptop.
Cons
Battery life is not impressive.
Touchpad gets unresponsive sometimes.
The laptop is from the Toshiba which happens to be the father of Laptop generation. This best video editing laptop comes at a decent price. One of the best laptops for video editing under 500, get this Laptop from the following link.
13. Acer Aspire Budget Laptop for Video Editing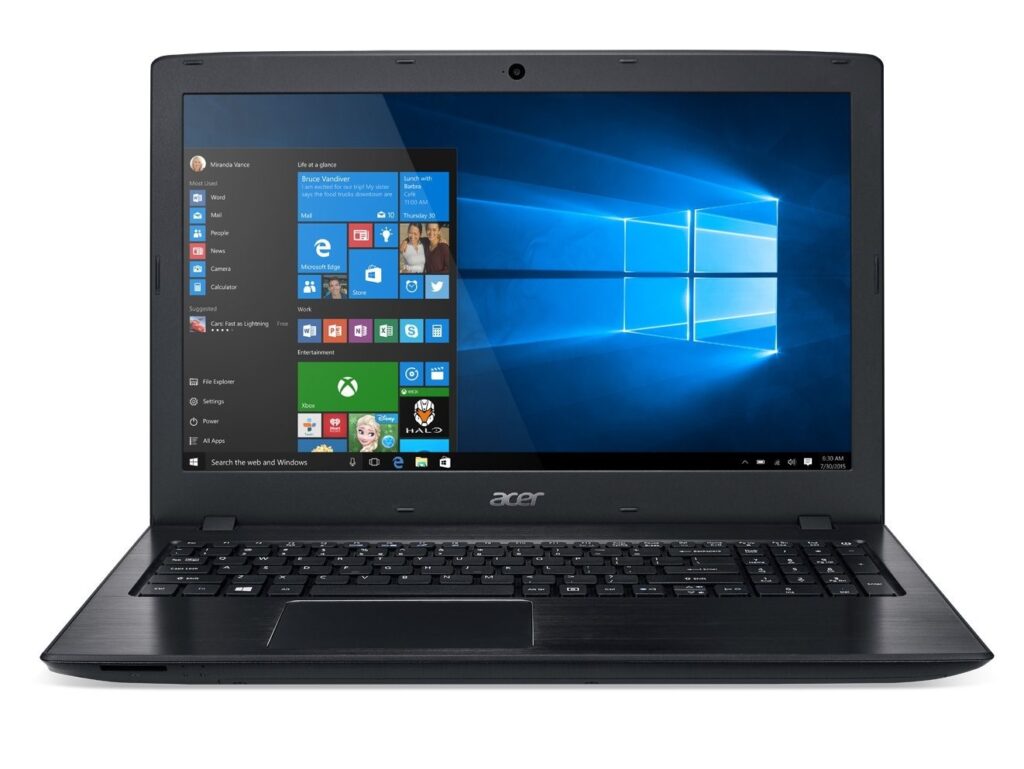 Acer Aspire E15 is one of the best video editing laptop that comes with latest Intel core i5-7200 U dual core processor. It is of 3.1 GHz that offers commendable speed and makes processor powerful. You get fully HD display with a screen size of 15.6 inches having a resolution of 1920×1080. It has a storage capacity of 8 GB RAM and 256 GB SSD for storing sample of edited videos.
This decent E series by ACER comes at its best at an affordable price. You can buy this budget laptop for video editing from the link-
14. HP Pavilion Laptop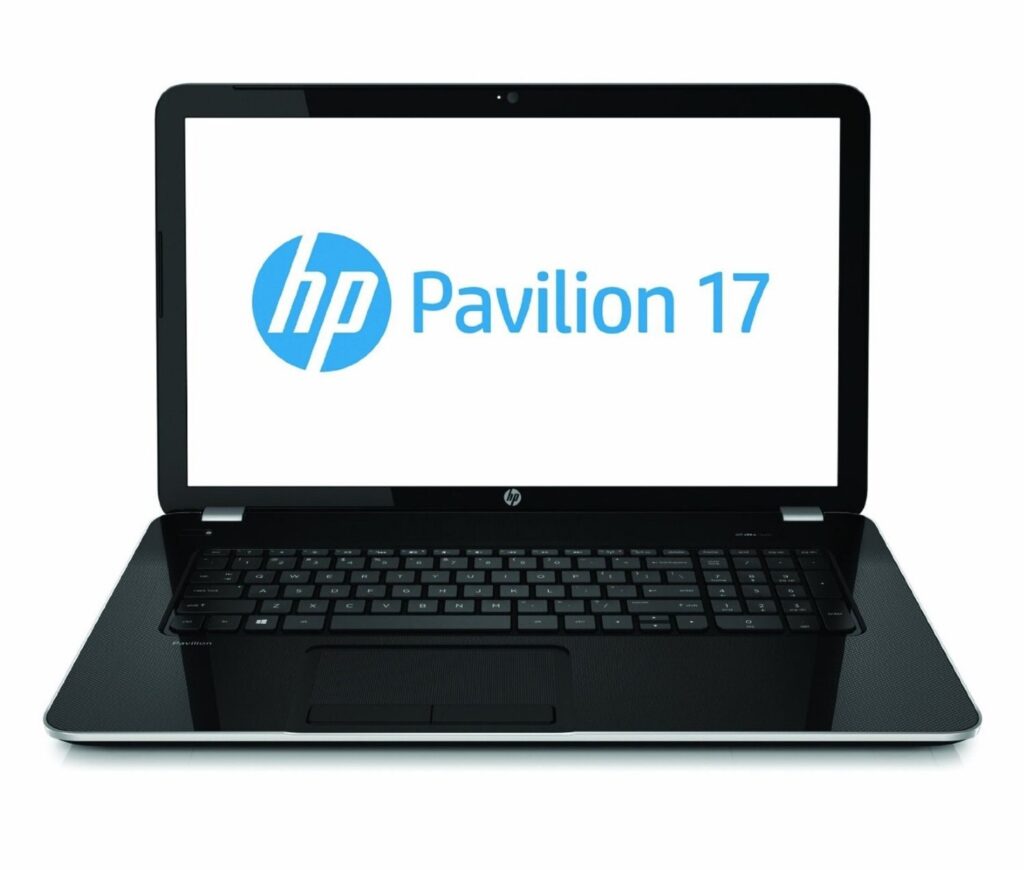 The last laptop in our list is from HP that is HP Pavilion, in which you get 17-inch diagonal screen size which is Fully HD. The laptop comes with powerful AMD Elite quad-core A8 Accelerated processor along with AMD Radeon HD graphic cards. The storage capacity comes with 4 GB RAM and 750 GB SSD. It has Windows 8 as an operating system that can be later upgraded.
A laptop which can be called as the Best laptops for video editing, from HP this Video Editing laptop is really smooth. You can get this laptop from the link-
---
Conclusion : So this was the list that we compiled exclusively for you of the Best laptops for video editing, where we tried to cover the best laptops from different brands. Video Editing is definitely an interesting profession, but also a profession which depends a lot on the kind of hardware and software you use. I wish you liked the list of best video editing laptops, and you may write to us for any query.