Every gaming enthusiast will agree that a good keyboard with advanced and powerful responsive features could prove to be a major decisive point between victory or defeat in a game. There is a legion of advanced choices available in the market today to choose the gaming keyboard that best suits your needs. However, for a better experience and more ease, while playing a game, we recommend a wireless gaming keyboards to the gamers.
Before moving on to the list that we have carefully crafted keeping in mind your needs and budget, let's get better acquainted with what these wireless gaming keyboards are all about so you can reach to an intelligent conclusion easily when you are done with this list.
Most gaming keyboards utilize mechanical switches keys that are connected to their own spring loaded switch, providing their best haptic and audio experience. Most of these switches use mechanisms from Cherry MX and are identified by different classes of colors (black, brown, blue, red), each with a unique design, providing a unique experience. Which switch is best suited for you depends on what kind of games you play.
For example, Cherry MX Black switches require the highest activation force, so they are best suited for games in which you do not have to worry about accidentally hitting a key twice. Cherry MX Red switches though, on the other hand, are best suited for games which require a lighter response.
However, this is not it. There are so many other functions that can enhance your gaming experience. Backlighting is one such feature. Not just simply allowing you to use the keyboard in the dark but many keyboards today also come with multiple lighting zones, highlighting particular sets of keys with different colors. Specialized gaming keypads also come with a selection of 10 -2 0 special programmable keys.
Therefore, with so many options and features available out there, how to choose the wireless gaming keyboard that is best suited for you? Let's take a look at some of the best options available.
Top 10 Best Wireless Gaming Keyboards for Gamers
1) DREVO Calibur 71- Key Keyboard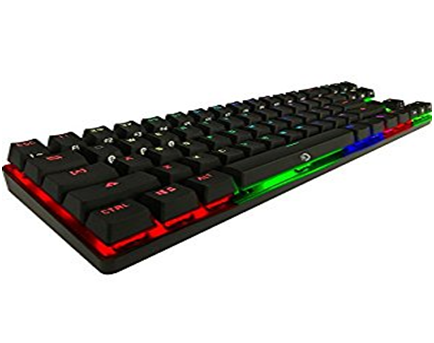 Topping our list, this amazing wireless mechanical gaming keyboard from Drevo, that is laden with powerful features and not to mention, dynamic design, is one of the best wireless mechanical gaming keyboards available in the market today. Not just counting its super cool looks, this keyboard is any gamer's dream come true. Encompassing powerful functionality and response features, this state- of- the – art keyboard comes equipped with the following features –
As the name suggests, this wireless gaming keyboard, comes with 71 keys that have customizable backlights.
A true NKRO that prevents key ghosting.
Excellent quality keycaps that stay clean no matter how long it's been since you last wiped the keyboard clean.
This gaming keyboard comes with RGB backlighting can be easily customized according to your needs and desires.
This amazing keyboard comes up with an advanced set of seven lighting effects, such as Reactive Mode, Wave Mode, Ripple, and Aurora mode that will not conflict with customizable lights.
Highly responsive and enduring mechanical switches (Cherry MX Black/Blue/Brown/Red).
A Bluetooth 4.0 receiver that easily connects to your desirable devices but is advisable to first check the compatibility with your device.
A strong internal battery, the keyboard can keep working up to 20 hours and requires less than 2 hours for a complete charge.
Pros
Easily portable, convenient size and lightweight.
Equipped with features that make is one of the best wireless gaming keyboards available.
Works with multiple devices, from desktops to Android and iPhones, having a strong connectivity and good range.
Multiple options of customizable lighting effects along with the various Cherry MX switches available make it a highly coveted wireless gaming keyboard.
Cons
Function keys are missing which makes it a problem sometimes but pressing F along with numeric keys makes the keyboard perform the same specific functions.
The user experience is not that great while switching connectivity to various devices.
2) Logitech Gaming Keyboard G510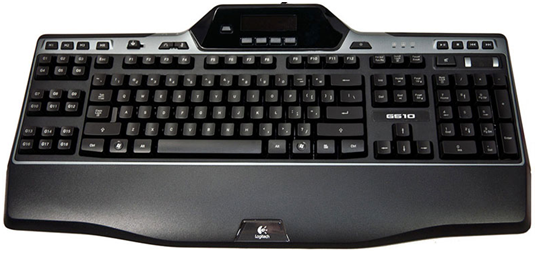 Another excellent wireless gaming keyboard in the market today that still stands unparalleled in performance and features, this keyboard can make you fall in love with itself just by setting an eye on it once. Although a bit expensive, this wireless mechanical gaming keyboard is value for money and will surely accompany you on your favorite games for a long period because of its strong built quality and high durability. Coming to its features, there are many –
It comes with a GamePanel LCD located on the top center of its body that allows you to get access to in-game stats, VolP data media player information and more, all without leaving the game.
Important read :
Custom-color backlighting that allows you to personalize the keyboard in a variety of colors and easily locate keys in the dark.
Integrated USB Audio that helps you connect to your mates in clear digital audio.
Separate headphone and mic jacks and mute buttons that let you use any analog headset as a USB audio device.
18 programmable G-keys that let you record up to 54 single keypresses or complex macros per game.
High-speed USB that helps you execute commands without delay.
Game/Desktop modes that help prevent interruptions during the game.
Pros
High endurance limit, this laptop will surely pay for itself over the long number of years it stays with you along with the best gaming experience that it provides.
Extremely responsive keys with don't make noise while typing.
Packed with quality features that boost its performance, making it the best wireless mechanical gaming keyboard available today.
Cons
Price could prove to be an obstacle for some.
The backlighting is not very bright.
3) Logitech Wireless Solar Keyboard K750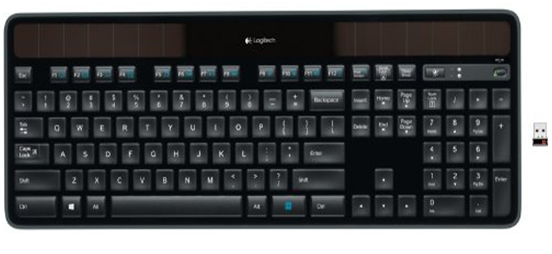 The next keyboard in our list for best wireless gaming keyboards, we have another beast from Logitech, this one a more affordable choice. Coming with a solar powered battery that provides no hassles, this wireless keyboard is a blessing for the environment too. Ultra thin, sleek design, this is a very lightweight, extremely compact and portable gaming keyboard.
A powerful 2.4 GHz wireless connection that helps you enjoy a reliable connection with a tiny Logitech Unifying receiver.
Solar-powered can be charged from any light source and the powerful battery can keep it charged for at least three months-even in total darkness.
A sleek 1/3 inch thick design.
Logitech-only key design for faster, quieter and more comfortable typing.
Pros
An extremely efficient wireless gaming keyboard, highly responsive with a long lasting battery power.
Easily connects to any device and offers a strong, reliable connection.
Cons
A solar powered battery might not be able to withstand time, and it is not replicable.
It works only with Windows-based laptops and PCs.
4) Razer Turret (RZ84-01330100-B3U1) – Budget Wireless Gaming Keyboards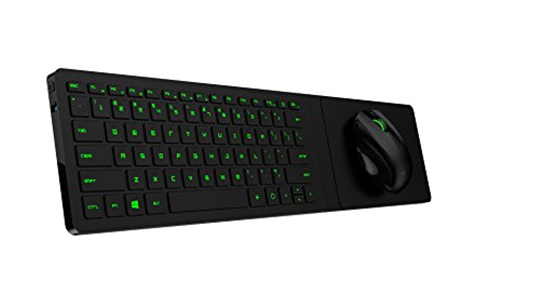 If you are ready to throw some money around for a highly advanced gaming experience, this wireless gaming keyboard and mouse combo is the best option available to you. Featuring state-of-the-art design and overflowing with powerful functions, this keyboard shines bright like a diamond among its competitors.
It provides a dual wireless connection, so whether you are connected to your console through Bluetooth LE or to your PC, you'll always have a strong connection and will be able to play lag free.
It has a very slim designed body and thus, it is comfortable to carry and place anywhere while playing.
Comes with a foldable lapboard that ensures compact storage.
The keyboard is compatible with most of the systXBoxems.
Long battery use.
Pros
Enhanced gaming experience.
Impressive battery life.
Lightweight and easy to use while playing.
Great combo deal with a wireless gaming mouse and clapboard.
Cons
No backlights.
Not affordable to everyone.
5) Logistic Wireless Wave Combo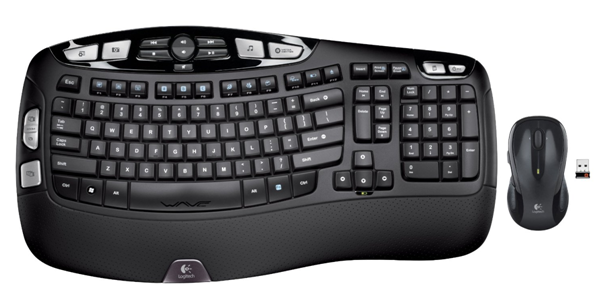 Yes, another Logistic product, this top of its class wireless gaming keyboard plus mouse combo can prove to be a great deal for you. Along with its powerful features, a contoured wireless gaming mouse comes bundled with this keyboard. An amazing deal and value for money. Highlighting its features –
This combo includes the K350 model wireless gaming keyboard along with an M510 wireless mouse.
The contoured laser mouse with rubber grips gives you a smooth, precise cursor control.
A 2.4 GHz wireless connection that is strong and reliable.
Wave-design ergonomic keyboard with cushioned palm rest that provides comfort while typing.
A strong battery with no guaranteed changes of up to three years for the keyboard and two days for the mouse.
Strong connection even up to 10 meters.
18 programmable keys.
Pros
A well-designed keyboard that ensures comfort while typing.
One of the best combo deals available in the market.
Battery life is long.
Cons
The key layout is not efficient.
The keyboard can sag in the center when resting your palms and typing.
6) IOGEAR Kaliber Wireless Gaming Keyboard and Mouse Combo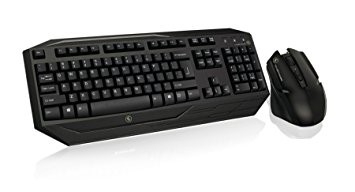 Another great value for money package, this is a pair which has a plethora of features, and that comes at a highly affordable price. If you are looking for a wireless keyboard that has the basic functions without all the bling of the other flashy products but still gives a respectable performance, this is the perfect choice for you. Coming with a sleek wireless mouse, this combo boasts of a highly sleek design that renders it compact all the while providing ease of use. Taking a look at its features –
8 anti-ghosting keys.
A strong 2.4 GHz wireless connection with a range of up to 33 feet.
Water and dust proof design.
Highly durable with keys of up to 20 million stroke life.
Adjustable DPI, even while playing games.
Highly advanced 7 button gaming wireless mouse with three macro buttons.
Customizable mouse functions.
Diamond key-cap structure provides a solid stroke.
Pros
A strong lag free performance over a good, wireless range.
The mouse gives an exceedingly efficient performance.
Value for money combo.
Cons
Feels rather flimsy while using.
The user experience for type response wasn't satisfactory.
7) Logitech Cordless Desktop MX 5500 Revolution Bluetooth Mouse and Keyboard
Another great Logitech product, this great combo is again here to make Logitech take away every prize from its competitors. Although with a high price tag, this combo is made especially for a great gaming experience, and it is not here to disappoint. Features-
LCD display showing various statistics to help you focus on the game.
It comes with a rapid charging stand that ensures a long battery life.
Precise, click-to-click scrolling.
Comfortable palm rest.
Pros
Exceptional battery life.
Flawless Bluetooth connectivity.
Cons
The palm rest is not of a great quality, might degrade in some time.
8) Azio Vision Backlit Wireless Keyboard (KB506W)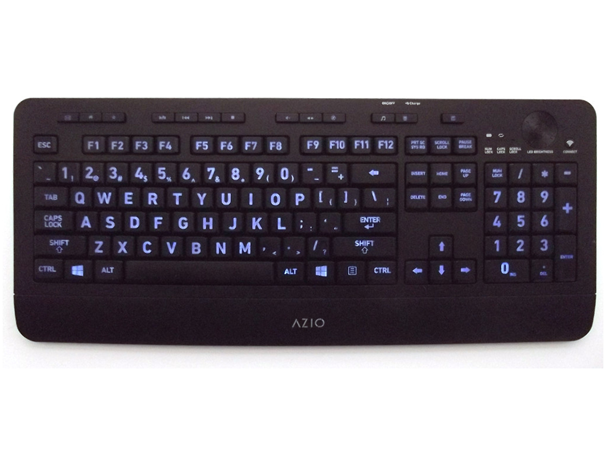 Build for great comfort while playing and a highly versatile device, this wireless gaming keyboards is compatible with each one of the best wireless gaming laptops and PCs available. Highly versatile and encompassing strong features, this wireless keyboard is one of the best for entry level players.
Some of its features of this Azio Wireless Gaming Keyboards –
4 GHz RF wireless connection.
Easy to use, large 104 programmable keys.
FN along with shortcut function keys.
It has a rechargeable battery that ensures of up to 2 weeks of uninterrupted use.
Blue color backlight with adjustable brightness.
Two times larger than conventional keyboards.
A good operating distance of up to 30 ft.
Pros
Large keys ensure easy operation.
Adequately respectable features and performance according to the affordable price.
Cons
USB could be hard to locate.
A large footprint makes it rather clumsy to hold.
9) Mad Catz S.T.R.I.K.E.M – Reviewed Wireless Gaming Keyboards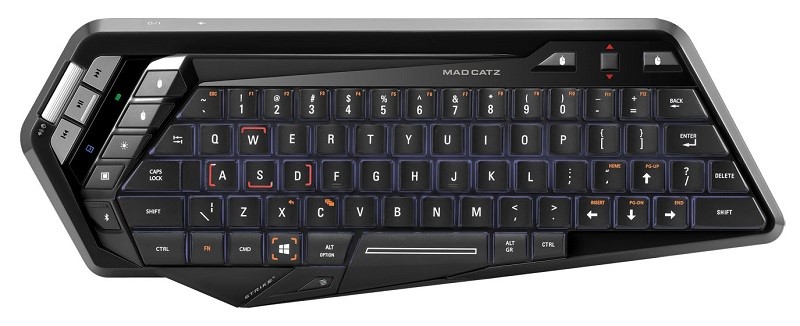 This company is renowned for its futuristic, heavy built designs and highly efficient products that are simply loaded with features. However, with this wireless keyboard, the company produced a device that is highly compact and easy to use with any device, all the while not compromising on the features. It even comes with a stand, a mouse simulation and a touchpad along with two mouse buttons, all with a highly affordable price tag. Let's look at its features –
Extremely lightweight – 190 grammes.
Battery life of up to 45 hours.
Custom built P.U.L.S.E. scissor keys allow ease of typing.
Easy Bluetooth connectivity of up to four devices.
Built-in touch pad with mouse controls.
Backlighting that can be customised.
Easily compatible with all the devices.
Comes with a free travel case and stand.
Pros
Extremely portable.
Lightweight
Highly affordable price.
Encompasses a touchpad and mouse controls.
Cons
Clumsy to use because of small size.
Doesn't feature many powerful functions.
10) ARCHEER Wireless Keyboard and Mouse Combo Set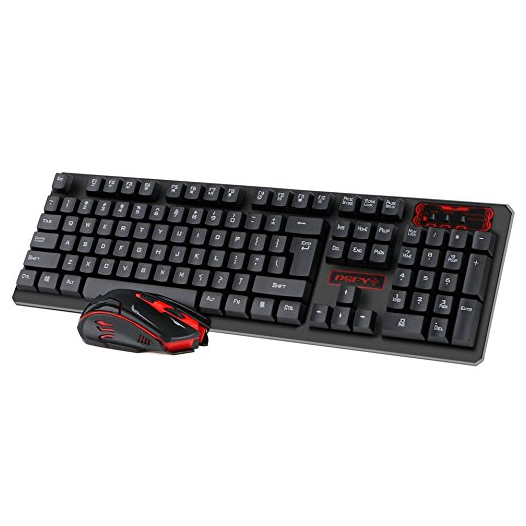 Another great combo set, this wireless gaming keyboard is definitely worthy of your hard earned money. Making a niche for itself in the already competitive market, the product comes with a great set of coveted features, exceeding the expectations that follow its price tag. Let's look at its features –
A powerful 2.4 GHz wireless connection.
A strong rechargeable battery ensuring 24 months of continuous use.
12 function keys that help you instantly access all the features you want to.
The design ensures comfortable typing.
Pros
Respectable performance according to the price tag it comes with.
Highly versatile and comfortable design.
Cons
Not a quality build design.
---
In conclusion, it is extremely dependent on the gamer what kind of wireless gaming keyboards they would prefer according to their needs and economic capacity, but we have certainly tried to give you a smaller and better list here from all the numerous wireless keyboards present out there. The perfect wireless gaming keyboard is just out there. We are certainly hoping that this would help you make a better choice so that you can make the best use of your hard earned money and have a great gaming experience. Do leave any further notes or comments below. Happy gaming!