It's a hot sunny afternoon which makes you more lethargic and less bouncy. Whether at the workplace or at home, sundrenched crack of dawn pulls your energy levels at their lowest. Neither you wish to catch with your pals nor are you able to act productively. All you are left with your 5 inches screen that fetches the great world in your tiny undersized palms. But, isn't it quite monotonous and humdrum to scroll through the same repetitive apps?? Indeed, it is. All you need is to break the monotony and add some fun and exuberance in your wearisome and droning life! so let's get into Interesting Websites which you can surf.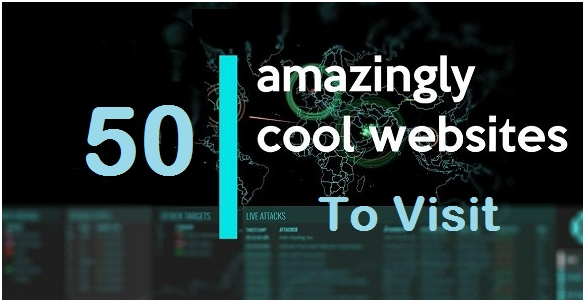 Here, in this article we present you the best, coolest and the most interesting websites to surf in your leisure time that is not only extravagant but also, exhilarating andworth spending time on!
Interesting Social networking sites to spend time on –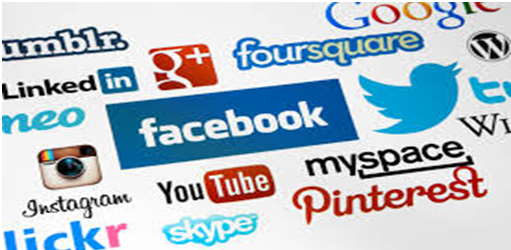 Social networking websites are resourceful as well as entertaining. They let you connect to the world within few seconds and get global statistics. You may use social network to realize your commercial needs too. Also,Allows you to connect with friends and families andlets you share the joyous and treasured moments of life with folks around via posting photos, videos and sharing stories.
To name a few, these social networking Interesting sites will spice up your mood when you least expect-
Facebook– connects families and colleagues on a single platform. Allows you to share special remembrances of your lives via pictures, videos, and status updates. In true sense, it joins the world.
LinkedIn- formally designed for business purpose! Links you with desired industries and professionals from your field and boosts your career profile.
Twitter- one of the most widely and wildly use app, twitter has world's largest assembly of active users. From pictures to words, along with the constraint of 140 words per tweet, Twitter lets you socialize and follow people of your choice.
Instagram- Now owned by Facebook, Instagram is a sensational, picture and video editing app that permits you to uncover your favorite moments of love, life, food or travel with your favorite people.
Periscope- An Android and iOS compatible app, Periscope is a live video streaming appallowing you to air live video from any corner to watch one from any corner of the globe!
Reddit-An amazing place to spend your free time with, Reddit enables a user to add content via text post or share direct link about their interests. Also, you can vote up or down other content and decide their position on the website and vice versa. Have funny plus serious interactions with users universally.
Wish to get inspired??                
Felling fuzzyor daydreaming?? Or had, a tough time at work? Following websites will stuff you with fun and inspiration to give a kickass start to your dull and irking day.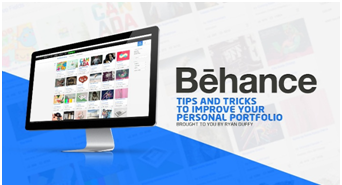 7. Behance- chiefly, an online portfolio curator website which accumulates the newest creative and talent from distinct area of work like fashion, architecture, industries, typography, photography, culinary skills, sound fine art and so on at one place. Beneficial for firms to fetch artistic and resourceful talent across nations.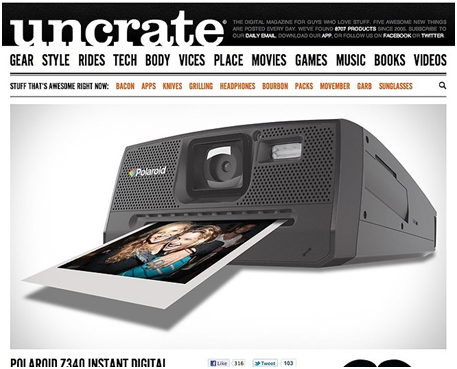 8) Uncrate-an ultimate compendium of men's apparel, gears, and automobiles exclusively crafted for the menfolk. Classy yet trendy stuff available for men fond of sedans, attires, gears or accessories. Must visit once!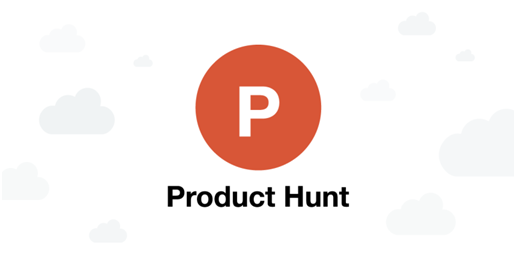 9) Product Hunt- a website designed to hunt the latest and fashionable new releases of applications, websites, products and much more. Not updated? Visit- Product Hunt!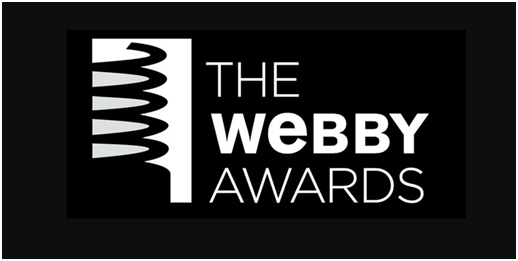 10) The Webby Awards- Ever heard about websites or applications getting an award? Yes, Webby Award is a leading website cum an honoring body which awards various mobile applications, websites, advertising and media, online films, etc. with the 'Webby Award.' Have a look!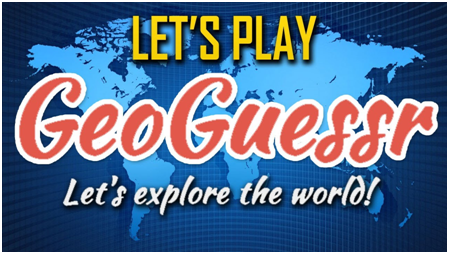 Interesting websites for your summer time
11) Geoguessr– a perfect pastime webpage for people expert at guessing. This website uses Google Maps to help you guess the location; you're randomly dropped at. You've guessed your location with the help of clues and get back to the given location.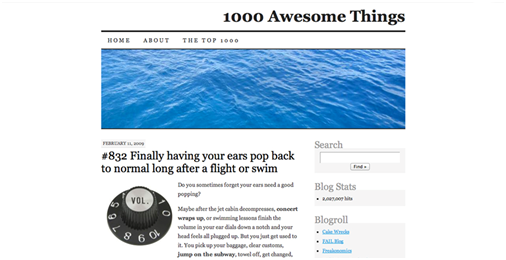 12) 1000 Awesome things– A Webby award-winning, 1000 awesome things is a regularly updated Interesting Websites, which posts an incredible thing in life on a daily basis routine. Must for those who want astonishing facts to know.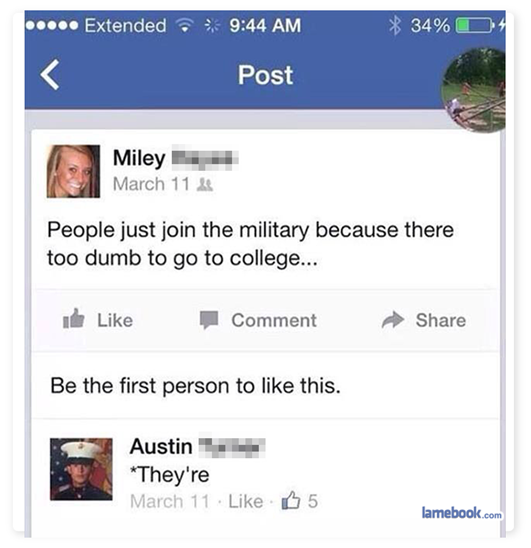 13) Lamebook– a website filled with funniest Facebook content and posts from people at different social networks, Lamebook engrosses you completely in laughter and funny comments, pictures and posts that people had in their social media lives. Getting bored, open Lamebook.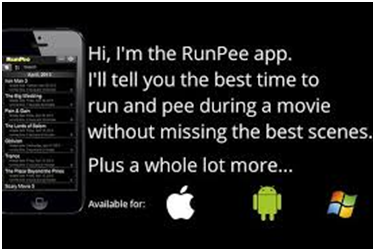 14) RunPee– Want to pee amidst climax of a film or web series? This website helps you choose an accurate pee time without having to miss the best bit of your show.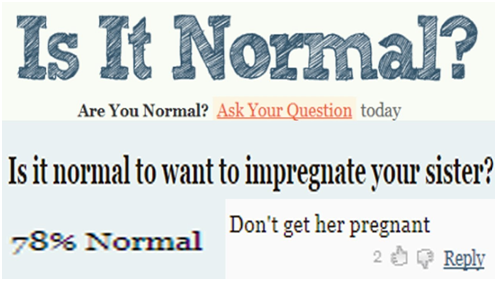 15) Is it normal? –Doubtful to take any decision? Is it normal is an interacting platform to discuss and get perception of others on different matters of life.
When you would like watch videos on your system, you can also use Chromecast for Windows.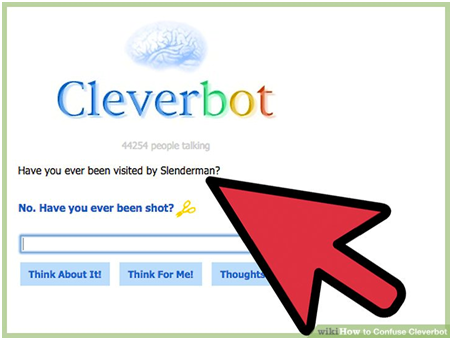 16) Clever Bot- you must have heard about Siri in iPhones or Google Assistants in Androids, Just like you talk to robot there, Clever Bot enables you to commune with a robot in your leisure time. Gives you blunt and sharp replies that would amaze and entertain you more than a normal friend talk.
For Booklovers
17) What should I read next? – Always a dilemma for a book lover to opt between various books. Try this website which recommends an ideal set of books which suits your taste.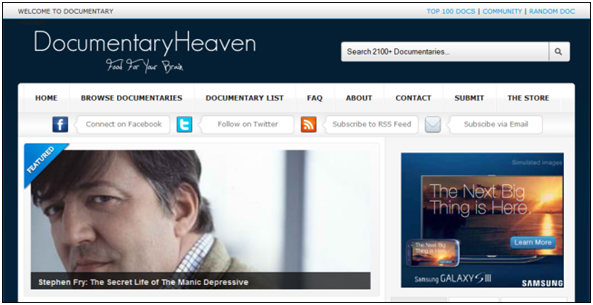 18) Documentary Heaven– Dead right website for documentary lovers! From the vast collection of documentaries, you can pick up your favorite life history for free.

19) Goodreads– a well-liked and largely browsed reading the website, Goodreads is a platform to browse and share, your much-loved digest from various genres, usually for free.
If you get bored and need to do video call then you can also go with facetime on your pc to talk to someone.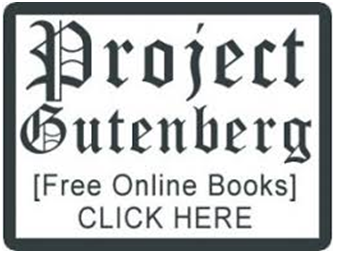 20) Project Gutenberg– Project Gutenberg has a lot to offer! With over 49000 free e-books accessible, the website lets you download or read online the best sellers with no copyright issue!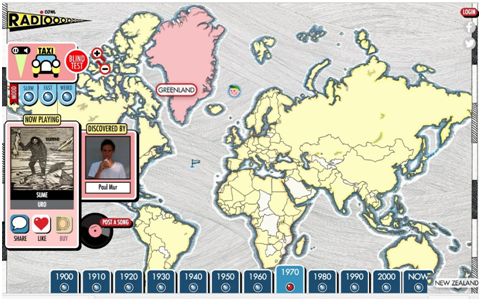 Rock and roll on the beats
21) Radiooooo– the Radiooooo with five 0's certainly takes you to any time zone you wish to hear with music on. Choose the time and place and you get to listen to the music and beats prevalent then and there! No less than a time machine! It is also said to be good habit to play with your old photos which you can achieve with picasa alternatives.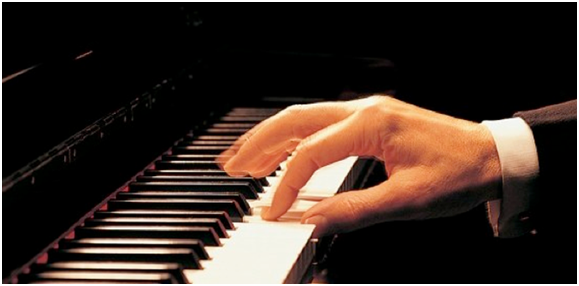 22) Touch Pianist– music is the best healer in times of pain or boredom. Visit Touch pianist to play soulful tunes using your keyboard as piano strings without stressing about notes and keys.
23) Tunefind– a fashionable andin style website, updates your music library with latest and trendiest songs most popular online. Hurry up and bless your ears with most liked movie songs.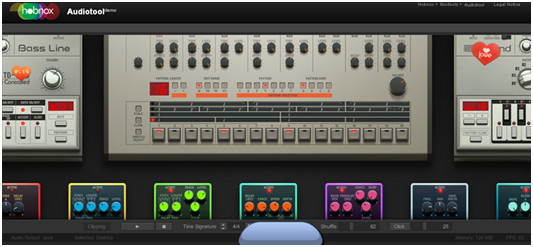 24) Online Sequencer– specifically meant for singers, instrumentalists and composers, Online Sequencer enables you to make up tunes and songs with a wide-ranging list of instruments to play on and share the music with the world! One in all website to grace music.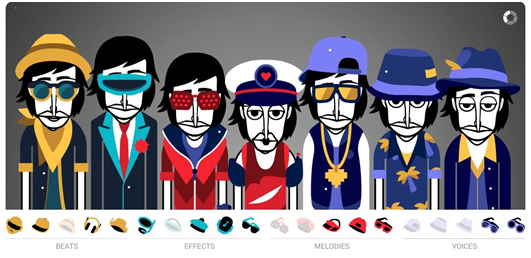 25) Incredibox– More than a website, Incredibox is a musical game application that entails drag and drops sound option to create music on different characters. Just like the name of the manufacturer, the game is, So Far So Good. It is websites to waste time on easily.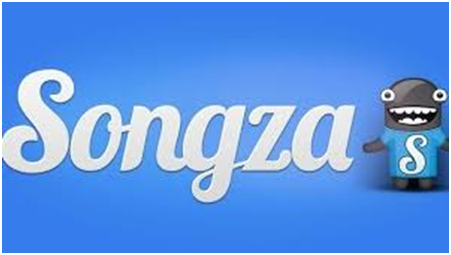 26) Songza– Songza can turn out to be your best companion in the events of monotony and dreariness. It's a free music streaming application which sorts out best melodies for you as per your mood, time of the day, themes, genre, artists and eras. Tune in now!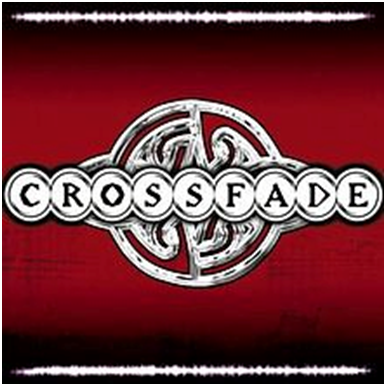 27) Crossfade- How annoying it is to switch between two or more music apps to listen to different genre songs! To fade out this issue, Crossfade allows you to set playlists framed using different music apps. Just cut copy paste the URL's of the songs and create your playlist in Crossfade. Isn't it handy!!
Gaming zone on.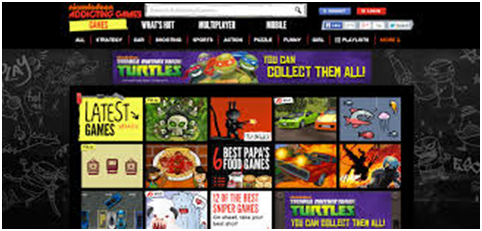 28) Addicting Games– As the name suggests, this website will addict you with the latest and exhilarating games in all categories like car racing, action and thriller, mind boggling puzzles, funny, shooting, escape games etc. from different zones across the world.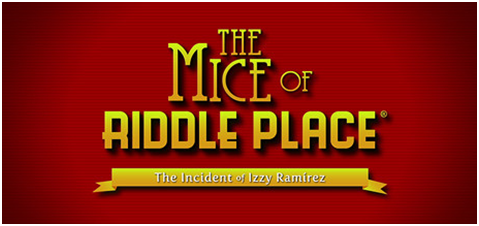 29) The Mice of Riddle Place – the mystery of Mrs. Wirth-an exciting puzzler that helps you spend your noon, brainstorming to solve the cryptic and inciting puzzles level by level, thereby engaging you to in decoding the mysteries.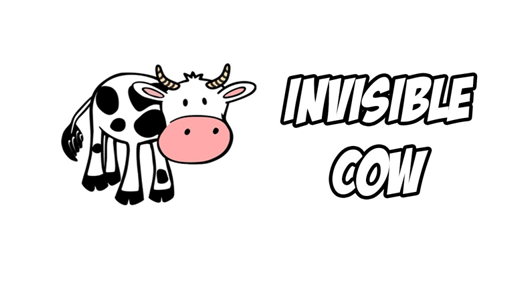 30) Find the invisible Cow– Put your earphones on and based on the Moo of a cow, search it by clicking at a place you think rather listen, the cow must be. As the cow approaches toward you, the sound goes lurid and shriller. Try it once and you'll play it for hours. Report with interesting websites when bored.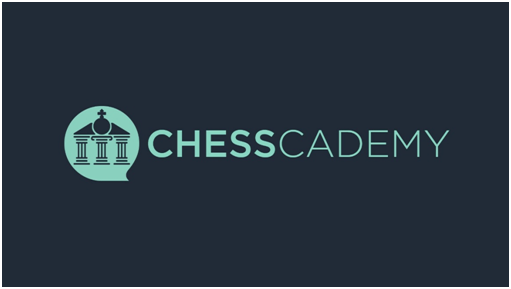 31) Chess academy– a website designed for brainiest and shrewdest minds to brush their chess skills with fun and interactive tips to play chess. Want to pastime productively, visit Chess Academy.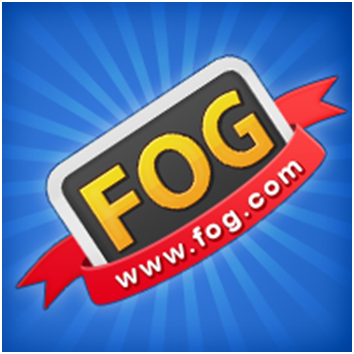 32) FOG– Short for Free online games, this website offers you a rich compilation of games for no cost. Varying from car racing and speed games to brain-teasing puzzles, escape games, action and adventure games, FOG provides you tag to search and play the game of your choice.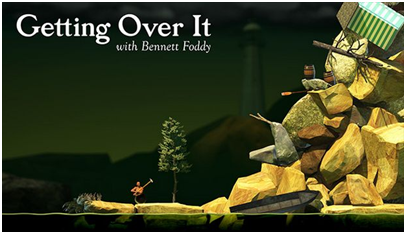 33) Foddy – Getting over it with Bennett Foddy, is a video game designed to test your controlling skills. Based on a man's journey on a mountain filled with obstructions, the user tries to move the man by sledging the hammer to reach at the top of the cliff. An Interesting and quick-witted game!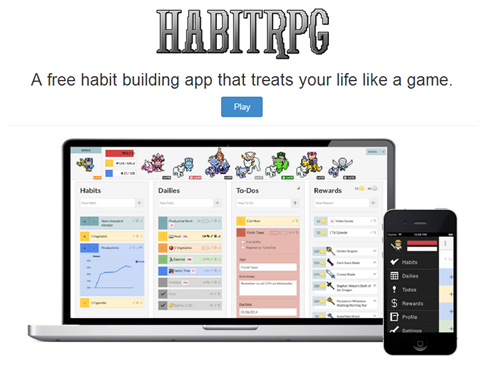 34) HabitRPG – A life-management based game developed by Habitica, transforms a person's habit while playing the goal-oriented game. In this GAME, a user needs to achieve long term goals say for an hour based to earn points. Tasks are both positive and negative in nature and have similar effects.
Intellectual Interesting Websites To Spend Time With..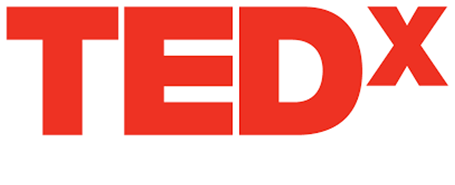 35) TED– A powerful and predominant website in the category of knowledge and admiration, TED or TEDx talks are widely prevalent all around the globe. Conducted in various countries, philanthropists and professionals from varied disciples lecture their views and ways to achieve glory and share thoughts which are worth listening and implementing. In literal sense, TED is the most productive site to spend time with.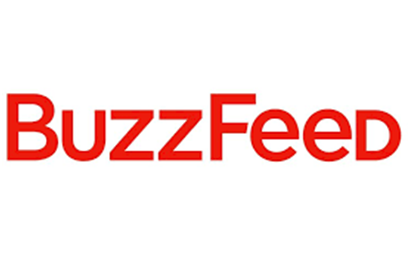 36) BuzzFeed– Granting access to the informative and most modern articles with GIF's and fascinating videos for that reason we can say interesting websites, BuzzFeed serves you updated articles and information about what's happening around you  and in the world. From regional to universal, it's like an attracting guide in the hand.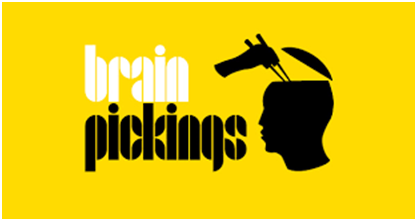 37) Brain Pickings– For intellectuals and science researches, a visit to Brain Pickings is a stroke of luck. Equipped with science and fiction related articles, Researches and thesis on science, the website has a lot to offer for free.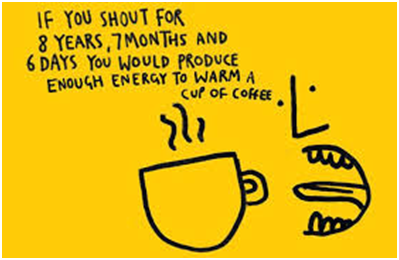 38) OMG Facts– Wants to know surprising and jaw-dropping facts? OMG facts is purely crafted for people with scientific and intriguing mind. The site offers you shocking facts to enhance your knowledge and kill boredom.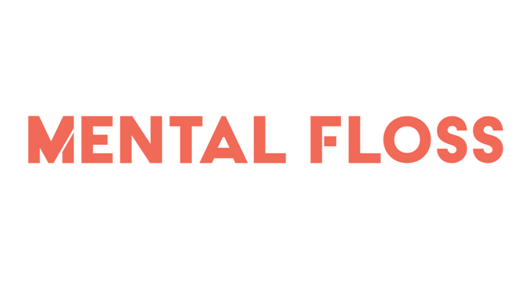 39) Mental Floss– Considered to be the best time killer is to use it productively without getting tedious. Mental Floss offers readings and thoughts of people who've influenced the world. Also, provides a new perspective on the things happened in the past. Must visit.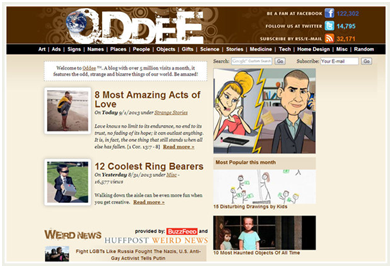 40) Oddee– an interesting blog that fetches out captivating andappealing information on various topics and strangest things that have happened around. Want to use time effectively, search Oddeeand boost your intelligence.
Comic sites that would cheer your mood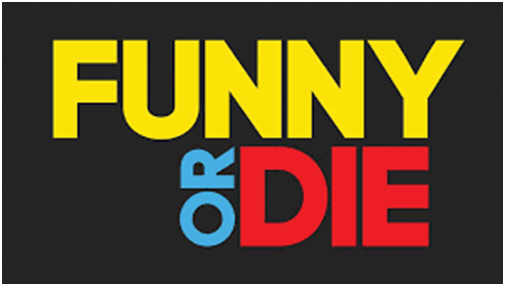 41) Funny or Die– A laughable and quite entertaining website to waste your time at. Funny or Die takes you on a comical drive with its hilariously funny videos, features and podcasts. An incredible site to cheer you up.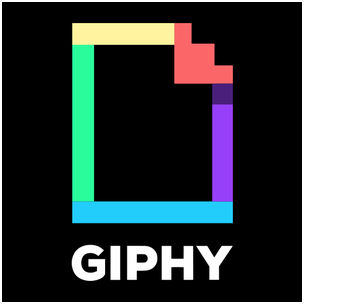 42) GIPHY– a website jam-packed with funniest and rib-tickling Gifs that would lighten your mood within few seconds! Wants to laugh out loud, visit Giphy for comical and animated Gifs.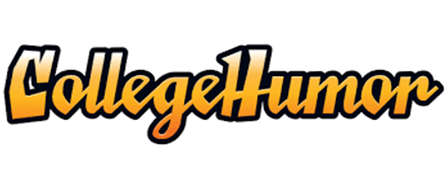 43) CollegeHumor– running successfully as a YouTube Channel, CollegeHumor is also a site much popular among youth these days. From unique jokey content to some serious social issue, CollegeHumor offers witty and funny articles, video and features for free. Try now.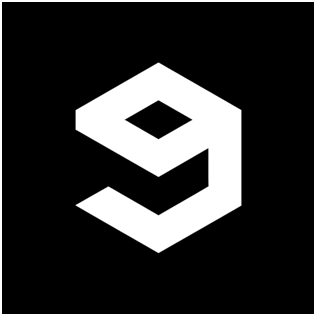 44) 9GAG– Bored with same old jokes and memes? Try out 9GAG for some tongue in cheek jokes, memes, gif's and funny pics to laugh and share with your pals.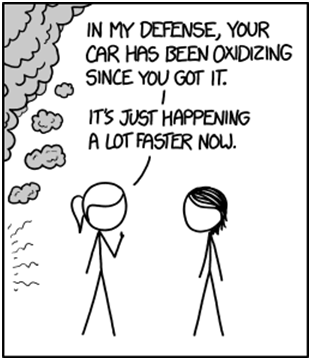 45) XKCD– when browsing for your favorite comic on internet, XKCD is the best site to Google at. With simple user interface and numerous comic tales, XKCD has vide ranging stories- from science and fiction to romantic tales and comics, it's a best pastime.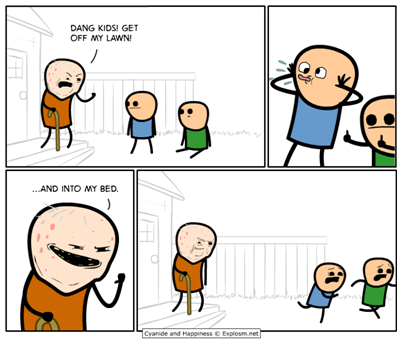 46) Explosm.net- looking for dark comedy tales and web comics, Explosm.net is what you must look for. For sarcastic comic series and serious fun, visit Explosm.net or Cyanide and happiness, as it's known for!
Attention-grabbing websites-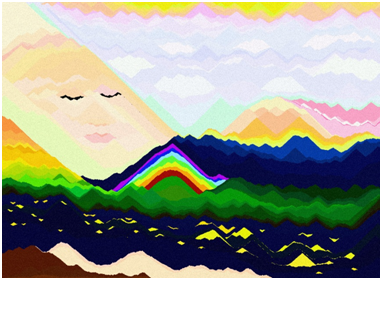 47) THISISSAND– Waiting at the airports or took an office break, THIS ISLAND is a website that brings your creative flair out. Appraise your imagination & draw some sand art using various colors in your free time. Must visit when you've much time to spend.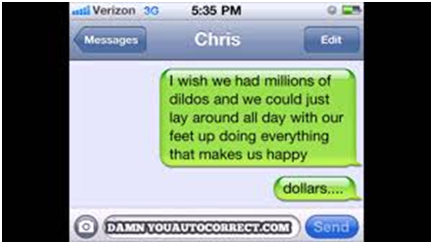 48) Damn You Auto Correct– Auto-correct being a boon for those with poor grammar, it's equally a disaster when it helps you without being asked! 😛 Damn you autocorrect, present some best autocorrect failures that lent people into troubles. Watch for some iPhone screenshots autocorrecting things when not required.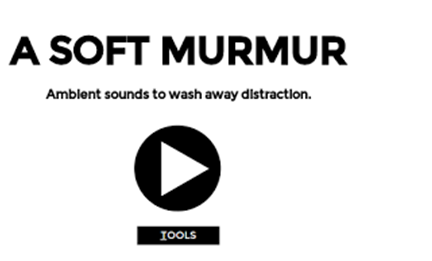 49) A Soft Murmur-do you like to create weird and wonderful sounds out of natural things? A Soft Murmur lets you create eccentric sound using noises of thunder, Fire, lightning, white noise etc. quite productive and interesting site to spend your noon time.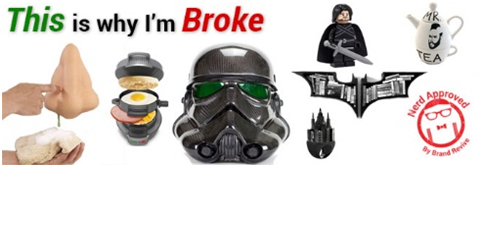 50) This is Why I'm Broke – a Home for home unique and exceptional collection of gifts, This Is Why I'm Broke is a shopping site for those looking for strange and rare gift idea. From Led Faucets to fancy litter boxes, infinity cubes, this site takes you to the site like Amazon on a single click depending where the item is being sold! Must visit to catch some distinctive gift ideas.
Conclusion : Obviously there are tons of other websites if you really want to waste your time or want to do something interesting in your free time. Although most interesting websites we have mentioned above for you so that you can get best timepass interesting websites.