With the advancement in technology, the world is looking at efficient machines which can bring ease in their work at affordable prices. Gadgets like Personal computers, mobile phones & laptops have not only become a regular part in work processes but also a style symbol. In the recent times, laptop selling market has observed incredible growth, not only due to its primary usage but thanks to its ability to store songs, videos, pictures, files etc. This article brings to you world class highly proficient laptops which are reasonably priced at $300 – here you will be seeing best laptop under 300 from topmost laptop brands.These laptops are handy enough to be carried by office workers as well as college and school students.
Laptops are slowly becoming essential requirements for many individuals especially the students and the employed lot because they may not be sitting in one place all day to access a personal desktop computer all the time. There was a time when all laptops were extremely expensive. However, these days buying one is not really a big deal because many of these devices are available in the market at reasonable costs. If you are looking for a nice deal and are willing to compromise on some specifications, read on to know about a few popular laptops under 300 dollars.
Budget laptops under 300 Dollar
But before we look at best laptop under 300, let's have a quick analysis of what to aspire in the best laptops under $300 to call it a professional, competitive and a manageable notebook. Here are the key traits:
Dimensions: Certainly, one could easily fetch an 11 to 15 inches notebook under a considerable price of 300$.
Operating System: choosing an apt OS is a key requirement of any person. With $300 in a pocket, one could easily procure Windows 10, 8.1 or a chrome OS. Willing to work on MAC may insist you on spending a little more.
Processor & Storage: while looking for a good budget laptop under 300, one must definitely match his storage requirement, RAM & internal hard disk capacity.
Graphics Card– one should also look for an integrated graphic card.
Battery Life – a shopper should not compromise with the battery life of the notebook unless he purchases it for domestic purpose. Big brand names do promise a high battery life, but for best laptop, under 300 you need to double check the same.
Here, we present you 10 best laptops under $300 with all the latest and above-mentioned specifications. Have a look:
1 : Samsung Chromebook 3 XE500C13-K01US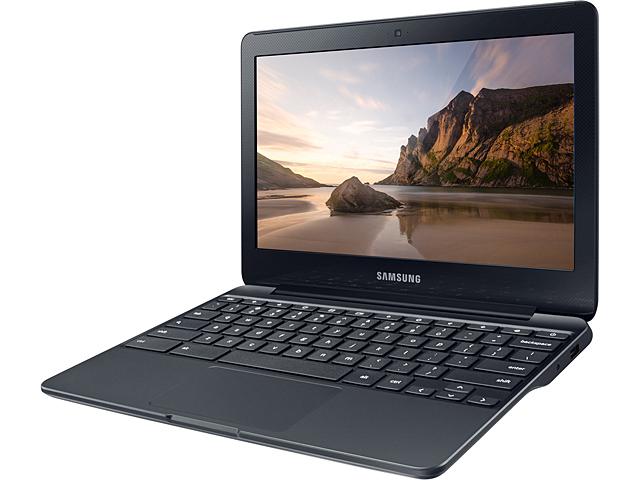 A touch screen laptop with a big brand name, that too with just $300! It's like a dream. But, here, it comes true. Samsung offers a magnificent and well organized laptop in your budget. With 11.6 inch HD screen &anti-reflective display outstanding dimensions as 11.37 x 8.04 x 0.7 inches, Samsung Chromebook offers high-quality visual effects, making working and watching mind- blowing experience. It is equipped with Intel Celeron N3059 processor and spill-resistant keyboard.Not just this, but 16 GB SSD Hard Drive & 2 GB of RAM makes it spacious storehouse. Although, it is not an apt laptop for gaming purposes but it does satisfies other usages of a notebook.Its long lasting battery life is the highlighting feature as it can support you for 11 hours. So definitely a good budget laptop under 300, you won't regret picking this laptop later.
Pros
Prolonged battery life for up to 11 hours.
Spill- resistant keyboard makes cleaning comfortable.
SSD available.
Cons
Deficient storage – 16 GB hard drive.
Unsuitable for gaming purposes.
Buy Samsung Chromebook 3 XE500C13-K01US which is one of our best gaming laptops under 500 from the link
2 : Acer Chromebook CB3-131-C3SZ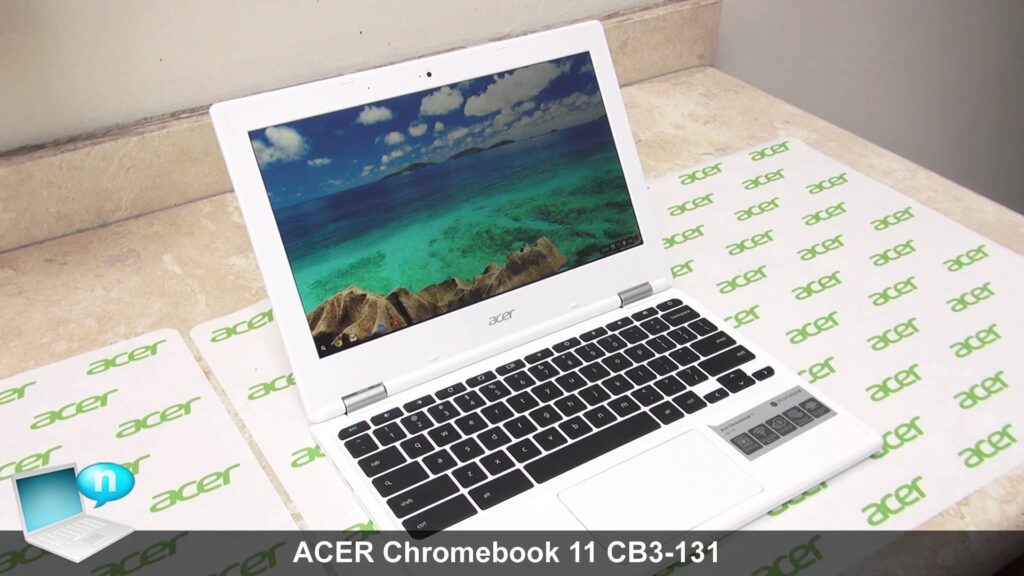 Next in the house is an invention of Acer. Definitely one of the best laptop under 300.Acer offers a finest and a long lasting notebook to its users-Acer Chromebook CB3-131-C3SZ. You get a glorious display of 11.6" inches HD IPS Screen &8.03 x 11.57 x 0.73inches dimensions. The laptop is powered with 2.16 GHz Intel Celeron & grants out a mere 2 GB RAM which makes it limited. Also, it has one 3.0 USB as well as 2.0 USB port. It is quite handy and weighs only 2.4 pounds. It has 9-hour battery sustenance.And it consists of almost everything that you can wish from a good budget laptop under 300.
Also Check other laptops :
Pros
Low weight makes it handy.
Long battery hours – up to 9 hours.
Two built-in stereo speakers bestow High-quality audio.
Cons
2GB RAM size drags its storage capacity.
Prone to breakage – less durable.
Buy Acer Chromebook CB3-131-C3SZlaptop at amazon:
3 : Lenovo Ideapad 100 Laptop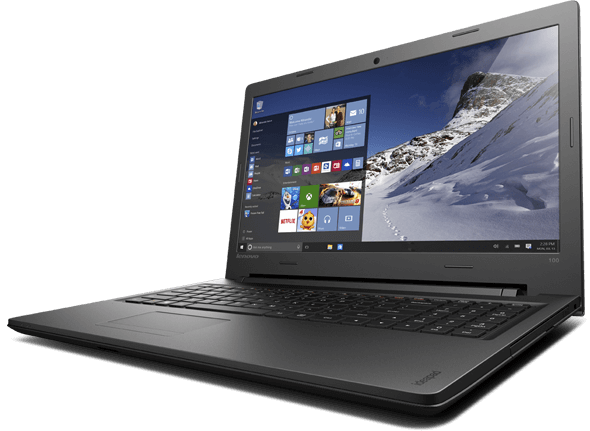 Well, next in our list is a creation from Lenovo. Lenovo has always pleased its customers with its high quality and portable devices. One such in the list is-Lenovo Ideapad 100 Series. It confers an excellent display of 15.6 inches with integrated webcam and microphone along with 10.43 x14.88 x0.9 inches dimensions. The laptop is furnished with regular ports of USB, HDMI and Ethernet. Its delicacy, high portability, and effectiveness makes it an apt laptop for women workers and students.
Pros
Durability and low weight make it handy.
Quad core i5-5200U Intel Processor driven.
Cons
Only 4 hour's battery life.
4GB RAM size drags its storage capacity.
Buy Lenovo Ideapad 100 laptop at amazon:
4 : HP 15-F222WM Touch Screen Laptop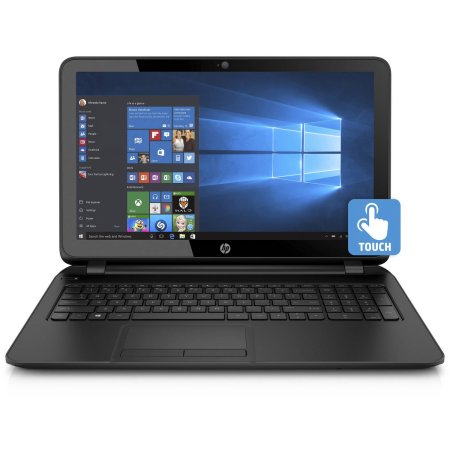 HP- this big electronic giant is famous for delivering highly efficient and stylish electronic models. Another Laptop which comes in line for best laptop under 300. HP 15-F222WM is one such artifact. Its sleek body design & high resourcefulness makes it one of the best laptops within our means with preinstalled Windows 10 operating system. Powered with Intel Pentium Quad Core N3540 processor and 20 x 12 x 3 inches product dimensions makes it speedy & professional laptop. It provides you with 4GB RAM and 500GB hard drive storehouse for your audio, video and document files.Also, it comes up with a built-in webcam, wireless LAN, three USB ports, DVD drive and digital microphone. You get it all with HP 15-F222WM, and not just under $300 list but this laptops also makes into the list of best laptops under 1000 bucks.
Pros
6 inch Full HD LED screen gives it a wide look.
Store as much you want with 4 GB RAM.
Laced with Intel Pentium Quad Core N3540 processor
good build quality
Cons
Low battery life.
Absence of Bluetooth and 5 GHz WiFi connectivity.
Not so good keyboard.
Buy this amazingly specified laptop with a petty outlay of $300 from amazon.. Follow the link:
5 : HP Stream Laptop PC 14-ax010nr
Next in store, we have HP Stream Laptop PC 14-ax010nr- the best gaming laptop. This laptop has wonderful specifications & miraculously designed body. Powered by1.6 GHz Intel Celeron, makes it a power booster laptop & its high quality dimensions of 8.9 x 13.27 x 0.7 inches& 14- inches screen display gives soothing effects to your eyes. You are also gifted with two 3.0 USB ports and a powerful Li-ion battery. It has impressive storage capacity 4 GB of DDR3 SDRAM with expandable memory. It weighs 3.2 pounds, a little bulkier notebook compared to others on the list.
Pros
4 GB RAM is quite respectable with such a low price.
Multi-purpose notebook. You can play games, stream videos efficiently.
Functions well with Windows 10.
Highly movables due to size.
Cons
Mere 32 GB Hard drive.
Poor graphics. More contrast and bright colours required.
Use following link to grab this laptop at an affordable price:
6 : Toshiba Chromebook CB35-B3340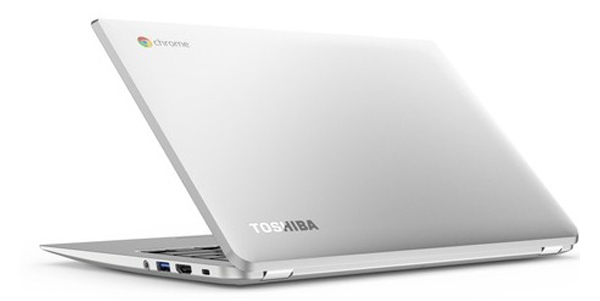 All the credits of bringing portable PC's into the electronic world goes undeniably to Toshiba. And if you are looking for the best laptops under 300 for college students, Toshiba can be your brand to stop at.Toshiba is the leading brand name in electronics & it is holding this credit with complete grace. And here again, it tries to satisfy its users with the trendiest laptop of 2017 with a reasonable price. Toshiba supplies a12.6 x 8.4 x 0.76 inches notebook with 4 GB of DDR3L SDRAMand2.16 GHz Intel Celeron processor.Its 13.3" screen displays high-definition Intel graphics. Toshiba joined hands with skullcandy and equipped this notebook with its speakers and headphones.
Pros
Comes with Integrated Intel HD Graphics
Enhanced audio quality with skullcandy speakers.
Powerful battery life.
Handy as light weight.
Cons
Color shifts can be detected with excellent graphics.
BuyToshiba Chromebook CB35-B3340at amazon:
7 : ASUS VivoBook X540SA High-Performance Premium HD Laptop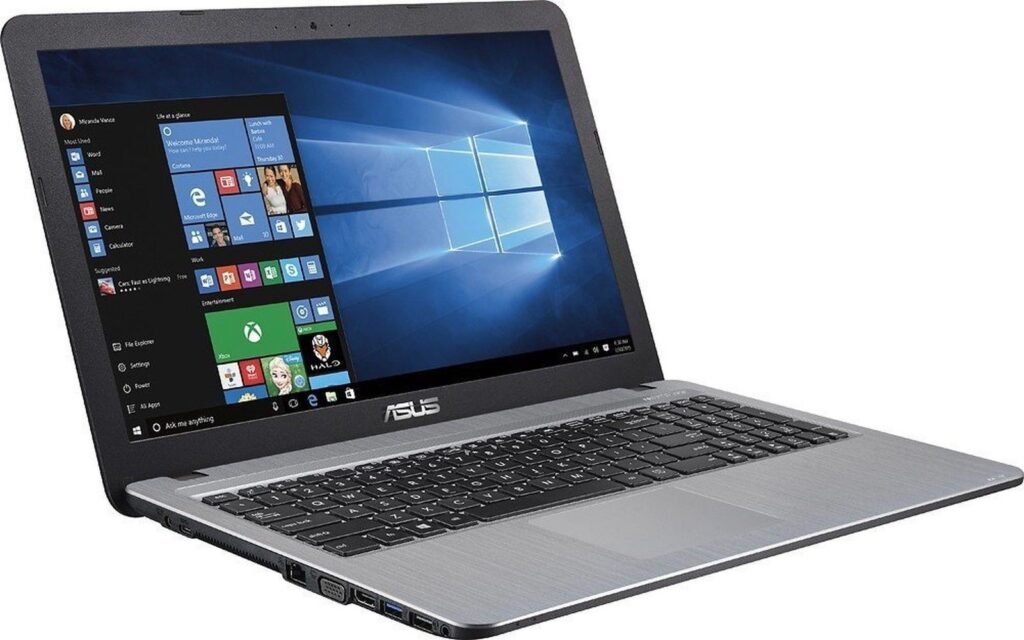 Yet Again, We have an artefact from the house of Asus.Not just it comes in the list of best $300 laptops but also is a decent gaming laptops under 300 dollars. This product of Asus is one of the largest screen notebook in its class with 15.6 inches display. It is powered with1.6 GHz Intel Pentium 4. It is created with 15 x 9.92 x 1 inches dimensions giving it an elegant and pleasing look. Its full HD LED Screen makes working comfortable. This notebook weighs 4.5 pounds, which makes it unmanageable and bulky. Unlike other Chromebook, it facilitates use of Windows 10 which is more dynamic. It comes with 4 GB DDR3L RAM & 500 GB HDD 5400 rpm hard drive. Also, it has built- in wireless LAN, integrated webcam and SD card reader. The shortcoming of this laptop is its poor battery life i.e. 5 hours only!
Pros
Decent storage capacity.
Greatly desirable screen size and resolution.
Powerful processor.
Compatible with Windows 10.
Cons
Short battery life up to 5 hours only.
Order this laptop for less than $300 using under mentioned link:
8 : ASUS C201PA-DS02 Chromebook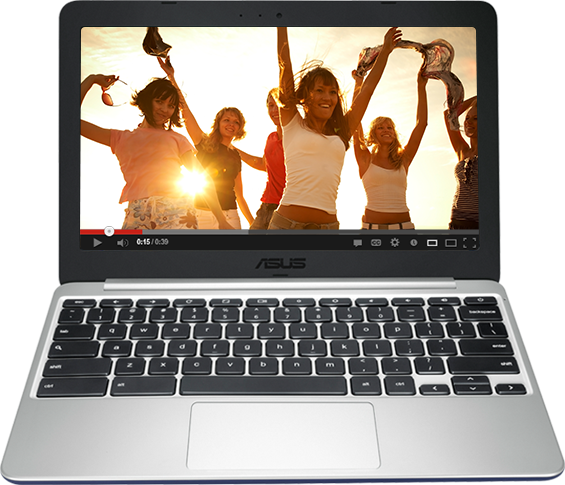 Another name in the list of gaming laptops under 300 dollars, one of the best budget laptops under 300, from the house of Asus. Asus is known to deliver high-quality laptops with outstanding features at an inexpensive price to its users.Magnificent Dimensions of 11.3 x 7.64 x 0.7 inches gives it a sophisticated look. Manufacturing Lightweight articles is the USP of this giant business house- Asus! And, Asus C201PA-DS02 Chromebook too qualifies this parameter. It is a light weight lustrous notebook powered with 1.8 GHz AMD A Series processor. What makes this notebook different & unique from rest is its incredible battery life. It lets you function well for 13-hour. Also, its durability makes it one of the best laptops in this range. It is equipped with 4 GB DDR3 SDRAM and 16 GB high-quality solid state drive (SSD) which is too much to expect under $300. The drawback that I observed with this laptop is it's not so good graphics and screen resolution.
Pros
Ample of hard drive storage.
Incredibly High Battery life.
Significantly durable.
Cons
Inferior screen resolution.
Unexceptional graphics.
Well, grab this well- mechanized notebook from Asus via below indicated link:
9 : HP 15-af131dx P1A95UA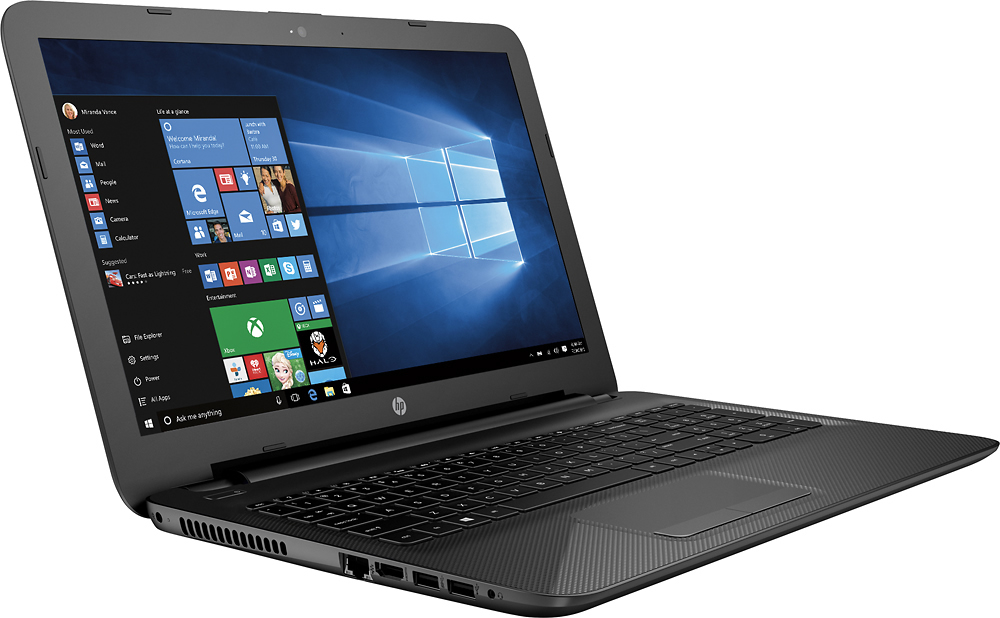 HP is back in the list with another name in a best laptop under 300.To offer laptops to different income group customers, HP launched a newest Laptop for a cheap price under $300. This notebook is powered by AMD Quad-Core A6-5200 APU (2 GHz) and is compatible with Windows 10 and other apps, games, music and videos. Its HD 15.6 inches screen with WLED-backlit display gives it an exquisite look. It is a heavyweight laptop weighing 4.7 pounds which hinder movement. It extends 500 GB 5400 RPM hard drive & 4 GB of DDR3 SDRAM storage capacity which is acceptable with given price. One of the major short inadequacy of this product is its short battery life i.e. 5 hours. One must use this machine optimally in case of long working hours.
Pros
Sufficient hard drive space and RAM.
Works well with Windows 10 and its apps.
Large screen size- 15.6 inches with WLED backlighting.
Cons
Short lived battery life- 5 hours only.
You can quickly purchase HP 15-af131dx P1A95UAat a reasonable price using following link:
10 : NextbookFlexx 9 – 2-in-1 Tablet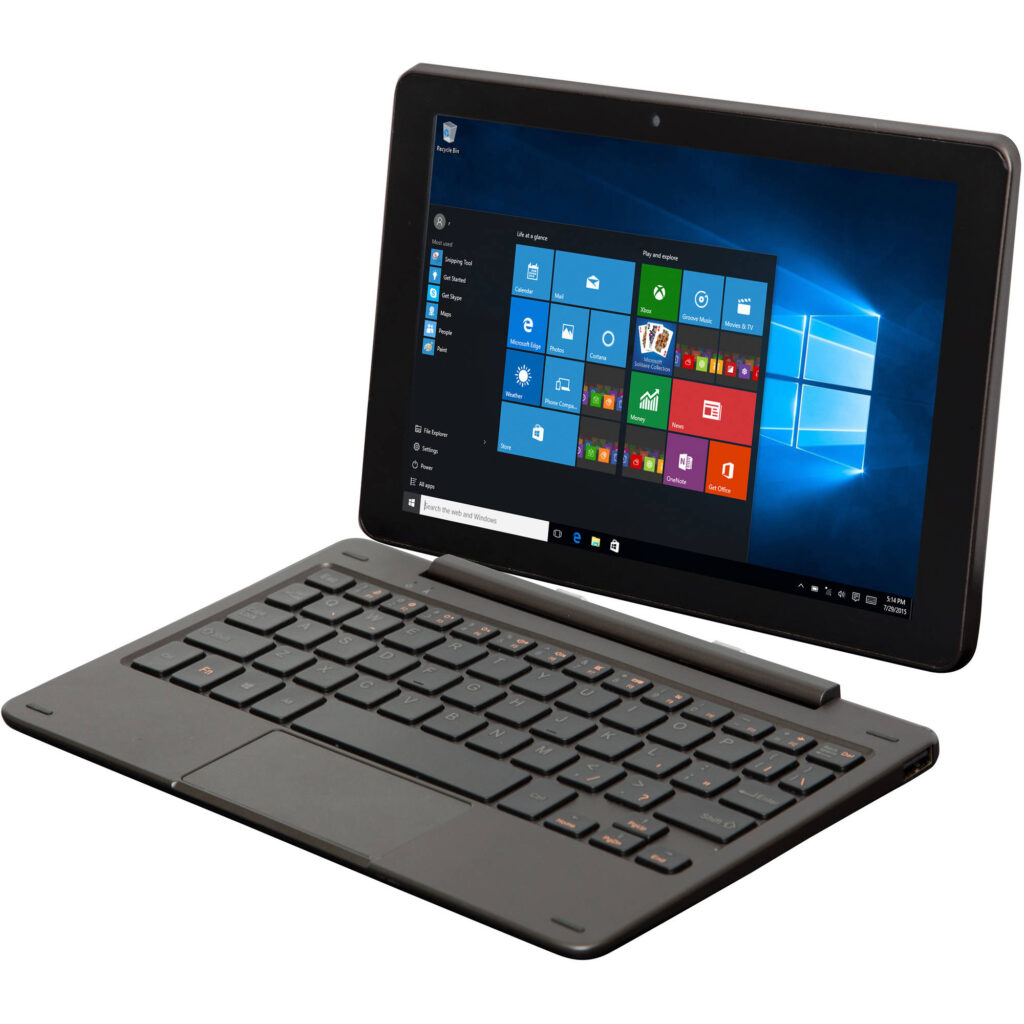 After HP, Asus, Lenovo, Toshiba products, now we have a low maintenance laptop for you. It is a tiny machine, which comes with 8.9 inches screen with 10.9 x 7.8 x 2.4 inches dimensions powered with Intel Quad-Core processor. This notebook is easily portable as it weighs 2.6 pounds only & has detachable keyboard. With such a meagre price, one cannot expect great memory. Nextbook Flexx 9 grants 32 GB internal memory but it can be expanded using a Micro SD card up to 64 GB. It is well- suited with Windows 10 and offers access to Windows app store, music, games and videos. It sustains adequate battery life up to 6.5 hours only.
Pros
Friendly with Windows 10 along with other useful apps.
Great portability with a detachable keyboard and an 8.9 inches screen.
Durability assured.
Cons
Average battery life at 6.5 hours.
You can avail this product for a fair price at amazon.com. Just follow the link:
---
Conclusion : In the aforesaid list, we made an effort to inform you about the coolest, trendiest and highly efficient laptops under an economical price of $300. These laptops serve best to office workers & college students with high speed working & sufficient storage capacity. So, match your requirement and grab the best notebook for yourselves. Till then, stay connected and spend wisely!