There are a lot of system files that your system hosts which are critical for its running. But while we explore the files of Windows Explorer like spreadsheet or reports, we cannot see them. One such system file running quietly in the background is "rundll32.exe" which helps in managing your system. If you too have noticed the Windows Host Process rundll32 file in your system's Task Manager then you might be wondering if it is a threat. And why it is running?
If you are using Windows for a long time now, then you would have definitely encountered millions of .dll files in their task Manager. So here is an article that will give you a little insight into DLL files like this and how you can keep a check on the problems that it can create.
What is Microsoft Windows Host Process Rundll32?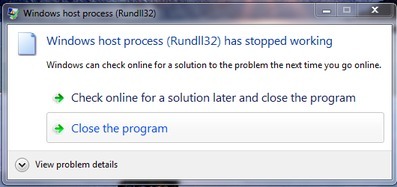 The Windows Host Process is an official core process by Microsoft. The services are loaded from Executable files and are present in the Windows task Manager by their own names. But the rundll.322 has the extension DLL which stands for Dynamic Link Library and so it requires Host Process by Windows to serve as a host from them to run.  And so one cannot directly launch a DLL file, and the Windows Host Process rundll.32 is used to just launch the functionality that is stored in .dll files. Thus this execution part is quiet valid and is not considered as a threat.
Why is Microsoft Windows Host Process Rundll32 Running?
As the DLL files are not an application, they cannot run by themselves. But the other Windows programs can make use of the features of these DLL files. Like when Windows want to open some DLL file directly, then the rundll32.exe file is used. The Windows Host Process Rundll32 is an application that is made specifically for this. But mind you, that the valid Rundll.32 process is usually stored at the given location on your system- Windows\System32\rundll32.exe.
Method 1- Use Task Manager to Know Why Host Process Rundll32 is Running?
At any given time, the Rundll32 file will be running in your system. In all versions of Windows Operating System, you can check the details of the Rundll32.exe file in the Task Manager. Just press Ctrl+ Shift+ Esc at the same time. And then within the Details tab, right click on the process. Then choose Open File location to know the details about the Rundll32.exe file that is running on your system. This was one way to find out as to why the file is running. But there is yet another way, check it out too.
Method 2- Find Out Why Rundll32 is Running using Process Explorer
Here is another way apart from Task Manager by which you can know what is going on with the rundll32.exe file.The freeware Process Explorer Utility by Microsoft helps you to know more about the properties of the Windows Host Process rundll32.exe file. Also one of the major advantage of this utility is that is supports all versions of Windows. Follow the given steps to use the Process Explorer.
Step 1: Launch Process Explorer. And then choose File> Show Details for All Processes. This will make sure that you can see everything.
Step 2: Now in the list that will be displayed, locate rundll32.exe file.
Step 3: When you will hover over this file, a tooltip with all the details about the file will appear. If not then you can check it out in its properties.
Step 4: Right-click on the file and then select Properties.
In the Properties window that will appear, you can check the full pathname of the file. You can even check the "Parent process" to know the source from where it was launched. Other than this you can also view more details of the file by browsing down, just like in task Manager.
How to Disable Windows Host Process Rundll32 in Windows 7?
For instance if the rundll32.exe file is not a part of some important application, then you can disable it. Or if the file is not present in the given location, and running from a different directory but by the same name then it is possible that it is a spyware. So in such case, you can perform a complete scan for your system's security. Here is how you can disable the Microsoft Windows Host Process Rundll32.exe in Windows 7.
Step 1: Invoke the Run Command box by pressing the Windows icon key+ R at the same time. Then type msconfig.exe in the box.
Step 2: Press Enter. The System Configuration windows will open.
Step 3: Click on the Startup tab. Now from the given list of processes running, check for the rundll32.exe files.
Step 4: Uncheck the box against these processes so as to disable them from running automatically.
Also find out how to fix External Drive Not Recognized.
Disabling the multiple Microsoft Windows Host Process Rundll32 process running at the background is also necessary because it also a cause of High CPU Usage. And so if it is not a part of any important application we would suggest that you disable the service. By disabling the Telemetry Services you can fix the High CPU usage issue. The process is quite simple, just follow the given steps.
Step 1: Launch the Run Command, by pressing the Windows icon key+ R simultaneously. Then type, services.msc and press Enter.
Step 2: Locate the "Connected User Experience" in the Services window. Open its settings by double-clicking on it.
Step 3:Under the General tab, select the Stop option and then set the Startup Type to Disabled.
Step 4: Now click on Ok. And then restart your system to apply the changes made.
This was one method that can help you fix the high CPU usage due to the Windows Host Process Rundll32.exe files. There are various other methods that you can try to troubleshoot the issue.
Wrapping Up
So, guys, this was all about the Microsoft Windows Host Process rundll32 that is running secretly at the background of your system. We hope that this article was of help to you, and you can now differentiate between a valid and spyware process. Share your suggestions and queries with us in the comment section.