In this digital era of high-tech communication, being in contact with our family members, friends or business clients is alleviated to a larger extent. Whether audio calls, texts or video calls, technology has crossed oceans to make our conversations enriched with high-quality audio-video effects and delivering free voice and video calls. In this race, applications like Skype, Google Hangout, Facetime, etc. has eased the process of telecommunication. Some of these apps are free to download and offers a variety of additional features apart from basic calling. But, how to choose the best among these apps based on compatibility, performance, and connectivity. We will go through each and every factor for Skype vs Facetime.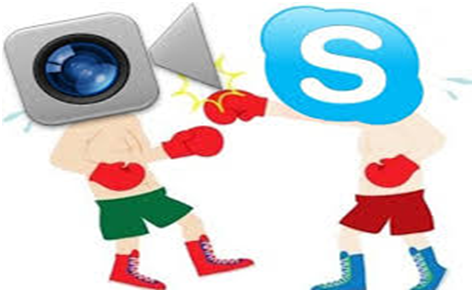 Here, in this article, we weigh Skype vs Facetime against different parameters to help you choose depending on your needs!!
Skype vs Facetime Comparison ?
Interface:
Skype is among the top 5 communication software which has ruled the video calling the market for a very long time. Rather, in its earlier time, it was the only and the highly used video calling application used by masses in and across the nation to have an audio-visual chat with their loved ones. Though its interface was largely popular and adored until the team released an update to version 5. The updated version 5 of Skype was disquieting and troublesome to use. Reportedly, many users, especially Mac users switched back to the older version viz. version 2.8 of this application as it's quite placid and manageable in use. Although this app can be used to conduct business communication or personal chats, before contacting somebody of your choice, one needs to request or accept an invitation to talk before actually making one, which makes it complex to use.
Facetime: relatively effortless to use, Facetime is an inherent application on the iOS system that automatically spots contacts in your address book. It doesn't command any special configuration or permissions to work. Its interface is effective enough as it identifies your iSight camera as soon as you start the application. One simply needs to scroll through his address book and tap the name of an iOS user you wish to exchange a few words and select the Facetime app to commune with him eye-to-eye. It's a quick and pacifying mode to video call, someone.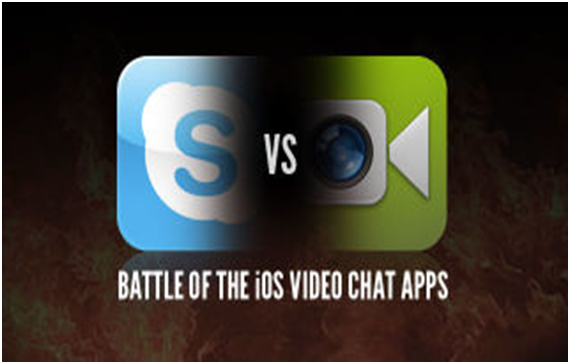 Compatibility:
When one needs to answer whether Skype or Facetime, which is more flexible, the unanimous voice would favor Skype! And, that's quite credible. Skype, on the one hand, is responsive on both Windows, Android and Mac; Facetime is friends with apple or iPhone users only. It does not support windows, android, and even Mac the or iPads. Whereas Skype not only allows to make video calls and chats on mobile phones but, also works well on personal computers and landlines all around the world.
Here, on Skype vs Facetime, Skype beats Facetime!!
Cost:
Skype being an easily accessible application, compatible with all- Android, Windows, Mac, and iOS are free of cost. A user can download Skype from play store, Appstore or in Windows for free and can enjoy video calling with their loved ones without any reimbursement. Nevertheless, Skype also provides premium enterprise pricing package for business users at $2 per month per user, which enables to conduct meetings for up to 250 members at the same time and provides strong authentication by encrypting the communication lines.
Check : iOS Emulators for Windows
While Skype is free to download, Facetime can cost a user to disburse $0.99 on Apple iTunes store. Although, it requires just one-time payment and you can make video calls to anyone on the list from your Mac to another Mac or iPad or iPhone user. Additionally, group video calls via Facetime is free of cost.
Video & Audio quality:
As far as the call quality is concerned, neither of the apps can be judged on this basis. As it's the internet connection that matters much and less the type of an application used to video call. On a high-speed internet, both the applications, Skype as well as Facetime offers a rich quality and an uninterrupted audio-video supply in HD excellence.
Currently, Skype offers 1080p HD quality. However, at times, video streaming on Skype gets deferred but still satisfactory.  It lets the users make HD video calls provided that, both the users need to have HD webcams or have Skype 4.2 for windows.
There are also few apps which allow video calling, you can get interesting info about it on Whatsapp vs Telegram.
Facetime offers 720p HD, the full-screen resolution on all the iPhones of the present time. Its video quality is finely acceptable even at 1- Mbps, as compared to the other applications in this genre. Although, it requires an iSight camera for new MacBook users to experience ceaseless HD quality calls.
Updates:
Both the application, Auto update themselves if you have permitted the application to do so. On auto-updating, you get switched to the improved and newest version of the application. But, sometimes the updates proves to be challenging, in such cases Skype offers its users to revolve back to its previous version 2.8 by downloading it back.
But, Mac App Store prevents such turning over. Hence, Facetime averts its users from flipping back to the older version of the application, if you don't like the new one.
Connectivity:
Skype offers efficient and superior connectivity judged against Facetime. Skype works without a glitch with both Wi-Fi and cellular data. But, Facetime runs over Wi-Fi only. And, when operated through cellular data, its quality is disputable.
Conclusion- Skype vs Facetime Video Calling ?
A debate on Skype vs Facetime is futile and questionable to make since, one would win over the other depending upon the needs of diverse users which may be as like as chalk and cheese. Both the applications, Skype and Facetime are the biggest and most challenging competitors of each other in the video calling market. Both of them are devised with their own pros and cons. You are just required to opt for the one that matches your set of requirements.
For an instance, if you own an apple product- iPhone or an iPad then, Facetime is the best video calling app for you. It allows you to contact anyone in your contact list without any friend request being sent. While, Skype has always been user's best choice. Since, it functions best with Android and Windows based device! It allows the operator to call anyone, anywhere, not only the one in the contact list but beyond the list too which makes it win an edge over any other video calling application especially Facetime! So, when it comes to Skype vs Facetime, Skype enjoys the cake!!