Photoshop alternative becomes the omnipresent desire for editing images, creating graphics and other required designer works. Everyone is searching for the Photoshop alternatives to shape and groom their image and other materials. It is not something only for non-professionals for their image editing stuff but it turned to be the significant need for graphic designers, online businesses, designers, scientists and many professionals. Purchasing a Photoshop editor is not an affordable choice for all, as they are too costly. Some free Photoshop alternatives are also available online and offline for you. This article highlights 10 Best Free Photoshop Alternatives You Must Try for your image editing purpose or any of your design work. They provide you with good features as the paid Photoshop editors.
These Photoshop alternatives are easier to use and are much cheaper or free of any charges. There is a wide range of usage of Photoshop alternatives to edit or manipulate pictures, videos, games, movies, additional work of art and other designer stuff but all of them do not satisfy your work.
Here are the 10 Best Photoshop Alternatives You Must Try.
Best Photoshop Alternatives for Photo Editing
1. GIMP – Most popular app like photoshop
GIMP or GNU Image Manipulation Program: the best Photoshop alternative. GIMP is the best photo editor of all time. It supports GNU, Linux, Mac OS X, Window XP, SP3, Vista, 7, 8 and 10, Sun Open Solaris, FreeBSD, and iOS. GIMP provides you sophisticated free tools to fulfill your needs. It is designed such as it can be used by any user whether you are a graphic designer, photographer, illustrator, scientists or any professional and non-professional. It is versatile graphics manipulation package.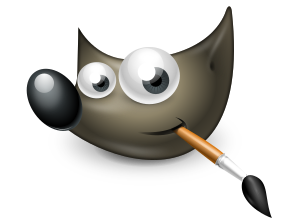 Enriched Features:
Customizable Interface- It customizes the new behavior in your way. It consists many tools like colors, wide spacing, size, full-screen mode and many other tools
Photo Enhancement- This feature fixes perspective distortion caused by lens vignetting and hit. Choose the corrective mode for fixing the distortion.
Digital Retouching- This key feature gives your photo a new touch by using the clone tool.
Hardware Support- It supports various input devices like Tablets USB, USB or MIDO supporter.
File Formats- It supports JPEG, JFIF, GIF, PNG, TIFF.
Special use of format: multi-resolution and multi-colored debt windows icon files.
You can download the GIMP from their website: https://www.gimp.org
2. Picmonkey – Online photoshop alternative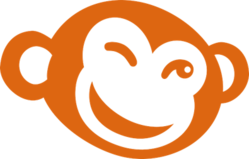 PicMonkey proffered to a large number of people included graphic designers, photographers, and other professionals or non-professionals. It has graphic design tools, photo designing tools and a large selection of designing templates for wedding invitations, thank you cards, businesses cards, etc. It is for free users and paid as well. As free users can use only limited tools but the paid user can use full advance design and photo editing tools. Paid users can pay $7.99 for a monthly membership and $47.88 for an annual membership.
Features:
Combine Button – Combine all elements button/flattened/merge button which is present in the bottom of the toolbar with two stacked square and a down arrow.
Before/After Button – It is the tool used for the undo and redo option.
Dimensions in the save panel – Not confirmed about your image dimensions after saving it. This shows your image height, width right below the three named quality option.
Clear all buttons in collage – This is the option or key for clearing all the spaces and buttons present in between the collages.
Open from and save to options – You can easily open and save your file from and on your device and the location of your choice.
Editing tools – Some of the major editing tools for the image editing like colors, shapes, sizes and other tools.
Filters – There are numerous filters present in the PicMonkey filter collection. You can choose any and apply to your image.
Text feature – The text feature allows you to write or edit any text of your choice in your image.
For downloading and using the PicMonkey visit their website: https://www.picmonkey.com
3. Pixlr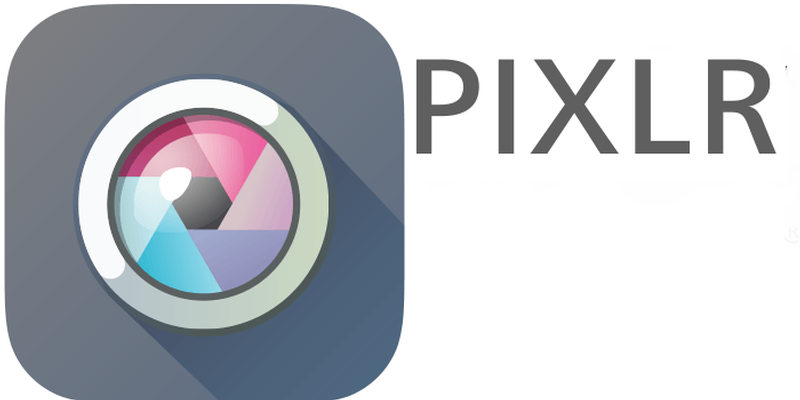 A cloud-based set of image tools and utilities, Pixlr is a best photoshop alternative which was put on top 50 websites of 2013 by Time. The suite was intended for non-professionals. It contains all type of editing tools from simple to advance. Pixlr supports devices like smartphones, Mac OS, Tablets and website can run in all browsers. File formats supported in the form of JPEG, PNG, GIF, AND TIFF.
Features:
Selection Tools
Editing Tools
Blending Tools
Special-Filters and Effects
Miscellaneous Tools
You can visit and download Pixlr from their website: https://www.pixlr.com
4. Canva – Best Online photoshop alternative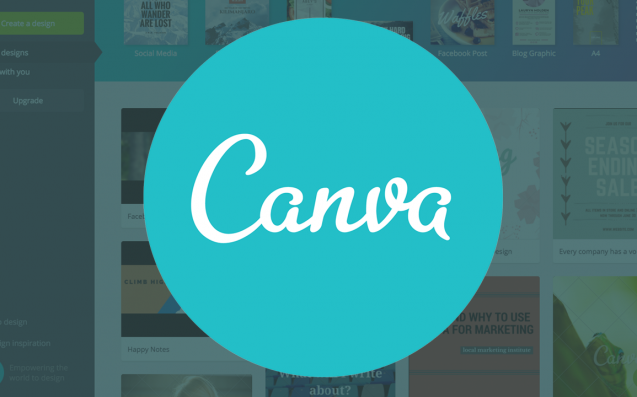 Canva is the stunning photoshop alternative for non-professionals and designers as well. It is an open source and frees photoshop alternative. You can simply modify and transform your candid and amazing shots to a glamorous and magazine style look. Its key features are simple and easy to use which gives you the editing advantages as good as the advance and paid photoshop alternative. The effects of Canva mix the touches of some extra gleam which makes it more attractive. It supports iOS and Android devices. The compatible file formats are JPEG, PNG, TIFF, BNP, GIF, etc.
Key Features:
Handy Tools For Additional Editing
Photo Filters
Blur Slider
Black and White Effects
Saturation and Tint Effects
Advanced Tools
you can use Canva through their website: https://www.canva.com
5. Cine Paint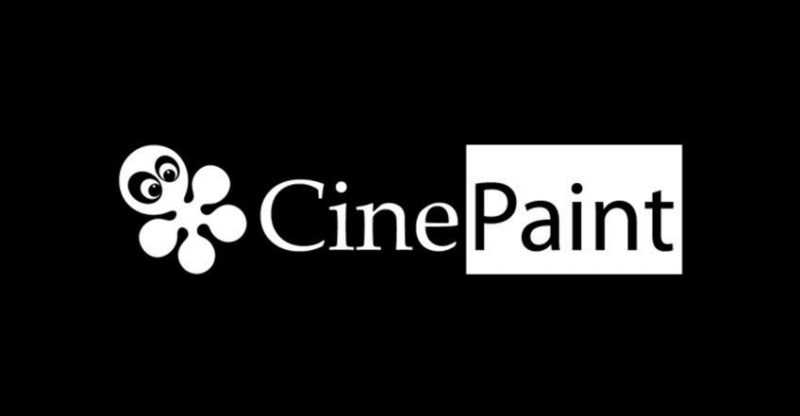 Cine Paint is an online photoshop alternative and a fork version of GIMP which is used for painting, art editing and retouching your favorite frame or image. It can be used by any professionals or non-professionals as well. The features which make it different are visual effects and animation work are the desired tools for editing videos and movies. Its photo editing predecessor includes the frame manager and the ability to work with 16 Bit and floating point pixel for HDR. There is a tough fight going against Cine Paint and GIMP. Cine Paint is supportable for Mac OS X, Microsoft Windows, UNIX, LINUX, and BSD. Compatible file formats are Raw Format, BMP, GIF, JPEG, PNG, TIFF, CIN, EXR, XCF and more.
You would like to know more about lightweight linux distro.
Features:
Frame manager
Onion Skinning
Colour Effects
HDR – This gives your image high resolution and sharpness.
CMYK Editing – (Cyan, Magenta, Yellow, and Key-Black) This editing tool has subtractive color model used in color printing.
Raster Graphics Editor – Create/edit image interactively on a computer screen.
FLIK Tools – It has graphical control elements for 3-D graphics.
you can use Cine Paint through their website: https://www.cinepaint.org
6. Seashore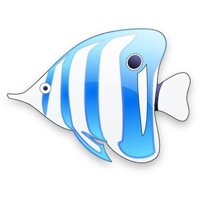 Seashore is a free and open image source photoshop alternative for Mac OS X's Cocoa Framework. It is available in the offline mode in the Mac OS X desktop and can be used by any designers, professionals, and non-professionals. It contains many editing tools, color tools, and additional tools which are easy to use.
Features:
Bitmaps
Color Tools
Layers
Channels
Editing Tools
You can download the app for Mac OS X from its app store or visit their website: https://www.seashore.sourceforge.net
7. Krita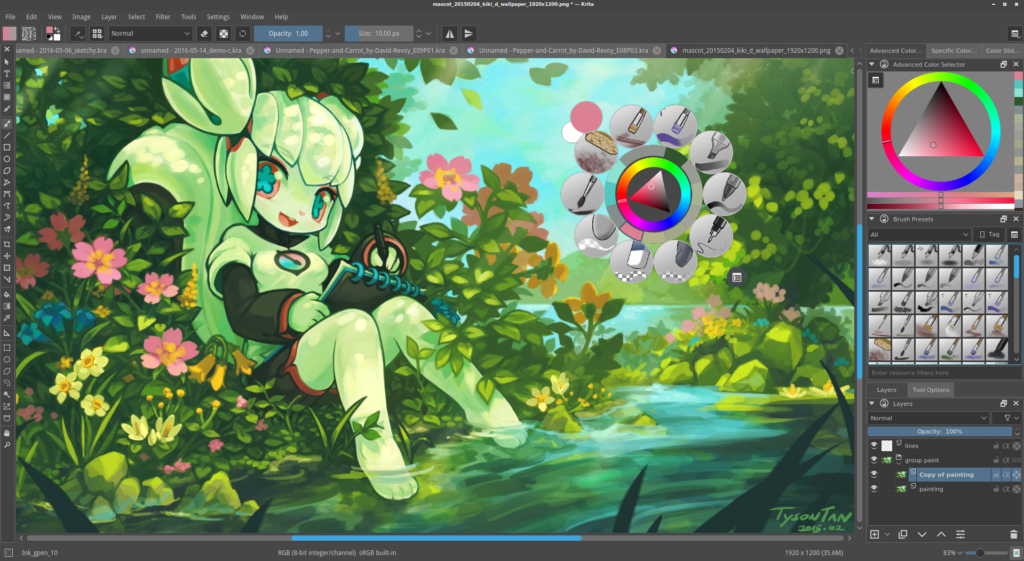 Krita is a free, open source and a raster graphics editor designed mainly for digital painting, photo editing, and animations. This photoshop alternative is for both professionals and non-professionals. It focuses mainly on painting program, but it is double as a photo editor. Krita consists of high-quality open G1 accelerated canvas, advance brush engine, vector artwork support and many more advanced features. It is supportable for LINUX, Mac OS, and Microsoft Windows. Compatible file formats are PSD image, PPM, PGM, PBM, PNG, JPEG-2000,JPEG,BMP,XBM,TIFF,EXR,PDF,WebP,Fi.
Key Features:
Drawing Tools
Painting Tools
Brushes
Color Tools
Animation Tools
Vector Tools
You can download and use Krita through their website: https://www.krita.org
8. Sumo Paint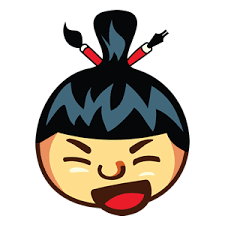 Large numbers of graphic designers, designers, editors, professional and non-professionals are using Sumo Paint for heavy image or photo editing. It is free online flash based image editor and a digital painter as well. For learning purposes, Sumo Paint is the beat choice for beginners. It is supportable on Microsoft Windows, Mac OS, Android, iOS. File is saved in the form of JPEG, PNG, and GIF.
Check out : Picasa Alternatives
Features:
Brushes
Shape Tools
Community Participation Tool
Offline Creativity
Symmetry
Gravity Tools
Gradient Editor
Layer Effects
Perspective Mapping
Cube Designer
Blur Effects
Sphere Tools
Ink Tools
Color Tools
3-D Tools
Clone Stamp
You can download and use Sumo Paint from their website: https://www.sumopaint.com
9. Fotor
Fotor is a free and paid type open source photoshop alternative for professionals, graphic designers, designers, businesses cards and many other stuffs. It has numerous editing tools and techniques which gives image a new look and you can create a new design for any purpose on the other hand. You can also create business cards, ads and banners by using Fotor's tools. It is compatible with almost all devices. The compatible file formats are JPEG, PNG, TIFF, BMP and GIF. If you are a professional and desires more advance features then you can buy their annual membership only at $ 3.33.
Features:
Headers and Covers Creating Tools – This tool is usable for heading and cover designs. It is used mainly for business purposes.
Banners/Ads/Events Designer and Online Business Tools – This toolbox includes colors, brushes, shapes and other useful tools for designing.
Stickers – There are many funny, dialogs and almost all types of stickers
Effects – The fotor contain more than 40 effects.
Text – You can edit text or write something on your image or stuff according to you.
Collage Tools
Filters – There many filters present in its filter toolbox.
Frames
Beauty Effects -This gives your image a new glamorous look if it is wrinkled, dull or lacking any beauty features.
Additional Features – There are many additional features that are available for the paid users and take all advantages only after getting an annual membership.
You can access this amazing photoshop alternative from their respective website: https://www.fotor.com
10. Grafx2
A raster graphics editor and bitmap graphics editor, Grafx2 is an online and open image source type of photoshop alternative. It is loaded with the numerous features like drawing in indexed, color mode, palette editor, colour cycling, transparency, number of effects and brushes. It gives images a magic fill feature which attract users. It is supportable in Mac OS, Microsoft Windows and Android. The compatible file formats can be save and open in any Windows and Mac Media Format, iOS, Amiga OS, Android, Atari MiNT, FreeBSD, Maiku, IXIX, Mac OS.
Key Features:
Image Editing Tools – This contains filters, textures and other advanced features.
Classic Tools – Classic toolbox is enriched with the features like line, circle, text, undo, redo, air brush, spines, custom brush.
Colors With Palettes – Colors palette contain up to 256 colors.
Dual View Mode – Dual mode is used for the clone effect.
Extensive Palette Editor – This is consisting of RGB and HSL colour system.
Palette Control – palette control reorders colors without altering pictures or images. It also merge two images.
Grid Mode/Shading Mode – You can select according to your choice whether you want grid mode or shading mode for your images.Advance Effects – Advance effects like additional colors, brushes, advanced editing tools and graphics.
Screen Mode – You can change the bit size according to your device into 8 and 16 Bit.
You can access Grafx2 directly from their website: https://www.grafx2.tk
We did our best to write about open and free photoshop alternatives with their key features for your photo editing needs. So now you can go for any of these photoshop alternatives. Try and experiment your need for editing your desirable material. Hope we satisfied you with the information regarding 10 Best Free Photoshop Alternatives. Feel free to share your thoughts and suggestions regarding this article in the comment section.