Computer errors can waste your time. They are annoying ad disturb the operation. However, you can't just throw your computer away. You need to fix it. One such case is of experiencing Outlook Data File error aka outlook data file cannot be accessed.
Outlook can surface numerous different types of mistakes that can indeed be a hassle for the user. Many of these errors have a code in alphanumeric form & a brief message that somewhat explains the error. One of the most common errors you may face while sending/receiving process is the 0x8004010f error which refers to 'Outlook Data Cannot Be Accessed.'

It can be due to the PST Outlook data files being located at the wrong place or if they are moved to a different location. This error can also arise if your current Outlook profile gets corrupted after its update which is the most common problem or if the profile is not properly tested.
You can easily fix this error with the help of below listed solutions. Outlook is one of the most used Microsoft product after Word and Excel. If you are office user then Outlook can be great tool for you.
There are some methods through which you can deal with the 'Outlook Data Cannot Be Accessed' Error. If you are not able to send outgoing email even though incoming is operating fine and you receive a message that says your 'Outlook data file cannot be accessed' after getting your Outlook or Windows upgraded then it's an indication that your profile is corrupt. You can also see this sending reported error indicating that the Outlook Data File Cannot Be Found. The Outlook 0x8004010f error can be resolved, and for that, you have to create a new profile.
Before making a new profile, you have to keep in mind that if you are using an IMAP account and thus your folder labels have contents. Now, you should get those folders exported to a new pst before completely deleting the account and after you're done with that, here's how you can create a new profile.
How to Create A New Profile:
First, you have to close Outlook. Now, move on to Control Panel and open it & then search for Mail.
After you have opened the mail, you need to open the mail applet & in that click the tab that says 'Show Profiles.'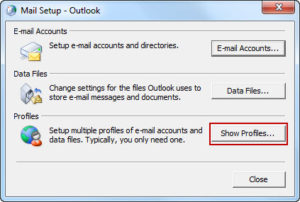 Then you have to click on the Add option to create a new profile.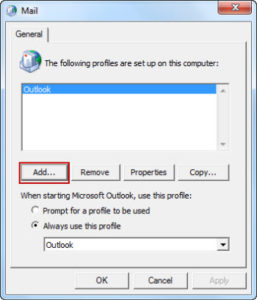 If you're using a new unique name for your new profile, then it's not necessary to delete the old one but if you want to use an old name then make sure to delete the old profile that goes by that name.
You need to use the Auto Account setup to get the account added to your profile.
Before you close the Mail dialog , you need to delete the old profile or just click on the new profile in Always use this profile.
Close Outlook & then open it again.
Also read :
The 'Outlook Data File Cannot Be Accessed' error can be resolved by creating a new profile but some individuals have many email accounts and do not wish to create a new profile then you can follow these steps to keep your profile, but it doesn't work then you need to create a new one.
To keep your profile, follow these steps:
First, click on File. And in that, you'll find the option of Account Settings. Open that.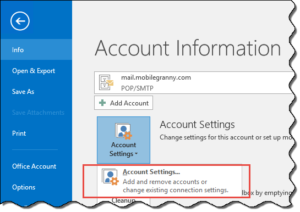 Here you'll find an option of Change Folder. Click on that.
Now, click on Create New Outlook Data File & thus create a data file for temporary use.
Enter a name for the data file & click OK.
After this, you'll have to go back to Change Folder to re-select your data file.
After doing so, expand the subfolders. Select inbox & after that click OK to close the dialog.
Switch back to Data Files & remove the temporary pst file.
In the end, shut the Account Settings Dialog.
But then again, this has chances of not working, and as mentioned earlier, in that case, you'll have to make a new profile.
On opening Outlook, you can also come across another error that goes by "Your Outlook data file cannot be configured."
To fix this error, you have to follow these steps carefully because if you do it the wrong way, then you can come across some serious problems.
Fix Outlook Data File Cannot Be Accessed Error
Close Outlook.
Type regedit.exe in the Run dialog box and then click OK to start the Registry Editor.
Locate HKEY_CURRENT_USER\Software\Microsoft\Office\15.0\Outlook\PST in the Registry Editor.
Find UseLegacyCacheSize & then right click on it, follow this by clicking Delete and confirm the deletion, click Yes.
Exit Registry Editor.
Check the status of the profile of email account if even after doing all of this, still, you're not able to fix those errors.
There are also a lot of third party Outlook PST repair software available on the internet. This software can easily solve PST corruption issues. It can also help you in recovering deleted or inaccessible Outlook mailbox without much trouble.