Fix dns_probe_finished_nxdomain in Chrome : The Dns_probe_finished_nxdomain error is common for Google Chrome issue on Windows 7, Windows 8.1 and on Windows 10. Many users have reported this web page is not available dns probe finished nxdomain issue because the DNS lookup failed. Most Windows 10 users are suffering from dns_probe_finished_bad_config error. So we have decided to make a step by step guide. When you try to open any website or web page, you received the error, and it says Error code: dns_probe_finished_nxdomain, This webpage is not available because DNS lookup failed. Google Chrome is a most popular browser for Windows, Mac OS, and Linux. You won't face this error on Mozilla Firefox or Internet Explorer at the same time.
dns probe finished nxdomain error can occur due to several reasons, but all of them are related to DNS server of your system. Many times error dns_probe_finished_nxdomain usually occurs because the DNS lookup has failed while accessing the web page. Don't worry, this error in Google can be temporary, or may require some tweaks in internet settings. If you will get this error then simple reboot can solve dns probe finished nxdomain chrome error at the first place.
Connection errors on Google Chrome in Windows just a very normal thing. Recently one of my readers asked me how to repair DNS_Probe_Finished_NxDomain error he was getting regularly. Rather than mailing him the answer I've chose to create a comprehensive post about this to ensure that other people can be gained too. DNS_PROBE_FINISHED_NXDOMAIN meaning is very simple – it would appear that there is a problem with DNS community service. This error code can appear if the visitor cannot access the system or the Web options are ill-configured.
Fix DNS_PROBE_FINISHED_NXDOMAIN Error in Google Chrome
If System reboot is not working then there might be some other reasons for DNS probe finished nxdomain error could be your VPN connection or your anti-virus. Disabling Antivirus can also resolve this error. Another common solution for this error is to flush the DNS server or to change the DNS server on your PC. You can change the DNS servers. We will try to find out all the possible solutions for dns_probe_finished_nxdomain. We saw all the windows 10 users are searching all the forums for dns_probe_finished_nxdomain solution.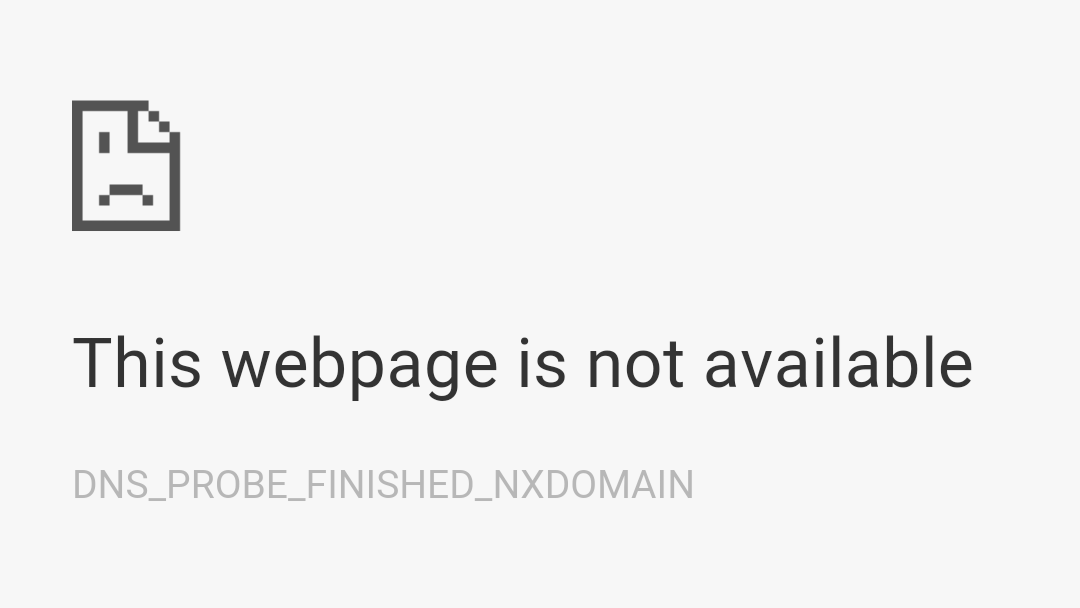 This internet connection may occur due to the various reasons. Internet connection problems are common these days to most of the smartphones and desktops. If you get frustrated with this problem and looking for how to fix dns_probe_finished_nxdomain then check the below point for quick solutions for dns_probe_finished_nxdomain error. Connection errors on Google Chrome in Windows is a very general. This web page is not available dns probe finished nxdomain error occurs when the website you are visiting has failed the DNS lookup.
Also Read :
Fix DNS_PROBE_FINISHED_NXDOMAIN in Google Chrome
You need to check all the settings and option for the issue to get solved. Sometimes this is very irritating to get dns probe finished nxdomain chrome error. If you receive this error for the first time then try some general solutions like checking the IP address, wireless router settings, clearing cookies, and caches, etc. Also, scan your system or disable 3rd party Antivirus. The user will not be able to access the internet on different browsers if this error occurs in your system. Try to install your router again and open it again after 5 minutes. Resetting router setting can also fix this issue.
Method 1: Restart Your PC
The dns_probe_finished_nxdomain error could be a temporary error and can be resolved with a simple restart.
Simply close all the open programs on your PC and restart it.
After the restart, connect to the internet and try to access any web page on Google Chrome. If the restart has resolved the error, you may don't need to anything else on your PC.
Enjoy.
Method 2: Restore Google Chrome to Default Settings
The error "DNS probe finished nxdomain" can also be fixed by resetting your Chrome settings to default settings.
Open Google Chrome and in the address bar type "chrome://flags/" and hit enter.
It will open the "Chrome experiment" section.
You can see a "Reset all to default" button.
Click the reset all to default and restart your Chrome browser.
This will reset your Chrome settings to the default state.
Hope this will solve DNS probe finished nxdomain error.
Method 3: Flush The DNS
You can try flushing the DNS to solve dns_probe_finished_nxdomain.
To flush the DNS, open command prompt as admin.
To do this Press Windows key + X and select Command prompt (admin).
If not press Windows Key + R and type cmd in the Run dialogue box.
Once the command prompt window opens, type the following command and hit enter.
netsh winsock reset catalog
After the execution of the command, reboot your PC.
Hope this should fix the dns_probe_finished_nxdomain error.
Method 4 : Change the DNS Address
Right click on Network icon and click Open Network and Sharing Center.
Click "Change adapter settings" (top left side).
Now right click on your active Network Connection (WiFi, LAN, Ethernet, etc.) and click Properties.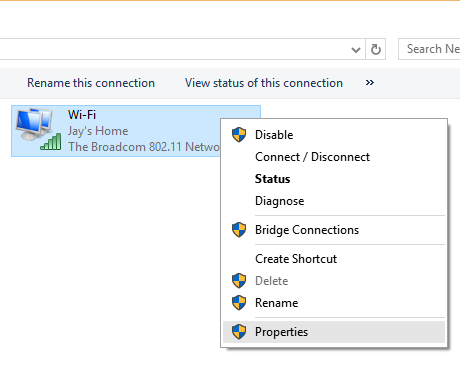 Select "Internet Protocol Version 4 (TCP/IPv4)" and click Properties.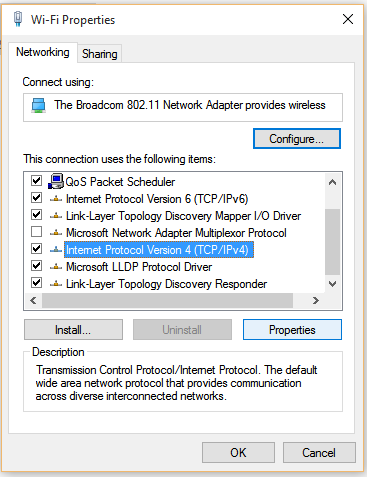 Click Use the following DNS server addresses: and add below server addresses and click OK.
Preferred DNS Server: 8.8.8.8
Alternate DNS Server: 8.8.4.4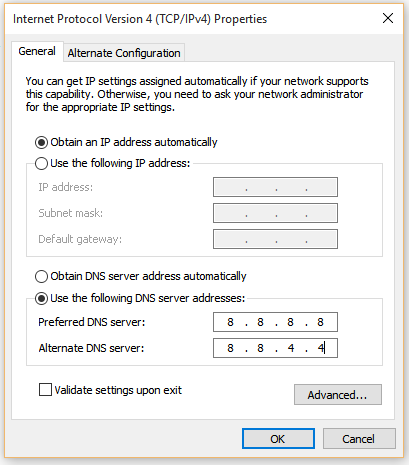 Method 5: Restart DNS Client
Restarting the DNS client from Services can also fix the dns probe finished nxdomain error on your PC.
Press Windows Key + R, and type services.MSC and hit enter to open Services window.
From Services, find DNS client and right click on it.
From the options, click on "Restart" to restart the "DNS client".
Reboot your system and then try to open Google Chrome and access the web page that was giving the error. Hope this will solve DNS probe finished nxdomain issue.
Check : How to fix dns probe finished no internet Error
Method 6: Disable any VPN Temporarily
If you have installed any VPN client on your PC recently, then that might be the reason behind this error.
You have to disable VPN temporary and then reboot the system.
After the restart, Open Chrome and check for an error again.
Conclusion : Hope this article will solve DNS probe finished nxdomain issue with Google Chrome. This error generally occurs due to a faulty Internet connection and Firewall setting. Before following any method, users are advised to firstly check the internet connection and their routers. Share these methods to solve the DNS PROBE FINISHED NXDOMAIN error in Windows and MAC operating system.