I know you love every bit of internet surfing, it soothes you, calms you, pretty much an addiction or it might actually help you in lot many ways. Internet for you might just be a second home. And Google Chrome, it's the door to that Home. We all love Chrome as far as the browsing is concerned, thought a lot many alternatives are available. And while surfing what if we get an error like dns_probe_finished_no_internet. Now that is frustrating as the website works quite fine in other browser but not on chrome. So the big question comes how to fix dns_probe_finished_no_internet error? Well do not worry, I am going to walk you through any and every possible solution.
Normally, DNS Probe Finished No Internet Mac error occurs because of a problem with the default DNS server that your computer is using. This is one of the common DNS related problem that you can fix by changing your default DNS server to other DNS services like Google's DNS, OpenDNS or other DNS servers DNS.
If you are using Windows 10, then DNS Probe Finished No Internet Windows 10, is very frustrating issue for you. However, sometimes Dns_probe_finished_no_internet Chrome error might be created by other causes other than DNS problems. If you ar are facing this problem with Chrome, then you can try to clear Google Chrome data including cookies, cached files, browsing history, and uninstall add-ons. Here in this article, we will show you How to Fix DNS Probe Finished No Internet Windows 8 error. The DNS probe finished no internet error appears when you try to access the internet and due to DNS issues, you cannot access that webpage.
Here in this article, we are explaining in detail that will help you to fix this error.
This problem may occur in google chrome or in your android OS also. Following the directions that I'm going to give you today will resolve the problem. When this problem occurs on your android phones or device, First Restart your android phone and then try and access internet using the google chrome browser. If that doesn't work, try to uninstall the google-chrome web browser and then restart the android system. Now, Install Google Chrome internet browser from google play store.
Typically, thisdns probe finished no internet can be avoided if you maintain an enhanced and clean system. However, hardly any people possess the talent in keeping a clean and optimized machine. The methods described in this post down will help you eradicate the DNS error in no-time.
Check: How to fix DNS Lookup failed on Chrome
But first, let's have a look at what might be causing it?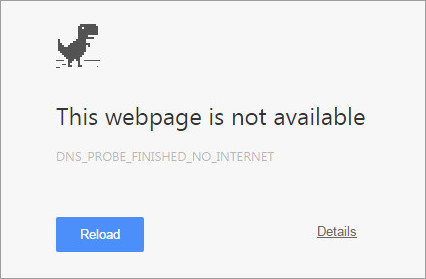 Causes of dns_probe_finished_no_internet Error in Google Chrome?
Well, this is pretty much sure and we all know that this error is seen majorly in Google Chrome, well not just Chrome you might find it in other browsers too, for ex in the latest Microsoft Edge. Now let's have a look at probable causes for it, you know, it just might be the solution for you.
As the error states, it might just be a simple DNS issue and can be solved using some quick steps in hardly 2 minutes.
A browser might be compatible with the operating system you working on.
Some Router problem might be there, which can be solved by rebooting it.
An unknown website filtering software might be installed.
Some problem with your Firewall settings and Internet Security Settings.
DNS_PROBE_FINISHED_NO_INTERNET tells us that there's no Internet Connection Available. And so I suppose, that you're on this page from another system that's internet. The error is too common; it doesn't tell us why, where and the way has it not got the internet, rather it simply says no internet. So to repair this issue, we will troubleshoot it as there is no straightforward fix, but by the end of this manual, you need to be able to fix it.
We'd have come across this error that makes people embarrassed because we may not be able to get attached to the net if we run into this problem dns_probe_finished_no_internet in Google – Chrome. Don't worry friends because the majority of the internet using people come across this error while working with Windows 10.
The DNS_Probe_Finished_No_Internet bug in Windows 10 may be caused by problematic network driver. To check whether your system driver is outdated, infected, damaged or lost, you might download a reliable driver update utility software. The first thing you'd wish to accomplish is to check whether your internet connection is working or not. For those who have no access to the internet or perhaps a slow internet connection then your can get the DNS_PROBE_FINISHED_NO_INTERNET.
Now enough of problems and causes, let us cut to the chase and find the solution for each one of them
Also Check : fix Error Page Fault In Nonpaged Area Windows 10
Change DNS Setting for fix dns_probe_finished_no_internet error
Well if you are suffering from this problem, you should find yourself lucky as it is actually too easy to solve. All you need to do is, change the DNs to a preferred one or instantiate a public DNS. Now to change the DNS for dns_probe_finished_no_internet in Windows 7, 8, 8.1, 10- you need to open your Network and Sharing Center. Now to open that might be different in every Windows OS. But you can find it up almost every time from your Windows Task Bar, and from there you can Open Network and Sharing Center.
Or you can simple visit, Control Panel and from there can click on Network and Sharing Center.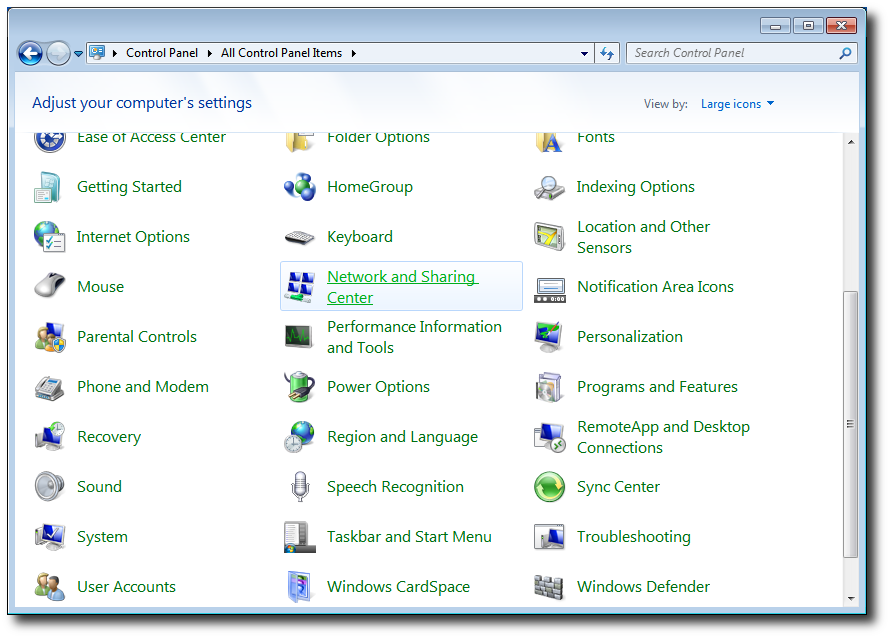 Once done, you will find the Local Area Network connected, click on it and you will find a sub-box getting opened.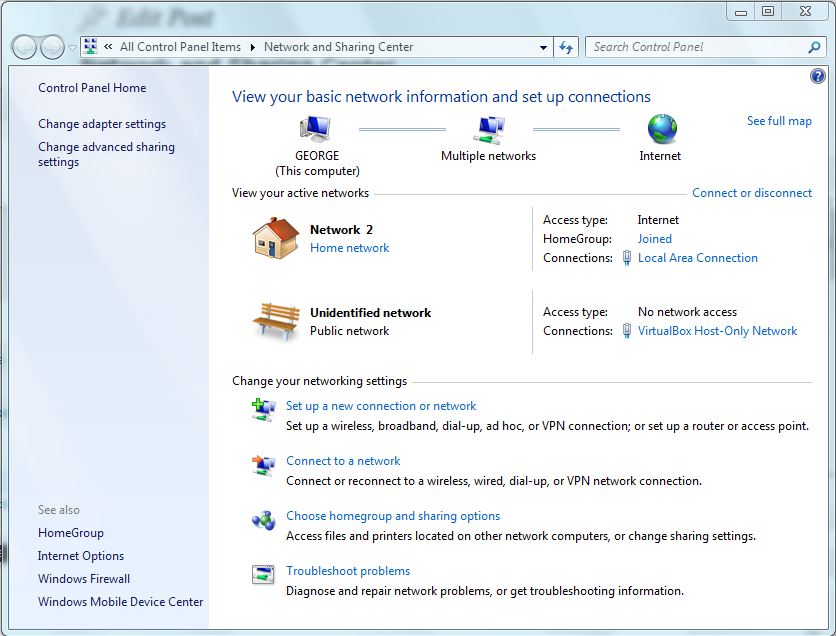 Once opened, select 'Internet Protocol Version 4' and click on 'Properties'. In the new window, you need to keep the IP settings intact, which states that it will obtain automatically. In the DNS section, select the radio button 'Use the following DNS server addresses' and in DNS server box type in 208.67.222.222 and in the alternate DNS server box type in 208.67.220.220.
Check :
Best Reverse Image Search Engines
Download Documents from Scribd
Once you have typed it correctly, just check the box which states- Validate settings upon Exit and click Ok.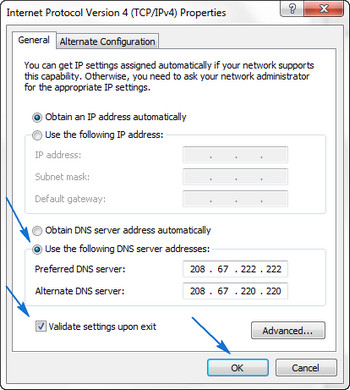 I am sure, following the above mentioned steps will actually help you get your DNS problem solved. But there is a problem that have come to our attention and that is the above DNS not working. Well if it doesn't works, let me provide you some alternatives.
Public DNS Address to solve dns_probe_finished_no_internet Error
If the above mentioned step fails to acknowledge your problem then we have for you some of the most famous and best Public DNS addresses available, from the house of Google, Norton and Comodo security.
Google DNS
Norton DNS
Comodo Secure DNS
We just solved the first problem, of DNS address changing. Now let's switch to problem two.
dns_probe_finished_no_internet Error Fix due to Browser Problems
If this is the problem that might be causing your dns_probe_finished_no_internet, then the most basic and simple solution is uninstalling and re-installing the browser. Now if you are finding the process tedious, then you can do one thing and this clearing Cache.
To Clear Cache in Google Chrome.
On the top right corner click on Customize and control button and then open settings. Under privacy tab, click clear browsing data, and then clear the caches and the cookies. Close the browser and open it. This might solve your issue.
To Clear Cache in Firefox
Click on History from the setting tab that you find on Firefox. And then clear recent history. Later click details. Check Cookies and Cache from there and click on Clear now.
Rebooting Router to Solve DNS Probe Error in Chrome
Not that common, but this also can be a well verse of the issue of you getting a fix dns_probe_finished_no_internet error. All you need to do is, login to router access with the dedicated password. Default username and password being 'admin'. Navigate to System tools and Reboot your Router.
Yeah it's that easy. The access Settings URL is being given for 5 most common routers.
TP-link – http://192.168.0.1
Linksys – http://192.168.1.1
3Com – http://192.168.1.1
D-Link – http://192.168.0.1
Belkin – http://192.168.2.1
All you need to do is wait till the router is fully restarted and visit the desired webpage again.
Also Check : Best Antivirus for iPhone
Get rid of dns_probe_finished_no_internet Error Due to Firewall and Security settings
Well this can again be one of the most common issue which you might witness. Your internet security might be blocking some of the websites from getting opened so all you need to do is clear the restrictions out and you will be good to go.
Not just this, if there is some unwanted website filtering software installed you can actually uninstall it and can restart your computer to see what effect the softwares and settings possessed.
Bonus Tip to solve dns_probe_finished_no_internet Error using Command Prompt
Well if none of the above mentioned tips and tricks worked for you to get rid of dns_probe_finished_no_internet error. Here I am telling you one way that almost absolutely works every time. Want to know how?
Well it is simple too, and this method requires usage of Command Prompt and a little patience. So let's get started, shall we.
Step 1: Open the Run Window. You can simply press Windows Key + R. The windows thus opened, you can type cmd in it.
Step 2: Copy the text written below or just type it and press enter.
netsh winsock reset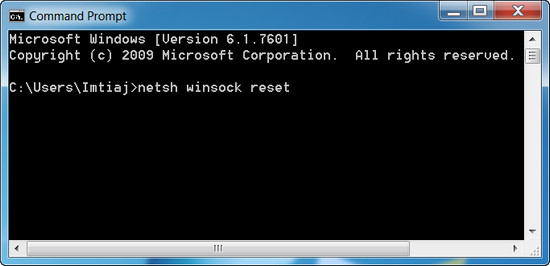 Step 3: Once pressed enter, close all the running windows and restart your computer. This might solve the issue.
Well you see, I used the word "might". Yeah, if the above mentioned process didn't solved the issue you can follow the following method, again with Command Prompt.
Step 1: Open Command Prompt as the mentioned above.
Step 2: Write ipconfig /release and press enter.
ipconfig /release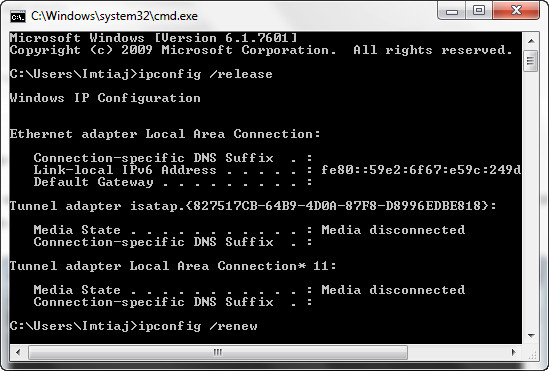 Step 3: Now type, ipconfig /renew and hit enter.
ipconfig /renew
Once done with it. Open another Command Prompt window.
Step 4: Write ipconfig /flushdns and press enter.
ipconfig /flushdns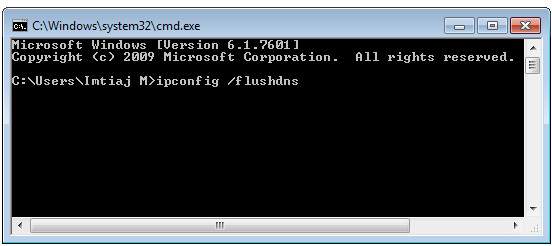 Restart your computer and this will surely get your job done.
We know how important surfing and working on internet is, and if some hindrance comes, it is really devastating. And once such hindrance was this error. We hope that the above mentioned steps actually helped in solving your issue to fix dns_probe_finished_no_internet error. Write to us for any query, we will love to help.