We have entered very deep into technology when it comes to computers and the screen recording software for windows is another highlighting step into this technology. screen recording software windows 10 also works with this list. To give any instructions to anyone regarding specific tasks becomes a problem with words or something. Well, a viable solution to this is screen recording that will actually be simple, easy and more explainable. Though taking a static screenshot is no big deal but taking a video recording requires a tool that should be highly developed. So here we are with some of the Best Screen recording for software that can be an important tool to record a video regarding any of your issue or recording a product review but that is not an easy go job to do as for this you will need good Screen Capture Software that would make your work easy.
What you should look for, in a Screen Recording Software?
Now this comes to be an important aspect as what should be seen in a good screen recording tool, many of the screen recording software have general utilities and the attributes that one should look for are –
It should be capable of filming picture-in-picture so to capture video from screen and webcam as well
Should edit and annotate a video even when it has been filmed
Also, attribute of creating videos in commonly used file types
If you are running youtube channel or professional youtube then you will need some advanced Screen Recording Softwares that can record your computer screen.
Let's tell you about such capable Screen Recording Software that will fulfill all your need-
Best Free Screen Recording Software for Windows
1: Camtasia Studio – Professional Screen Recording Software
Camtasia is one of the Best Screen Recording Software for MAC OS and also for Windows, that is ahead of almost all other software be it Snagit or other. This tool is basically designed to simplify the work of recording the screen for its users. It is one of the most powerful tools in use and is designed for both Mac and Windows user. I am using this software for my work and since i am windows user i can say Camtasia is best to screen recording software for windows os. I have tried this on windows 7, Windows 8.1. It works really well. The only downside of this software is it's paid and the price is bit high compared to other screen recording software for windows.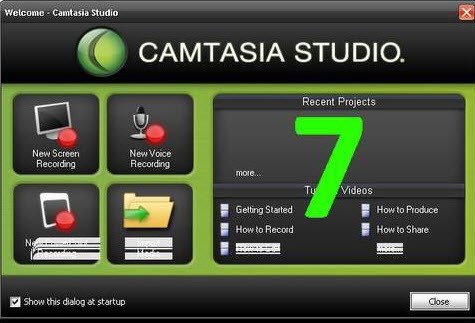 Let's know its expertise jobs it can do with Camtasia Screen Recording Software –
The best software for recording tutorials as it comes with full video rendering module.
You can opt for platform screen recording
It allows you the integration with Google Drive as well
You can also import HD videos into your recording from some other external source
It has some cool clickable features to create dynamic videos for use in the workplace making it interactive
You can record multiple video and audios
Has green screen effect that makes it easy to incorporate animations
Well, these strong and impressive features do not come for free as it comes with the premium pack while 30 day trial period can be used to know its efficiency. Also but by using free version you cannot create the commercial purpose videos but still it can be software worth using. This software is also one of the best editing software for youtube before you publish video.
Get it now by following the link – Download
2 : Snagit – Screen recording software windows 10 
This too like Camtasia is software that is more than just a tool and comes with a premium pack as it is not free or has open source license. It comes at an expensive cost of $50 though its trial period can be used for a month. Though screen recording software free full version of this software can be purchased online. It can be considered as a best tool for use to Record professionals videos and suit developers. getting questions such as how to record your computer screen can be easily solved using this software which great video capture software.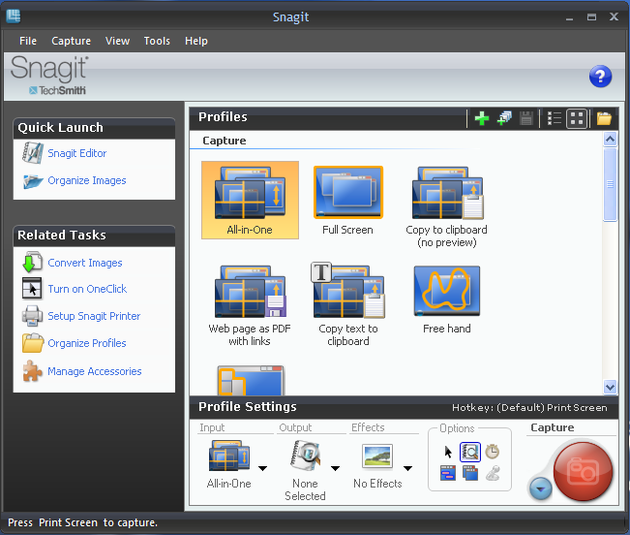 Besides just being a screen capturing tool the specs of this software included are-
Acts as decent video editor with free tech support
It allows the integration with several online cloud-based services available
Comes with powerful editing tools
Ability to set hotkeys for use
Record PC screen serving multiple purposes
Check: Laptops for Music Production
Though a paid software but with its insane and professional features it will be a software worth paying as it also allows hd screen recording software.
3:

Icecream Screen Recorder – Free Video Recording Software for Windows 7
It is software by Icecream apps which is simple enough to use but comes with quite effective features. It comes for free and hosts a variety of features to record and capture the screen.  Well, this one could definitely be the choice of Windows PC users as it supports all Windows OS. Apart from this, it's interesting feature comes with its allowance of adding creativity to the screenshot or recording you capture. And not just this, if you are wondering if this best screen recording software is present for Mac OS, then here is the answer, YES! We can say it is best to free screen capture software for windows 7.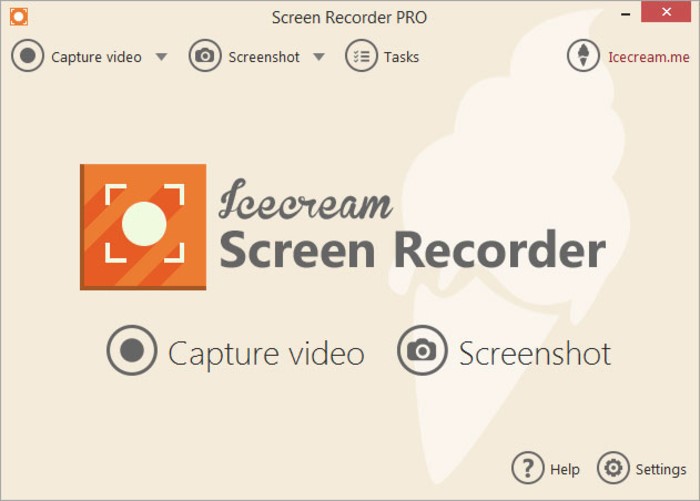 Its cons and pros are-
To make your recording breeze, add hotkeys
It comes with its own watermark
You can select a certain area to get it recording instead of recording all
Zoom in and out while recording your video
Additional settings of audio, screenshot to URL and Project history
It gives your recording a professional touch to videos recording from Skype conversations or Webinars
It comes with drawing panel and lets you to add video from the webcam as well.
Go on for trying you will be enthralled by this free recording software for windows features by downloading it from-
4 : Webinaria – Computer Screen Recorder
The well preferred open source screen recording software that is latest in use is Webinaria- one of the best software to capture screen on desktop. It is also same as other recording software but what makes it unique is the ability that allows you to export videos from Flash. It is so basic in use that it can do job of user quickly.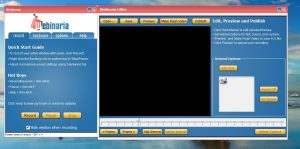 Its specs to be noticed are-
Export videos as flash
Its record feature allows you to add your own commentary
Has editing features like the insertion of text
Has hotkeys and records whole screen at a time
It has framerate options as 5, 10 or 15 frames per second
It is easy to use software and can be the best choice for the one who wants to avoid any complication in getting your job done of recording screen as it comes with open source license.
5: CamStudio Screen Recorder – Best Free Screen Recording Software 
Just like webinars this tool comes for free and is open source license with not so complicated features making it easy to use. It does not confuse you with its external features as it is built in with some very basic features but giving it an interactive touch.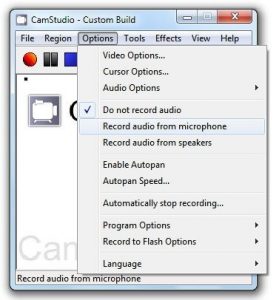 A widely used one of the best screen recording software has lot more specs like-
Record-breaking recording of screen or videos
Allows to hide your cursor screen
Get sound for your videos from multiple sources
Convert your AVIs to SWFs
Larger files can be converted to small size videos
Add captions on screen to your video
Recording of picture in the picture can be done easily
It is all free to use and can be worth a trying for those who want to avoid complications and just want to work with built-in features it offers.
You can download it now- Download
6 : Ezvid Perfect Video Editor – free screen recorder windows 
Well, if your requirement is such video recording software that will allow you to immediately upload your video, this can be software rightly chosen to get your work done. Using this software you need not to have an external video editor as this will do this work of yours as well.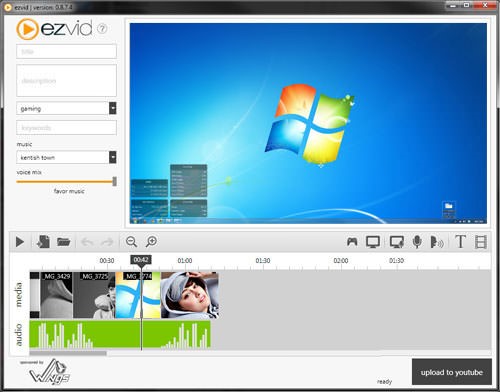 Few of its best advantages are-
Increases the speed of editing and recording using computer processors
Allows you to upload video to YouTube
Utilize its voice editing or synthesis option along with facecam
Prepare professional looking videos in just minutes
Its noticeable features are Speed control and speed synthesis
Compatible with Windows
Gaming mode option for gamers
Add other music or video clips or use music files built-in
If you are interested in getting a laptop – check this out :
Its main problem is that it utilizes much storage capacity of your system but it comes for free therefore you don't have to pay any extra amount to use its features. considering it's free screen recording software windows i would recommend you to give it a try.
7: Jing- Free Video Recording Software for Windows 10
Though with not so built-in features but still a great try as it serves both purposes of screen capturing and screen recording in the single software.  Just choose the area on your screen you want to record and it in no time captures everything. Those who cannot afford Snagit, the Jing is the best option for them as it comes for free.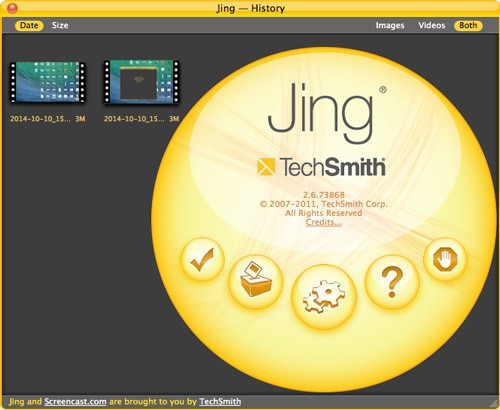 Its features include-
Focused communication with recording in no minutes
Mouse tracking option
Creates tech supported video with high quality
Allows to upload your recorded screen video directly to Screencast.com
Set up hotkeys
Well, it may not be your great choice but still, give it a try and use this software it will not disappoint you.
Just follow the link to give this software a try- Download
8: SmartPixel – free video recording software for gaming
SmartPixel is basically famous among gamers but it is the software that records almost anything that is present on your screen. This Screen Recording Software for Windows offers great value to your system. It offers seamless and smooth recording of the screen as well comes with highly advanced techno features with high quality recording. This software record computer screen when you busy playing games.
It's some high notches are-
Record high quality 108 HD videos and offers audio settings
Optimizes the disc space of your computer
Picture in picture mode so that you can record simultaneously videos from webcam and screen
Editing functions like- clipping, merging, dubbing
Upload it to other sites like YouTube
Advanced video compression technology
Add sub titles or text on screen while recording
Many gamer want to upload their gaming video on youtube but don't know how to record your screen on windows when you playing games. You can download easily this free video recording software for gaming software.
This software comes to both as free or paid version though its paid version offers more effective features like the recording by no watermark, provides higher frame rate for recording and its lifetime license comes for a cheap price.
9 : Screenr – screen recorder for pc
Well, if you think it is a desktop recording software only then let me tell you it is basically a web-based screen recording tool that mainly uses JAVA and also is not limited to a single operating system. A quick and easy way to record your screen as what all you have to do is just click on the button to capture your screen with voice and share the URL. Your work will be done in minutes.  It's most interesting feature is that you can easily upload your recorded screen online even without installing the software.
Read: Laptops for Programming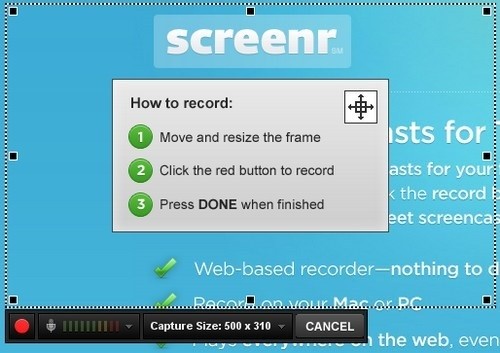 You can also select a definite area on your video that you want to record and all your recording will be saved at one place in your account.  It allows you to share your videos or create videos of MP4 type and easily upload it on YouTube. Screen Recording Software for Windows Without even just going to the website you can record as it comes with a bookmark.  If you want to use Screenr for free just simply register your account with Facebook, Google or Windows Live and enjoy its service.
10 : Active Presenter Screen Recorder
Last but not least in the list comes a huge screen recording software that it very useful for tutorials or professional interactive videos. It lays emphasis on creating an interactive screenshot or recording that makes problems or things more explainable. It is more kind of an Office tool created for educational setting.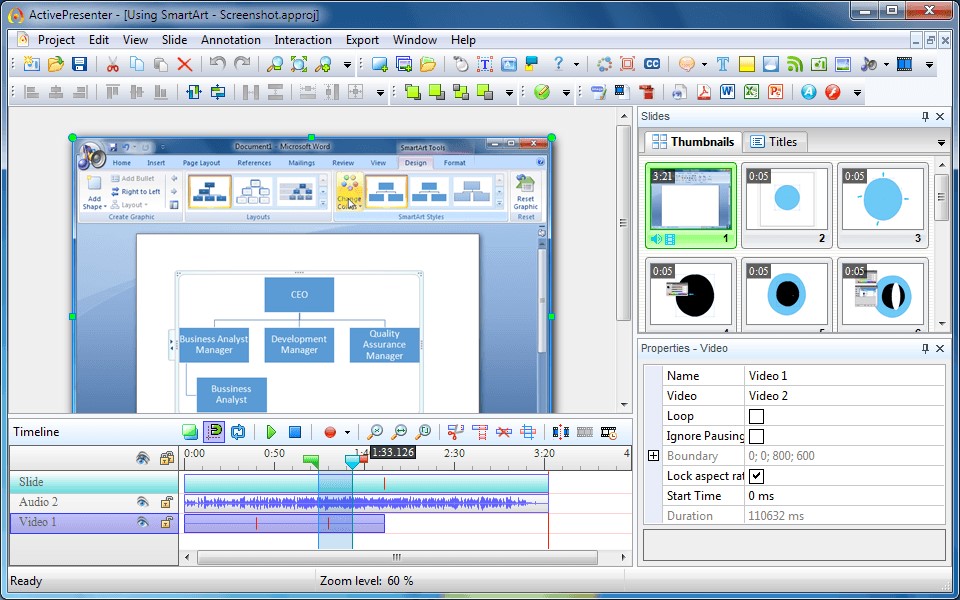 Its additional features include-
Export your recorded screen not only as video but Word, Excel, PowerPoint, PDF or HTML
Make interactive video including callouts, annotations, graphics and much more
Supports cooperate tool like SCORM-complaint Learning Management Systems
Solely based on Web Browser
It too works with JAVA
Well, it comes for free version but its upgraded paid version comes with $20 and is quite a software with professional touch and a worth trying software for screen recording purpose suitable to all users. this is handy Screen Recording Software for Windows can be download from given link.
Screen capture software is a useful tool you should use in numerous situations. Whether you're an ambitious YouTuber or qualified trainer, this software can help you produce quality movies and images. You should use this flexible application to compile education documents, user guides, instructional films or being an easy approach to store jobs and pictures on your desktop.
The difference between this kind of software along with the Printscreen key on your own keyboard could be the editing rooms that screen capture programs include. To learn more in what these applications can perform for you, check out our articles on screen capture software.
Wrapping it up : So here we were with top 10 best screen recording software that can be used for recording screen not only static but dynamic. We might have missed out some but these are the one that will satisfy your need and get your job done quickly without many efforts. So how was the post? I am sure you liked it, subscribe us for more of such latest tips and tricks along with the use some of the latest and coolest software. Stay tuned.