Makeup has always been an essential part in any woman's life! You can never deny the fact that makeup and makeover are more important in this era and has now become a part of the trendy lifestyles. But wait, are you planning to spend dollars for makeup or the makeup related advice? If yes, all you need to do is, STOP! Stop running and tiring yourself with the saloon's appointments. You can get ready now with your phones! Yes, ladies, you hear me right. With the advancement in the technological world, new android apps are discovered that helps you to get make up related advice, what look suits you, which product could go best for you, and all the related stuff. Here we go with a list of best make up Android Apps.
Android is one of the primary operating systems used on smartphones today. Part of Android's appeal is that it's built on an open source system that's supported by a vibrant developer community. Most of the software developed is free and designed specifically to increase the operating system's functionality.
Tech is currently experiencing a cosmetic takeover. From shopping apps to virtual design looks, these are the best must have beauty apps of 2017. Photo Face Makeup Apps has most advanced tools to make up your face in photos and turn them into awesome faces using Makeup App and Photo Makeup Editor app.
Nowadays, everyone love to snap shots of their faces. Also we have awesome smartphone camera that delivers outstanding result with every picture. Face Makeup Apps comes with advanced makeup tools including: Eye Changer, Hair Changer, Lipstick, Eye Brow Colorizer and more.
Best Make up Android Apps list :
1 : Perfect 365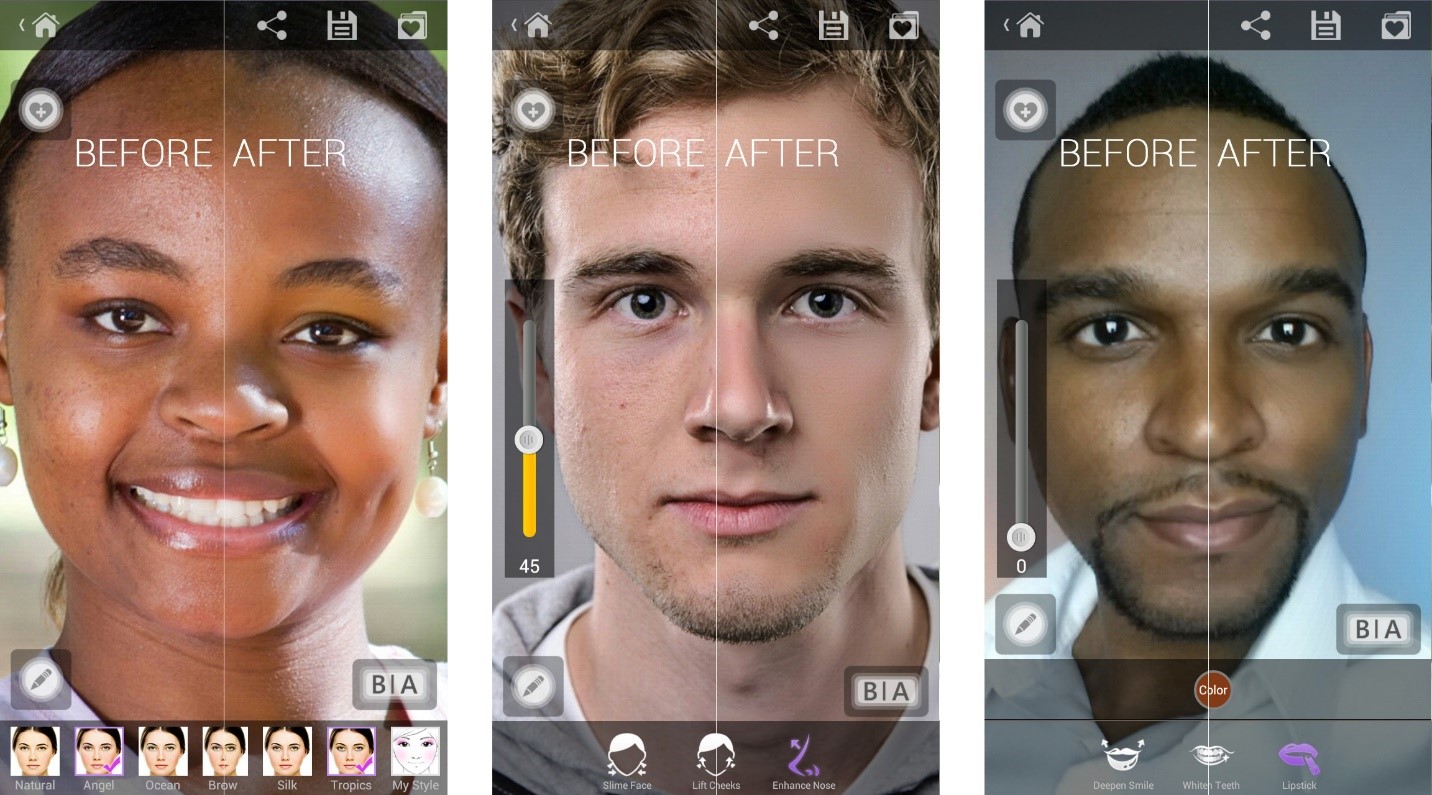 This leading make-up android application offers amazing photo-editing features making your pictures exactly look like those of celebrities! With 20 plus innovative makeup tools and awesome features, the app, Perfect365 can be used for experimenting with novel trends and creative styles so as to produce the best results of perfectly glam makeovers. Perfect365 is a free app and so ads can be the only trouble with the app users!
Also Read : Fix Error Page Fault In Nonpaged Area Windows 10
Key editing features of Perfect365 –
Key Points– adjust the Facial Points that are important for detecting all possible facial features.
Skin– toggle blemish removal, circles around the eyes, brighten skin, apply blush, and soften skin.
Hot Styles– a dozen of predefined styles for instant fairness and makeup effects with just one magic touch.
Face– slim the face, enhance the nose, and cheek lift.
Mouth– deepen the smile or make a smile, change lipstick color, and teeth whitening.
Eyes– apply eye line shapes plus colors, add eye lashes, brighten the whites of the eyes, get creative and tweak full eye shadow colors, or enlarge the eyes to create some big puppy dog like eyes.
Pros:
Get instant styles and previews of makeup without really investing much time or money!
Apply a dozen of Hot Styles for instant beauty makeup effects with just a single touch!
Very convenient and accurate face tracking points!
Deep granular controls for Skin, Eyes, Mouth, and Face!
Can produce some funky and creative effects; like big puppy dog eyes!
Cons:
Also Read : Download Documents from Scribd
2 : YouCam Makeup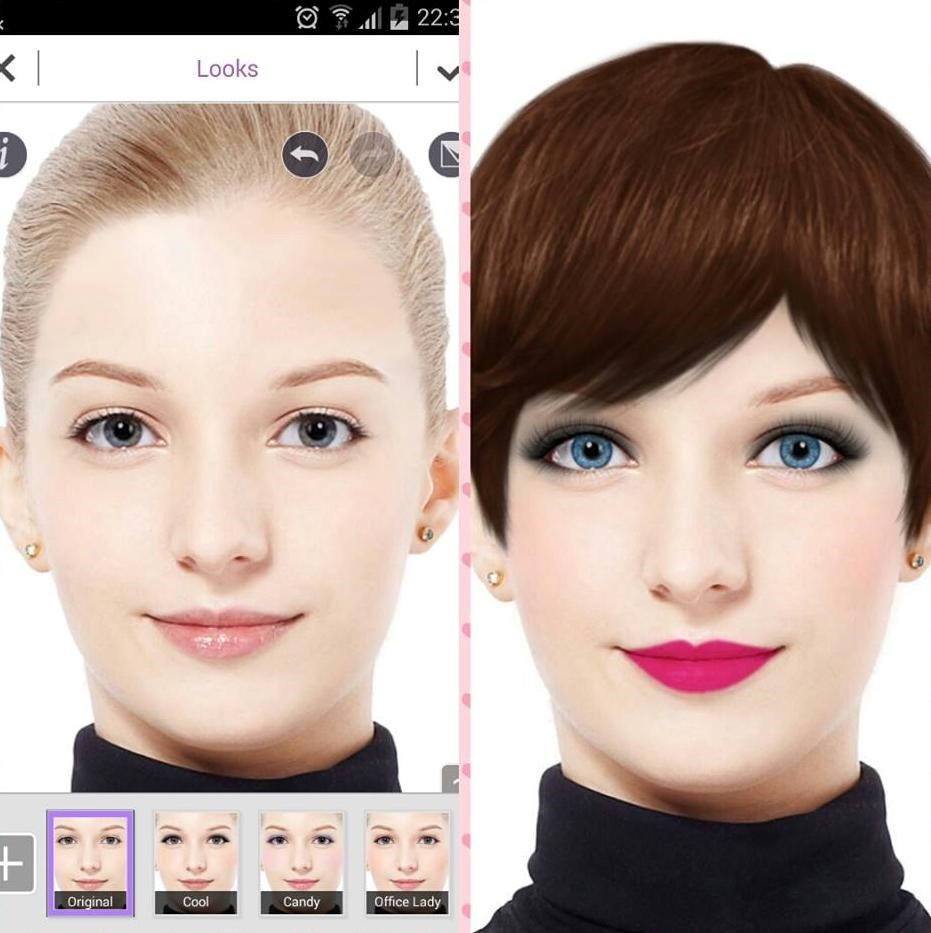 This app enables its users to try a wide option range for hair coloring, eye shadows, and lipstick shades and let the final decision stays with the user that what goes best on you! The app allows you to apply different makeover options on your images, so that you can compare to get the best results. Also, the app, YouCam Makeup allows you to share your pictures with the applied looks on social media sites like Facebook with your friends!
Key editing features of YouCam Makeup –
Ability to correctly detect the facial features such as eyes, lips, and nose.
Ability to apply makeup on existing pictures.
Proper track of the facial parts, so that makeup doesn't move even if you keep on moving.
Variety of shades for lip and eye makeup.
Ability to correct certain flaws and makes you look perfect.
Pros:
In-app fashion social network.
Supports face-detection technology.
Supports social media sharing
Offers a proprietary instant beautification tool
Allows you to improve face shape
Offers a powerful makeover tool that includes eye bag remover and skin smoother.
Cons:
Ability to color match according to people's own makeup would make this app even more useful.
Won't be for every person, as this sort of thing could be considered as a little vane.
Download the YouCam Makeup from the Google Play Store. Here is the site – https://play.google.com/store/apps/details?id=com.cyberlink.youcammakeup&hl=en
3 : Virtual Makeover by ModiFace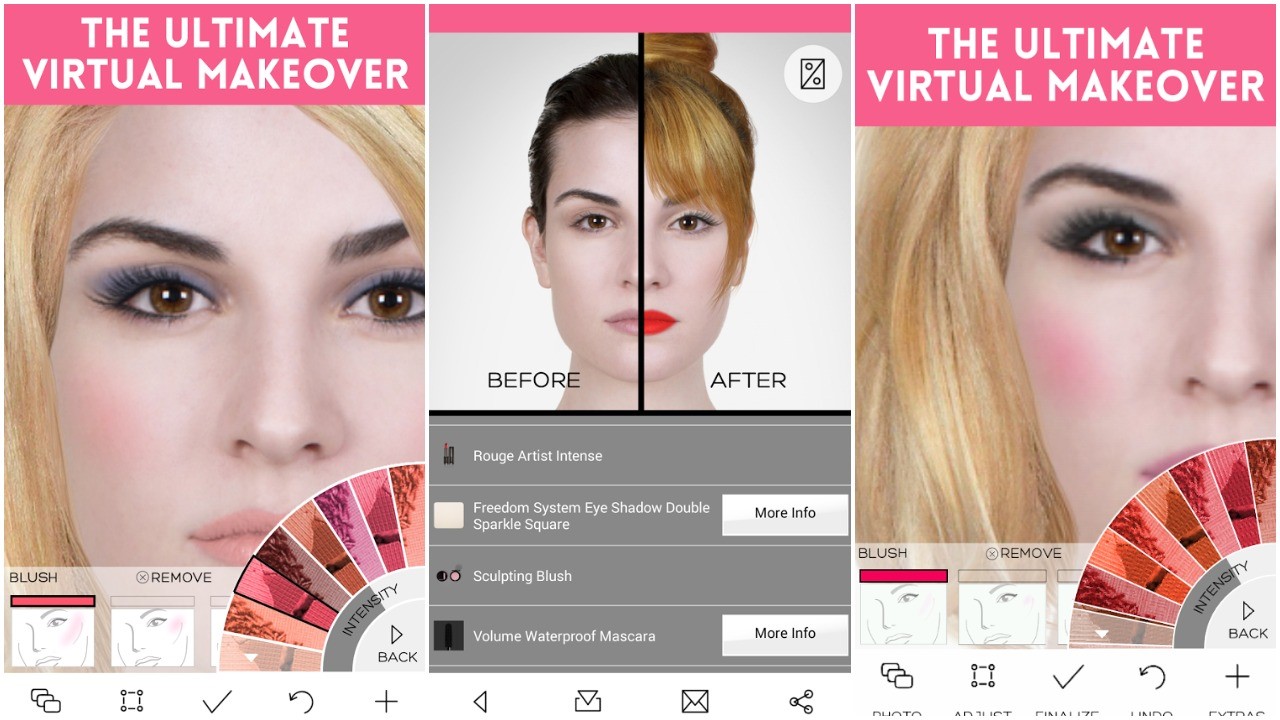 ModiFace is one of the most popular and used apps for digital makeover with its unique technology that offers anti-aging visualization plus wide range of hairstyles that enables you to create yourself and try out different looks that make you feel good about yourself. This app is amongst the best apps to achieve the perfect makeup solution as it has a remarkable makeover effects with range of accessories, cosmetics, face recognition technology, and hair coloring.
Must Read :
Key editing features of ModiFace –
Instant makeover visualization
Up to 2000 unique colors
Option to save yourself as a model so you can start your makeover instantly.
Immediate results, no waiting
Extremely easy to use!
Over 50 celebrity hairstyles, more added monthly!
Save, email, or post the result (including product list) to your MAC systems
Shade Matching: Scan any object in order to find products that come in near shades
Live 3D mode: See effects applied in REAL-TIME.
Pros:
Perfect for online dating if you are into deceiving others.
A fantastic boredom distraction and time package.
A great way to try on lipsticks
The app is free, but with limited choice options
Cons:
The hair mostly looks fake
The lashes always look fake
This app may make you lose touch with reality!
The foundation try-ons are not reflective of reality.
Download the Modiface from the Google Play Store. Here is the site – https://play.google.com/store/apps/details?id=com.modiface.photoeditor
4 : Mirror Makeover Android App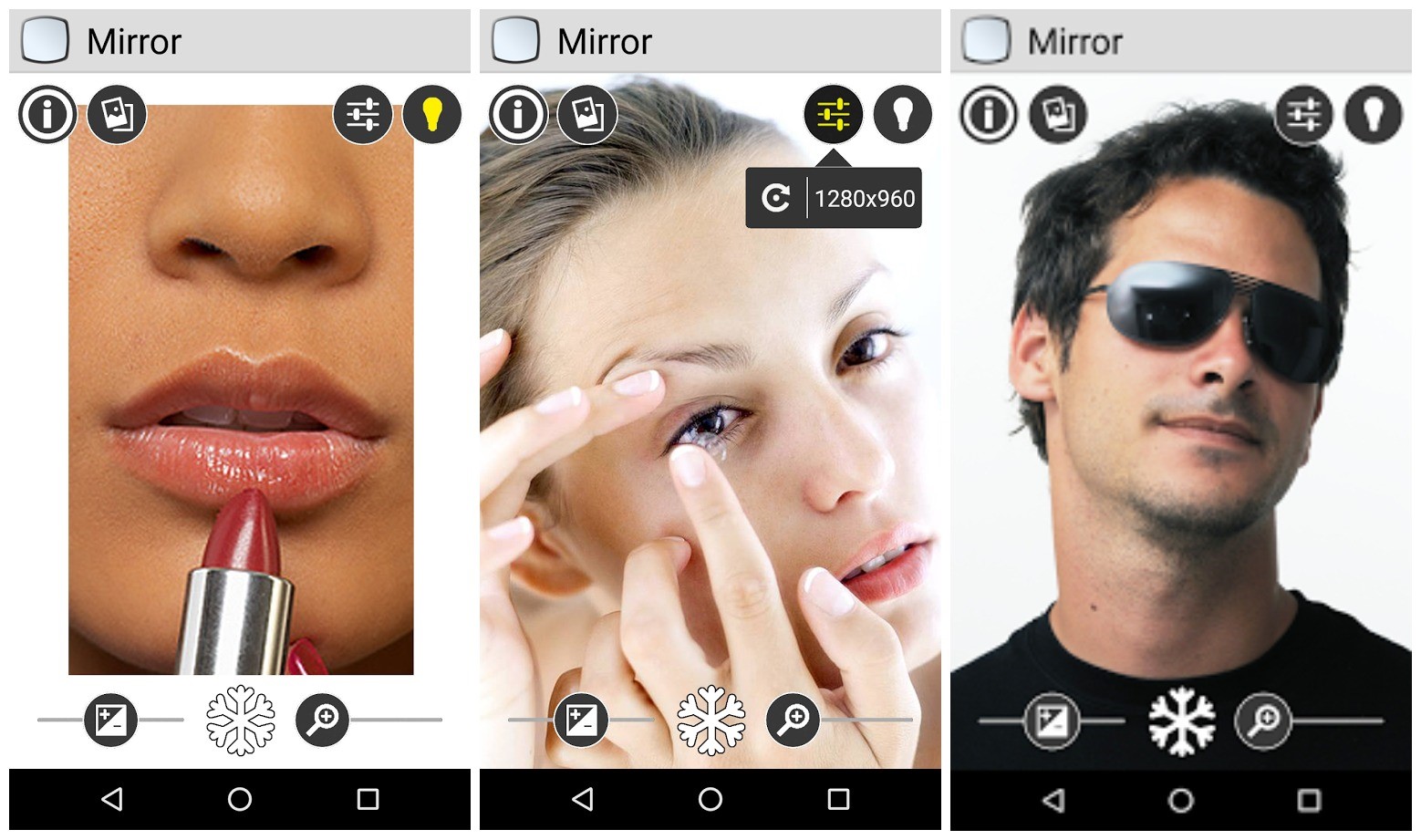 Mirror Makeover Android app has an amazing feature of converting the front camera of the android device into a mirror! Next time, when you need to check your hairdo or the makeup, you do not need any glass mirror, but mirror makeover app would work miracles for you! The app is armed with night-mode options so as to be used even at nights and dark conditions. It also has zooming feature to get a clear view. Mirrors are the very important ingredient while making up, and so is the app!
Key editing features of Mirror MakeOver –
Zooms the mirror to the maximum size of your camera.
The effects button applies according to the camera support.
Share pictures on FaceBook.
Save pictures in SD card.
Set the picture as wallpaper.
Pros:
Convert the camera into a mirror.
Able you to have a pocket mirror without any real mirror.
Make use of images as wallpaper, upload on social media.
Easy touch up facility.
Cons:
Limited zoom facility.
Makeover quality looks fake.
Limited use!
Download the Design Mirror MakeOver from the Google Play Store. Here is the site – https://play.google.com/store/apps/details?id=com.Camera.Mirror.Photo.Effects
5 : Nail Design Manicure Style Android App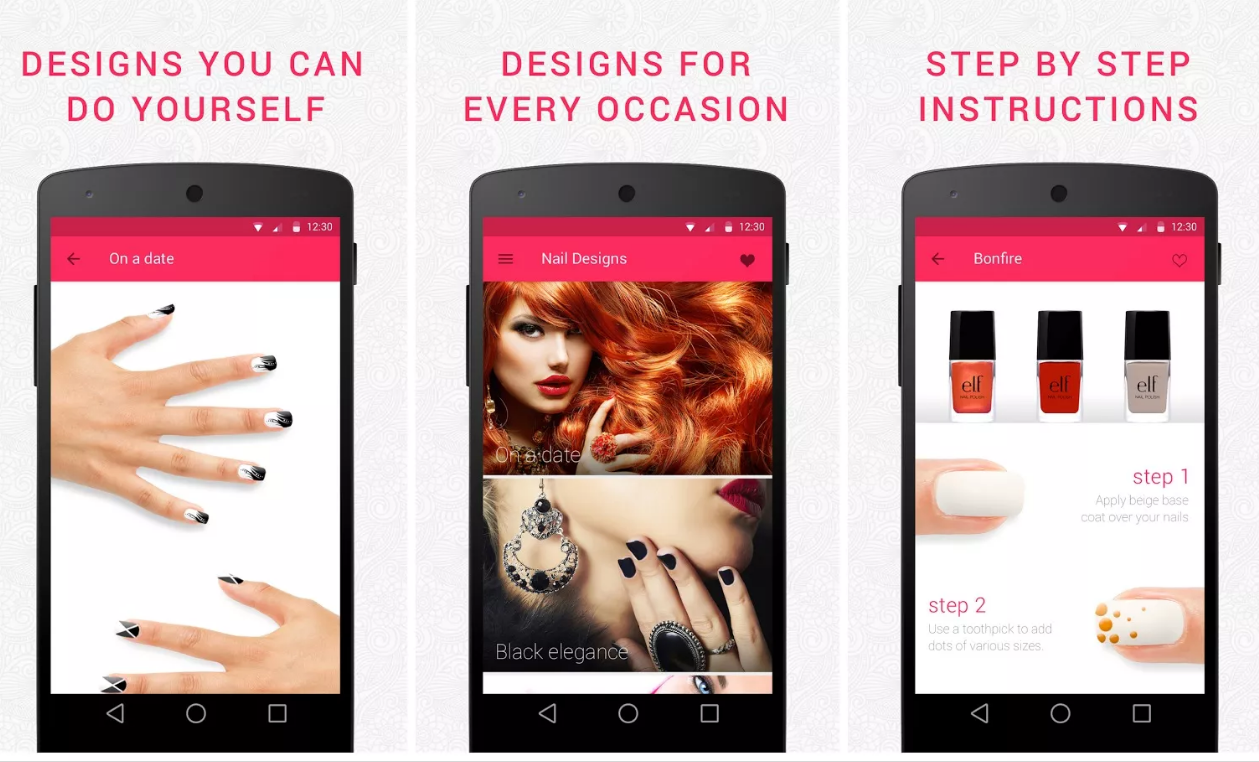 If you are adherent to Nail Polish, no app can be better than "Nail Design Manicure" for you. It offers 'Nail paint' designs according to different occasions, be it a family function or a date, you can select the best nail paint according to the situation. The app also provides various steps in the tutorial section which can be easily tried at home. After you install this app, surely, no girl or woman would leave her nails be painted plain red or black! The beautiful manicure designs let you fall in love with them.
Key editing features of Nail Design Manicure Style Android App –
It is very easy to use.
Perfect manicure ideas photos
All designs can be made at home by yourself
All you need to do is download the application
Many different nail shapes
Many great designs to make your nails look stunning
Works offline also!
Pros:
Easy to handle and use.
Variety of ideas available.
Easy nail designs.
Use them as required with normal nail paints.
Cons:
Material requirements.
Handy, but bulky.
Not good speed.
Download the Design Manicure Style Android App from the Google Play Store. Here is the site – https://play.google.com/store/apps/details?id=com.Nail.Art.Manicure.Studio
6 : Makeup Genius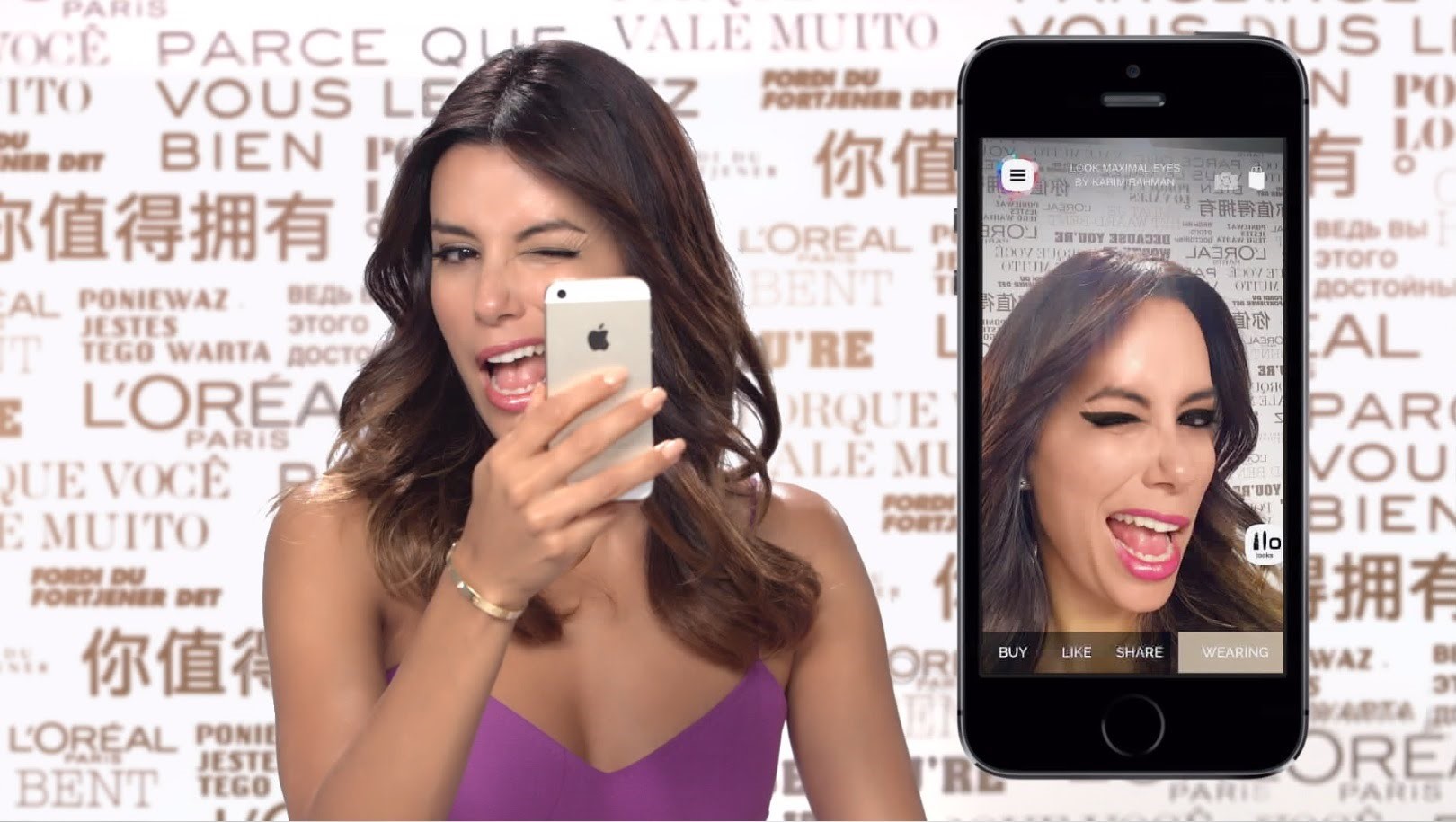 Make up Genius is an android app, created by L'Oreal so that people can try out different products before purchasing them. It's easy to use as all you need to do is to take a pic, try different designs and select the one that suited best on your skin color and go best your hairdo! You can also scan your face and try few more looks to get the best results. The app will let you put different products on your face so that you can compare how things actually look on you! If you like something, you can directly purchase it from the app itself.
Key editing features of MakeUp Genius –
There have been more than 64 million product trials worldwide
The "Makeup Genius" app currently has over 10 million downloads
The app won 4 Gold Lions at the 2015 Cannes Lions Festival for its innovation
Pros:
Works seamlessly, you'll feel like you're looking in the mirror
Great way to let your little daughters see what they'll look like after wearing makeup without actually using any!
Simple to use
Preview of extensive catalogue of L'Oreal products available.
Cons:
Only allows you to try L'Oreal makeup
The app sometimes freezes when attempting to scan your face.
Download the Makeup Genius App from the Google Play Store. Here is the site – https://play.google.com/store/apps/details?id=com.imagemetrics.lorealparisandroid&hl=en
We might look the best or not, but everyone had equal right to look beautiful and when we have technology to use such tools why not use them to get the best of your features. So these are our list of Best make up android apps of 2017. These apps are easy to use and comes in very handy at some special times. So use them up and give us the reviews, on how you liked them. By then, Happy Editing!